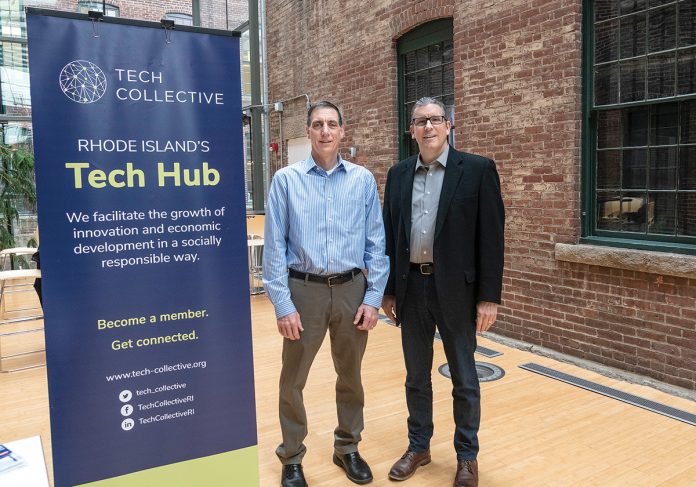 Infosys has opened its Providence Design and Innovation Center on Fountain Street, making good on the first 100 of its promised 500 workers to be hired by 2020.
Median salaries for the newly created jobs are reportedly pegged at $79,000 a year. But if you guessed that those workers are all science, technology, engineering and math specialists, you'd be wrong.
With its forward-thinking perspective – that school partnerships and liberal arts majors are keys to a capable workforce – Infosys' unique recruitment model involves sourcing talent from local schools and running training programs for tech-production work.
It's a model that has support among tech and business leaders, including Tyler Falcone, director of operations and information-processing services at AIPSO in Johnston. "The Infosys folks are onto something here," he said.
"The future of … the workforce is going to change significantly in the tech space, or the evolving digital-services space, as I call it," said Ravi Kumar, Infosys president.
Liberal arts subjects generally involve humanities, such as history and philosophy; social sciences such as anthropology, economics and geography; creative arts such as speech and theater; and sciences such as astronomy and biology.
Kumar believes that harnessing knowledge in design and liberal arts is what's needed to spur competitive momentum in the field of technology. Finding problems, he says – not merely solving them – is a key element that humanities students can deliver via their broader perspectives.
What these creative ways of thinking offer, then, says Kumar, is flexibility – the ability to land on one's feet. He calls liberal arts drivers of "economic skills that are in demand, [so as] to constantly reposition oneself in a dynamic market situation."
'Problem-solving is done by machines. Problem-finding is a much bigger world.'
RAVI KUMAR, Infosys president
It's the theory behind the digital-services and consulting firm's partnership with the Community College of Rhode Island, for a Digital Economy Aspirations Lab. Programming will be designed to ready students in all areas of study for the growing digital-economy sector.
Julian Alssid, vice president of CCRI's division of workforce partnerships, said the school shares the same view, making its alliance with Infosys an effective partnership that will benefit students, the tech-skills gap and economy overall.
"It used to be that a company … would be hired to solve problems for clients," Alssid said. "Now, user experience is really paramount," he added. "What is needed [are companies that] work with clients to design solutions – a real mix of art and science, a real liberal arts grounding."
The U.S. Bureau of Labor Statistics predicts that by 2020, there will be 1 million more jobs available in computing than applicants who can fill them. In December, the R.I. Department of Labor and Training listed a shortage of programmers and systems analysts. Local information technology specialists such as Joe Devine with Tech Collective report Rhode Island shortages in programmers, developers, cybersecurity professionals and data workers.
Devine likes the trend of diversifying technology team members' backgrounds. Tech companies won't necessarily be demanding industry experience that looks good on paper anymore, he said, or relying on computer-automated keyword readers for resumes.
"They are going to be vetting these entry-level employees very carefully, looking for certain kinds of skills, adaptability," he said of tech companies. "They have to have the ability to adapt to changing situations," in an industry rife with change.
The rest, Devine said, can likely be taught. But the desire to learn has to be there, as well.
"If you demonstrate a strong ability to learn, you can learn the technical aptitude," Devine said.
BankNewport Director of Digital and Technology Strategy John Sullivan agrees with Kumar and other community tech executives.
In addition to being an example of someone who is working in IT without that particular educational background, Sullivan has seen local effects of STEM-focused education. The bank has seen delays in hiring for IT positions due to the labor shortage and its less-than-central Middletown headquarters location.
But liberal arts, he said, packs universally sound skills.
"[Those students] learn to read, write and analyze," he said. "They have to learn to work with teams. These are lifelong skills in any industry." The ability to break technical language down into understandable terms for others is a crucial communication role for Sullivan, as well, offering great value.
Falcone, of AIPSO, suspects that investment in building a quality training program could be what holds some companies back from an Infosys-like model of recruitment and development. Infosys, which Kumar calls a leader in this field, could prove the long-term benefits of doing so.
Kumar does note, however, that STEM skills are still needed for "deep programming" work, and to build programs to solve problems. But economically, the situation is certainly ripe for this kind of diverse team-building with a focus on identifying problems.
"Liberal arts … teaches you how to be a learner," said Kumar. "Problem-solving is done by machines. Problem-finding is a much bigger world."