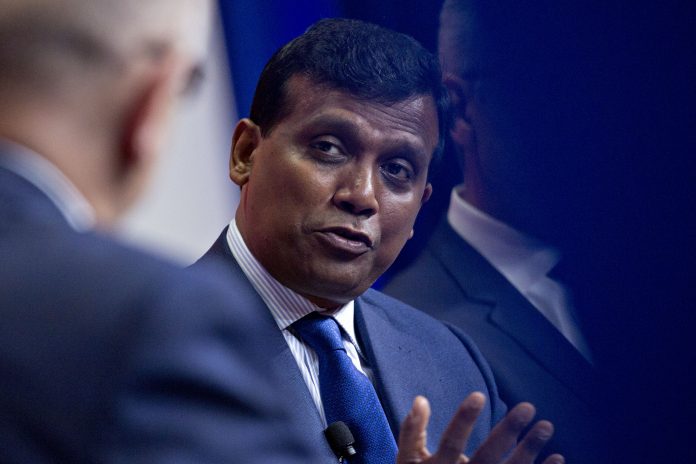 PROVIDENCE – India-based technology giant Infosys Ltd. tentatively plans to open for business in Providence in early December, Infosys President Ravi Kumar said Monday.
Speaking before roughly 500 people at a Greater Providence Chamber of Commerce luncheon, Kumar said the company's plan remains to hire 500 workers in Rhode Island, ramping up employment from this year through 2023.
Kumar said the company's partnership with Rhode Island School of Design, has been working well to develop a design-focused curriculum to prepare workers in Providence.
The company's Design & Innovation hub is planned to open in December in downtown Providence at 75 Fountain St., a brick building that also houses the Providence Journal newspaper. Infosys also is developing plans to work with other schools in Rhode Island, he said.
"This will be our only design hub in the United States," Kumar told the crowd at the Rhode Island Convention Center, across the street from the site of the local hub. "Design will be central to digital experiences in the future."
Infosys is a multinational corporation that provides a variety of information technology-related services.
Kumar said he expects Infosys to reach its hiring goal of 10,000 workers in the United States, having hired about 5,700 in the past year, including many new college graduates in Rhode Island and elsewhere.
In the U.S., the new Infosys jobs will pay an average of about $60,000 a year, with wages varying depending on living costs in each city, he said during a discussion on stage with Rhode Island Secretary of Commerce Stefan Pryor and Chamber President Laurie White.
The company is providing eight to 12 weeks of paid training to new hires to prepare them for their jobs, and it has already trained employees in Rhode Island, he said.
In addition, the company provides new hires with "sign up bonuses," and employees will receive annual "retention" payments after their first and second years on the job.
The company's Rhode Island workforce will be based at the hub in Providence, but not all employees will work there all the time, he said.
Referring to the company's partnership with RISD and the pending opening of the Providence hub, Kumar said: "Why not make this place [Rhode Island] known for design nationally?"
In December, Rhode Island Commerce Corp., the state's economic development agency, approved nearly $10 million in tax credits and other incentives for the Infosys hub project, largely based on the number of jobs created, to be paid out over a 12-year period.
"It happened because the [state's economic development] team was doing their job," Gov. Gina M. Raimondo, who serves as chairwoman of Commerce Corp.'s board, said at the time. "It's a turning point and it's a big deal."
Scott Blake is a PBN staff writer. Email him at Blake@PBN.com