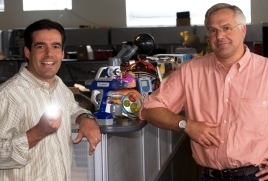 To stay alive, some fish must stay in motion constantly, driving water through their gills to move oxygen into their bloodstream. And to stay alive, says Stephen Lane, businesses must innovate constantly, coming up with new ideas to take to the marketplace.
"If you don't have something different to offer, you are going to get run over," said Lane, the CEO of Item Group, a Providence firm that develops new products, guiding them, if necessary, from concept through production and into the hands of marketers and distributors.
"There are only so many street corners where you can put a new office supply store," he said. "At some point, you are going to have to grow through pure innovation. If you have something that nobody else has, you have a major competitive advantage."
Lane co-founded Item Group in 1985 with Aiden Petrie, who is now the firm's chief innovation officer. Their company has been named Collaborative Innovation Leader in the 2006 Rhode Island Innovation Awards, co-sponsored by Providence Business News and the R.I. Economic Development Corporation.
Innovation is in constant demand at this time in history, according to Lane, who seems to be a man of frenetic good cheer. "There is a hunger in the economy for the new and the notable," he said in a phone interview after stepping off a red-eye flight from California. "There has never been a better time to be a creator."
He and Petrie had been steeping themselves in inventiveness long before 1985, when they both graduated from the Rhode Island School of Design. "We were idea guys; that's what you learn how to do at RISD," Lane said.
The newly minted business partners began marching – sometimes naïvely – into CEOs' offices to present their ideas.
One of their first concepts, which they pitched to Summer Infant Products of North Smithfield, was a universal attachment to affix hanging toys onto baby strollers and car seats. In 1987, Item Group parlayed the materials and technology expertise it had gained in the toy industry into an entrée to the world of industrial safety, creating a new line of goggles for Uvex Safety (now Bacou-Dalloz Eye & Face Protection). Today, that product is the company's best-selling safety goggle, Lane said.
In all, Lane says, Item, which now employs 102 people, has secured more than 100 patents in the past 20 years. And in time, the company found it had to reinvent even itself as the business world changed around it.
"Twenty years ago, we were working for vertically integrated marketers and manufacturers," Lane said. "Today, those are marketing and distribution companies. They have outsourced manufacturing and focused on what was more important to them."
But that change from vertical integration toward a new model that relied heavily on outsourcing production to distant places also meant the companies had less control over the finished product.
"Our clients asked if we could help them, and we said yes," Lane recalled. "They gave Item Group an opportunity to help them make sure that the design intent maintained itself through to the final product."
This evolution offered Item Group an opening to adopt what Lane calls an "integrated supply model" that can guide a product from conception through to supply, if requested, using whatever internal or external resources and relationships that are necessary to complete the job. Item's clients, Lane said, are "leading marketers in particular categories."
Among the products Item cited in its application for the Innovation Awards was a line of "smart toys" that work with a baby's auditory, motor and visual development. The toys are programmed to make tasks more complicated as the baby grows and learns.
Discovery Channel Stores, for which the company was creating the new Grow Toys, started the job with a daunting directive: "Don't come back to us unless the product is completely new!"
As innovators themselves, the leaders of Item Group have been working to reinvent their company – in particular, by dividing it into three industry-specific enterprises: Item New Product Development, for consumer products; Ximedica, for medical products; and Innovation Chain Partners, for private-label retail products.
Lane said there is no simple label for the company. "We started out as two guys who went to art school, and now we are innovation suppliers, a product-development house, and hard-goods suppliers. Our business model is not based on anybody's business model."
In its own evolution, he said, Item has just reached a point where it has built a good, solid foundation. "We do not view ourselves as even having begun," he said. "We are making a transition from a product creation business to a business creation business."
And Lane is a big believer in collaboration. "We nurture a culture of mutual respect and collaboration all the time," he said.
That principle begins in-house, but also extends to clients. "We have the same view and expectation of clients," Lane said. "It is important to us that there are a lot of shared attributes on the human level.
"If you pay attention to the human side of collaboration, everything else falls into place. When your motives are exactly aligned with your clients' motives, all the consultancy B.S. just goes away."
Further, the tool of collaboration is dialogue. "We have always striven for open, honest, real-time dialogue," Lane said.
Does he feel a long way away from the 19th-century inventor, the solitary genius working in the farmhouse attic, the Edison or Bell?
"Invention is alive and well, but it has a different feel than in days past," Lane said. "The world has become much more complex, and product channels are much more sophisticated, so invention has had to become more of a process. Great ideas come from a more collaborative process."
He added, with evident verve, "The inventor who can hoodwink the system into embracing him is a successful inventor."