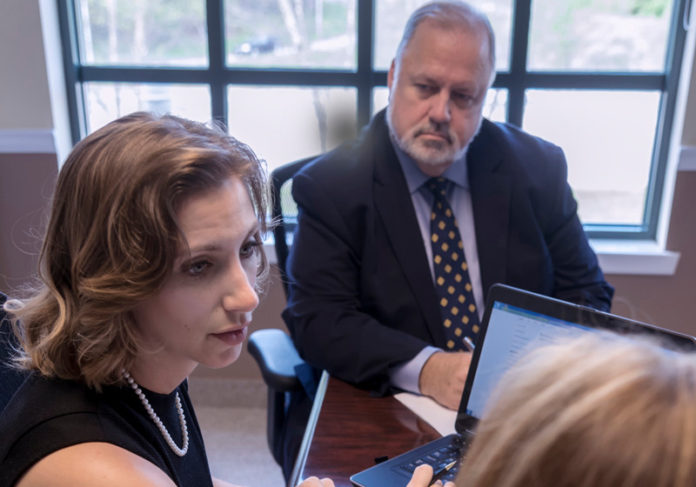 You don't have to be "rich" to retire successfully.
That's what certified financial planner Donna Sowa Allard, 34, tells her clients at Sowa Financial Group Inc., based in Lincoln.
"There is an impression that people who do our kind of work only work with very rich people," Allard said. "We work with very normal people who've stuck a solid few hundred thousand dollars away in a 401(k) and are thinking, 'What are we going to do with this.' "
The fee-based investment advising and financial-planning company works with families and small businesses. The main portion of the business surrounds retirement planning, but Allard says they work with a slew of clients from different age groups.
"Everyone needs a plan," she said.
Allard's father, Donald J. Sowa, started the first version of Sowa Financial Group in 1991 and incorporated in 2000.
Allard, who studied as an English major at Providence College, made the jump to finance and joined the firm just a couple years before the financial crisis of 2008. She characterizes her induction into the finance world as a "baptism by fire."
"The hardest thing we do … is communicating with clients in an effective way and managing their emotions," she said.
Allard says these factors are invaluable in the financial planner-client relationship, because it pays off to be prudent and to stick with a plan, rather than trying to time the market. Sowa Financial Group, with seven employees, comprises Allard, Sowa and his longtime colleague Steven J. Beauvais, who is also a certified financial planner.
Allard says we are now in a unique time in the financial-planning industry, as the baby boomer era continues to enter retirement age and a large percentage of couples are retiring with comparable Social Security packages – having both worked full-time jobs during their careers.
Also, as people live longer, retirement – in some cases – could last just as long as time spent in the workforce, so Allard says setting up retirement plans unique to the specific needs and goals of the client is key for prolonged financial success.
"They've worked for 35 years and are going to retire for 35 years. That's a pretty significant issue to have," Allard said.
Concurrent with his financial-advising career, Sowa has hosted a financial radio show on AM790 Talk & Business for more than 20 years answering – on air – listeners' questions about retirement planning, investing and other money-related issues.
The company is always considering options to grow and expand, Allard said, but there's nothing specific on the drawing board. For now, she says, the firm is focused on helping one another contribute to a business focused wholly on the needs of their clients.
"Our definition of success [for clients] is having options and being able to make choices, rather than having your situation dictated to you," Allard said. •