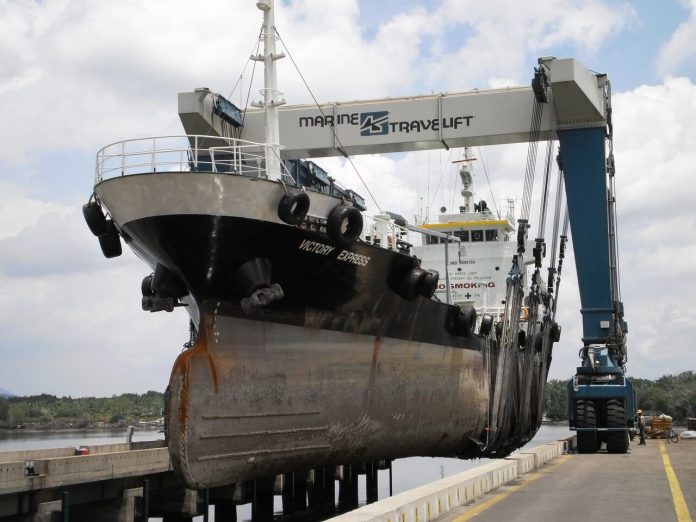 NORTH KINGSTOWN – Local shipyard company J. Goodison Co. will receive a $518,538 federal grant to purchase equipment and expand its workforce, the Rhode Island congressional delegation announced Friday.
The grant comes from the U.S. Maritime Administration's fiscal year 2019 Small Shipyard Grant Program.
Goodison Co. operates in the Quonset Business Park and provides repair services to commercial and government vessels, including National Oceanic and Atmospheric Administration vessels and U.S. Coast Guard cutters. The veteran-owned company also provides services to the U.S. Navy, General Dynamics Electric Boat and Specialty Dining Services.
"Rhode Island's shipyards are among the best in the country," stated Sen. Jack Reed, D-R.I., Friday. "The Small Shipyard Grant Program helps these local businesses compete to build and service ships for the government and private sector, bringing more jobs and opportunities to the Ocean State and enhancing our domestic shipbuilding and manufacturing base. As always, this was a competitive process, and I commend J. Goodison for putting together a strong application."
The company will use the funds to purchase portable diesel-engine-driven welder generators, a portable dust collector and other supporting equipment. The company will also use the funds to expand its workforce. The purchases and hiring are expected to create additional opportunities for its vendors and subcontractors, the delegation said.
The grant program is made available to U.S. shipyards with fewer than 1,200 production employees. The delegation said the program was developed to increase efficiency, competitive operations, quality ship construction, repairs, and reconfiguration in small shipyards across the United States. The program is also expected to increase employee skills and enhance productivity related to shipbuilding, ship repair and associated industries.
"This grant will help give our workers the modern tools they need for the shipyard to provide faster and more efficient service in a safer, more environmentally sustainable manner," said Jack Goodison, owner and partner of the company, in a statement. "It is a win for the entire Northeast maritime community. We thank Sen. Reed and the entire Rhode Island congressional delegation for supporting this project and supporting our Quonset Point operation."