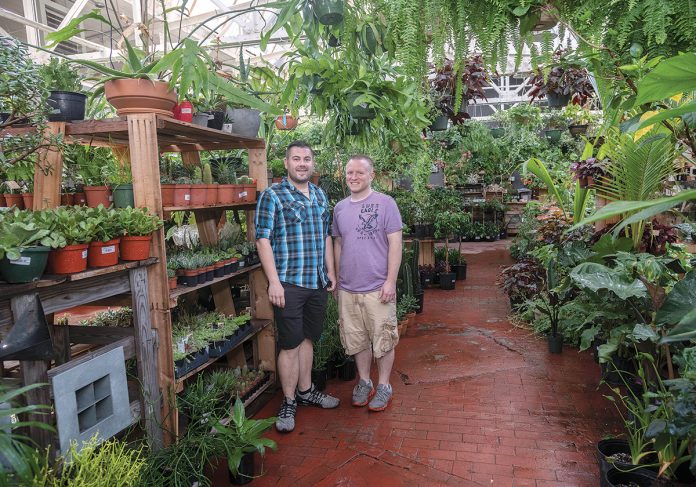 A business of 5,000 plants, aptly named Jordan's Jungle, began with a single orchid.
Located in a Pawtucket mill, the business is popular with clients who collect houseplants and enjoy learning how to grow exotic varieties. Millennials are among its largest supporters. They often pose for photos surrounded by the greenery and tag their purchases on social media.
Owners Darin Wildenstein and Jordan Ford opened Jordan's Jungle in a smaller space in 2013, then moved into a vastly larger adjoining area in 2016.
It all began in 2012, when Ford received an orchid as a gift. He obsessed over it a little and took pride in how well it did. Eventually, it died, but the plant lover was born.
"One orchid and I became addicted," Ford said.
The business, which occupies a 4,000-square-foot space in a former jewelry factory, has four employees, including the owners. Many hours are spent daily tending to the stock – which has to be monitored regularly.
Although they say they have the largest selection of air plants in the Northeast – 150 varieties of the carbon dioxide-eaters – the customers who come in want almost everything.
One week it's the ferns, the next week it's the palms. Their specialty is really "to offer things you can't find everywhere," said Ford.
Their customers include people with a love of plants who are adding selectively to their collection, as well as first-timers. The latter "new plant parents" typically ask a lot of questions and worry over their choices once at home.
It isn't uncommon for the owners of Jordan's Jungle to get follow-up calls about plant care.
"Is this a good location? Should I change that?" said Wildenstein, recalling some of the many questions.
But they know that they were the same once, too.
The most challenging aspect of running the operation is familiar to any small-business owner – the sheer number of hours worked. Ford and Wildenstein estimate they work about 85 hours a week.
"We're open seven days a week. And we have set store hours. With 4,000 square feet and 5,000-plus plants, that's a lot," Ford said.
Unlike other small-business owners, the inventory is fragile. "Our product is alive," Ford said. "And it has the potential to die."
The most enjoyable aspect of their business remains the excitement over the product itself. The arrival of a new plant, one that he's wanted for years, can make Ford feel like a "kid at Christmas," he said. Every day, they water and tend, and notice when a slow-growing plant starts to put out a new frond.
Two tropical plants Ford had always wanted are at the back of the shop, and if they never catch a customer's eye, he'll be just as happy. "They're back there. I don't care if we never sell them."
OWNERS: Darin Wildenstein and Jordan Ford
TYPE OF BUSINESS: Retail and wholesale houseplants
LOCATION: 545 Pawtucket Ave., Pawtucket
EMPLOYEES: Four
YEAR ESTABLISHED: 2013
ANNUAL SALES: WND
Mary MacDonald is a PBN staff writer. Contact her at Macdonald@PBN.com.