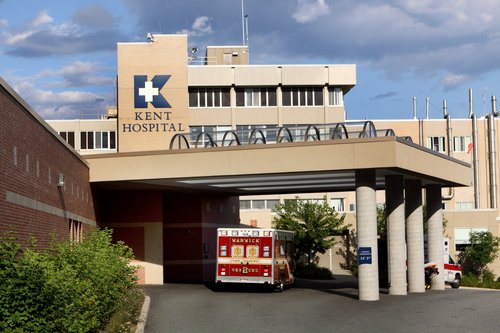 WARWICK – Kent Hospital will host a free screening for peripheral arterial disease on Saturday, Nov. 3, from 9 a.m. to 1 p.m. at its Ambulatory Services Pavilion.
PAD is a common circulatory problem that develops when plaque builds up within the arteries and reduces blood flow to the arms and legs. The disease affects 1 in 20 Americans older than 50. Symptoms can include pain when walking; cramping in hips, thighs, or calf muscles; sores on toes or feet that will not heal; or leg numbness.
Those at risk for developing PAD typically smoke or have smoked cigarettes; have diabetes, high blood pressure, or high cholesterol; are obese or engage in limited physical activity; and/or have a family history of cardiovascular disease or stroke.
"Peripheral arterial disease is often considered a warning sign, as other arteries, including those in the heart and brain, may also be blocked. This increases the risk of a heart attack or stroke," said Dr. Guy Lancellotti, vascular surgeon, chief of surgery at Kent Hospital and a member of Care New England Medical Group. "An accurate diagnosis is the first step in reducing that risk."
Also participating in the screenings is Dr. Garima Dosi, a vascular surgeon with Care New England Medical Group, who is affiliated with Brigham & Women's Hospital in Boston. Dosi and Lancellotti see patients in the Ambulatory Services Pavilion at Kent Hospital.
Treatment of PAD is different for each individual and may include lifestyle modifications such as smoking cessation, diet or exercise, medication management, and in some cases surgery.
During the event attendees will:
Be screened for PAD by a Kent Hospital vascular technologist.
Have a one-on-one conversation with Lancellotti or Dosi about their symptoms and screening results.
Receive guidance on next steps.
PAD screening is done through calculating the ankle-brachial index. ABI is a noninvasive, painless test that compares the blood pressure in the ankle with the blood pressure in the arm and provides insight on how well blood is flowing to the limbs and if artery blockages are present.
To conduct an ABI, a qualified technologist from Kent Hospital's vascular program will place blood-pressure cuffs around an attendee's arm and ankle, listen for the sound of the artery and note the blood pressure.
After screening, attendees will have the opportunity to meet with Lancellotti or Dosi to discuss what their ABI results mean and schedule a follow-up appointment if needed.
"For my patients who have been diagnosed and then treated for PAD, the No. 1 symptom that is improved is walking distance," said Dosi. "Before knowing they had PAD, errands [such as] going to the grocery store or walking around the mall couldn't be done without pausing to sit and rest. Now they're doing their daily activities without stopping."
Registration is not required. Parking is free and attendees are encouraged to park near Kent Hospital's main entrance for convenient access to the Ambulatory Services Pavilion.
Rob Borkowski is a PBN staff writer. Email him at Borkowski@PBN.com.