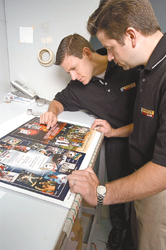 Democratic presidential candidate John
Kerry raised $32 million last month, bringing his total campaign
contributions to $180 million ahead of this month's national party
convention.
Kerry, 60, a four-term Massachusetts senator, had more than
$34 million in the bank at the end of June, while President George
W. Bush had $64 million in the bank, campaign spokesmen said.
Bush, who has slowed his fund-raising pace, collected at least
$213 million through the end of May.
"Though Bush still maintains a fund-raising edge, Kerry has
now raised enough that the size of the campaign chests fades into
the background and the quality of the campaigning takes center
stage," said David Primo, a political science professor at the
University of Rochester in New York.
The Bush campaign declined to release its June totals in
advance of the July 20 deadline for disclosing that information to
the Federal Election Commission, but the president has not hosted
any major fund-raisers since April 5, spokesman Scott Stanzel
said.
Bush, Vice President Dick Cheney and first lady Laura Bush
have "turned their attention toward helping the Republican Party
and other candidates throughout the country," Stanzel said.
Kerry spent much of the past two weeks fund raising across
the country, raising more than $15 million at events in cities
including Washington, Baltimore, San Francisco and New York.
The Kerry campaign said it had raised $56 million through the
Internet, including $5 million during the last two days of June,
and had received more than 1 million contributions.
This is the first election since public financing of
presidential campaigns was created after the Watergate scandal in
which neither major party nominee agreed to limit their spending
in exchange for partial federal funding of their primary
campaigns. Both candidates have set fund-raising records for their
political parties.
Bush and Kerry will get about $75 million each in public
money to finance their campaigns between the end of their national
party conventions and the Nov. 2 election. They cannot raise any
private funds after that time, except to pay legal and accounting
expenses.
Kerry is to accept the Democratic nomination at the July 26-
29 convention in Boston. The Republican convention is set for Aug.
30-Sept. 2 in New York. That means Kerry will have to dip into his
fall campaign treasury five weeks earlier than Bush.
Bloomberg News