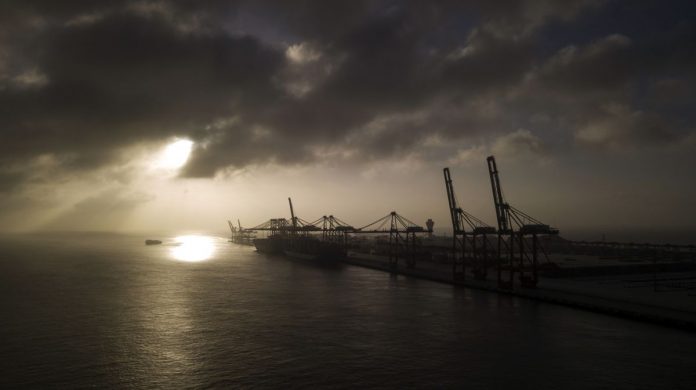 NEW YORK – President Donald Trump is willing to meet with Chinese leader Xi Jinping as the two nations square off over trade, but Beijing needs to show it's open to compromise, said White House economic adviser Larry Kudlow.
Kudlow declined to say if the Trump administration will clarify Friday whether it will follow through with a plan to impose tariffs on $200 billion in Chinese goods, the day after a public feedback period ended. "We will evaluate the comments and we will make a decision" in terms of the volume, tariff rate and timing, he said in an interview with Bloomberg TV.
There's no final decision on the tariffs as the U.S. Trade Representative's office continues to"run their process," White House Deputy Press Secretary Lindsay Walters said on Friday.
While China's response to U.S. demands has been unsatisfactory, Trump is still speaking to Xi, and would be open to meeting in person, said Kudlow, director of the White House's National Economic Council. An opportunity could take place when world leaders gather at the UN General Assembly in New York this month and the Group of 20 summit in Argentina in November, he said.
"It's never too late to make good trade policy," said Kudlow. "But I will say this: the world trading system is broken." Trump is "dead serious" in his determination to push China to reform its trade policies, he added.
Trump is getting a last-minute earful from prominent technology companies and retailers as he considers whether to follow through with his plan to ratchet up tariffs on Chinese exports.
On Air Force One on Friday, President Trump said he's ready to impose tariffs on an additional $267 billion in Chinese goods on short notice, on top of a proposed $200 billion that his administration is putting the final touches on.
The implementation of tariffs on $200 billion of products from China "will take place very soon depending on what happens," Trump told reporters. "I hate to do this, but behind that there is another $267 billion ready to go on short notice if I want."
If the administration moved ahead, it would more than cover the entire value of goods imports from China, according to U.S. government data from last year. The U.S. imported $505 billion of Chinese products in 2017, Census Bureau figures show. U.S. stocks erased gains after Trump's remarks.
'Time to stop'
Members of the public had until Thursday to comment on the administration's plan to slap tariffs on everything from bicycles and baseball gloves to digital cameras, paving the way for Trump to announce the tariffs as early as Friday. As of Friday morning in Washington, the White House had made no announcement.
Trump, in an interview with Bloomberg News last week, showed no sign of backing down, repeating his long-standing complaint that China has taken advantage of the U.S. and its leaders for decades. "It's time to stop. We can't let this happen," the president said.
Tariff plea
On Thursday, Cisco, Hewlett-Packard and other technology companies sent a letter to U.S. Trade Representative Robert Lighthizer urging the administration to avoid imposing more tariffs. By increasing duties on telecommunications networking gear, the administration would raise the cost of accessing the Internet and slow the roll-out of next-generation wireless technologies, the companies said.
Manufacturers and small and mid-sized firms in particular can't quickly adjust and the tariffs imposed so far haven't led to any meaningful concessions, a coalition of the National Retail Federation and 150 organizations said in separate comments to Lighthizer. The administration should cease further tariffs actions and give another shot at talks for a trade deal with with China, it said.
"Tit-for-tat tariffs are counterproductive and so far have only produced increased costs for American businesses, farmers, importers, exporters and consumers,'' the coalition said.
The latest installment of tariffs would bring to $250 billion the total value of Chinese goods hit with duties, covering nearly half of all imports into the U.S. last year. Beijing has threatened to retaliate with duties on $60 billion in American products.
China will be forced to retaliate if the U.S. ignores resistance in public hearings and imposes additional tariffs, said Gao Feng, a Ministry of Commerce spokesman, at a regular briefing on Thursday in Beijing.
The trade conflict between the world's two biggest economies shows little sign of abating, roughly two months after the U.S. imposed its first round of tariffs on Chinese goods, and negotiations to defuse the tensions have stalled. The International Monetary Fund has warned that a trade war could undermine the strongest global upswing in years.
Business warnings
At public hearings last month, companies warned that fresh duties on Chinese imports could hike costs and stifle innovation. Almost 350 individuals from companies, trade associations and other entities testified, with most opposed to the levies. Many lawmakers, including from Trump's own Republican party, oppose the president's zeal for tariffs but have limited options for curbing such sanctions.
Efforts to negotiate a U.S.-China truce have proved fruitless. Two days of talks in Washington in August failed to yield a breakthrough following three rounds of unsuccessful talks earlier in the year, dimming hopes of a compromise.
EU, Nafta
The two nations have maintained contact on a working level since Vice Commerce Minister Wang Shouwen visited the U.S. last month, Gao said on Thursday.
U.S. trade officials are juggling a number of high-profile files, in addition to the China tariffs, at the same time as the president tries to tamp down reports of resistance to his agenda from within his own administration.
Lighthizer has been trying since last week to reach a deal with Canada on a revised North American Free Trade Agreement with Mexico, and he heads to Brussels on Monday to meet with EU officials to discuss the outlines of a trade deal announced in late July.
The tariffs are intended to punish China for what the Trump administration says are unfair trading practices, including the forced transfer of intellectual property from U.S. companies trying to get a foothold in the Chinese market.
Investors in U.S. assets have generally shrugged off the escalating trade war with China, said Kristina Hooper, chief global market strategist at Invesco Ltd., which manages $988 billion in assets. At some point, the duties will start to hurt American companies, she said.
"If we continue on our current trajectory, I do believe we'll experience some kind of reckoning," Hooper said. "It may take longer to figure out what the repercussions are, but the U.S. will not be unscathed."
Andrew Mayeda, Mark Niquette, Shannon Pettypiece and Shawn Donnan are reporters for Bloomberg News.