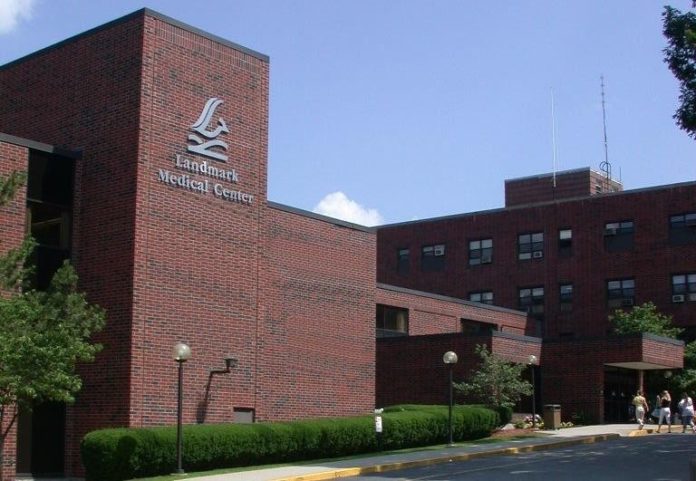 WOONSOCKET – Negotiations between Landmark Medical Center and the Rehabilitation Hospital of Rhode Island and Caritas Christi Health Care Systems have stalled without reaching an agreement, said Bill Fischer, spokesman for Jonathan Savage, special master for the Woonsocket hospital that is under receivership.
Discussions related to reimbursement rates with Blue Cross & Blue Shield of Rhode Island did not produce tangible results, which would have greatly improved the chances of a Caritas acquisition moving forward, according to Savage.
"Attempts to address Landmark's inadequate reimbursements with Blue Cross were not productive and in fact stalled our negotiations with Caritas," Savage said in a news release.
Michele Lederberg, executive vice president at BCBSRI, said that Blue Cross had been "unfairly singled out" by Savage for blame in the breakdown of negotiations.
"Our understanding was that there were three contingencies – one with Blue Cross, a second with UnitedHealthcare [of New England], and a third with the union," Lederberg said. "It is our understanding that agreements were not reached with any of those parties."
Lederberg said that the negotiations over insurance reimbursements had been with representatives of Caritas – and not with Landmark. "They were looking for significant increases, which were not in line with other agreements with community hospitals in Rhode Island." Such increases, she continued, would have made health care "unaffordable for our members" served by Landmark.
Robert Guyon, chief operating officer at Caritas, called the impasse over reimbursement rates with Blue Cross "a major gating factor."
Guyon acknowledged that there were other factors responsible for stalling the acquisition, but said that Caritas "did not negotiate in public." Guyon did confirm that agreements had not been reached with either the union or with UnitedHealthcare.
However, Guyon said because Blue Cross was "the largest payer" for services at Landmark, increased reimbursements were a critical factor in the acquisition. It was well documented, he continued, that there are disparities in the rates community hospitals are reimbursed in Rhode Island. "Landmark is among the lowest paid hospitals [for insurance reimbursements] in the state. Landmark gets about 70 percent of what the average is in Rhode Island. We were looking for fairness in reimbursement," Guyon said.
The exclusive negotiating agreement that Savage was operating under with Caritas is no longer in effect, according to Fischer. "We believe that there are various entities that are interested in Landmark, both in state and out of state, both for profit, and not for profit," Fischer said. Still, Savage said that a deal between Landmark and the for-profit Caritas could still happen.
When asked if Lifespan was a potential suitor for Landmark, Fischer declined comment, saying: "For today's purposes, I'm not going to comment on interested parties."
Savage will present a detailed plan and timeline to Superior Court Judge Michael Silverstein in January, that will describe possible scenarios going forward, including the execution of an asset purchase agreement in the next 12 months. Cash flow projections are also being finalized that will include 12- and 24-month models to assure both the court and regulators that the facilities will remain fully operational and continue to deliver high-quality hospital care.
"This is by no means the end but in fact a new beginning for Landmark. The hospital's financial picture has dramatically improved during the past two years, and there have been many changes on the health care landscape both regionally and nationally that have improved our marketability," said Savage. "Community support remains intact, out patient census is at a five-year high and the commitment of the employees and physicians groups is unwavering."
An acquisition of Landmark by Caritas required certain contingencies to be met before the deal could move forward, some of which have been accomplished. State legislation passed providing for a favorable sales tax waiver for 12 years should Landmark be acquired by a for-profit entity. Additionally, the hospital's bond debt has been paid, virtually eliminating $14 million in outstanding bond indebtedness, according to Savage.
"With all that was accomplished, the deal with Caritas ultimately hinged on negotiations between Caritas and Blue Cross, and to date those negotiations have not been fruitful," he said.
"I want to thank [Caritas President and CEO Dr. Ralph] de la Torre and his entire executive team for the time, energy and resources they have devoted to this process. We have certainly benefited from their expertise on many fronts during the past year."
"At the beginning of this process the mastership had two goals: To extend the operations of the hospital beyond it's then projected closing of December 2008 and to identify and successfully negotiate with an acquisition partner," said Savage. "I sincerely wish we were announcing a completed negotiation at this time. However, it's important to note Landmark remains operational and continues to deliver high-quality hospital care."
During the Mastership process Landmark staff have handled approximately 17,000 in-patient visits and more than 115,000 emergency room visits, which Fischer said was the "third or fourth busiest emergency room in Rhode Island."
Landmark supports 1,300 jobs directly and an additional 1,500 indirectly throughout the Blackstone Valley, according to Fischer.
"We plan on meeting with the new governor and the new attorney general and other health care stakeholders in the coming weeks to stress the importance of Landmark to Rhode Island's health care delivery system. I have every confidence we will get an acquisition accomplished," said Savage. "There will be serious repercussions for both northern Rhode Island's and the state's economy if Landmark moves forward operationally as anything less than a full-service community hospital. Landmark is the second largest economic driver for the greater Woonsocket area, second only to CVS [Caremark Corp.]. Thirteen hundred jobs hang in the balance. For these reasons, we remain hopeful common sense solutions can be found to preserve Landmark."