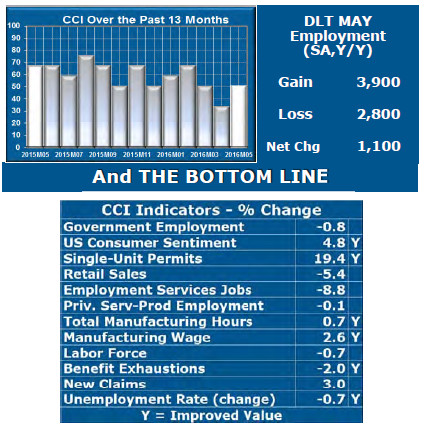 SOUTH KINGSTOWN – The state's economy "improved" to a neutral value of 50 in May, reported University of Rhode Island economist Leonard Lardaro in his latest Current Conditions Index, but shows a "troubling trend" of not exceeding that value in three months.
Released on Monday, the May 2016 CCI shows an eight-point increase from April's corrected value of 42, a contraction value.
In a year-over-year comparison the CCI has dropped 17 points since May 2015.
Lardaro noted: "At present, we find ourselves increasingly unable to sustain even what has to be viewed as the rather modest pace of economic activity last year. Should this slowing continue, we might ironically come to view 2015 as a 'strong' year."
Each month's measurement reflects 12 broad-based indicators of economic activity including consumer sentiment, unemployment, retail sales and government employment.
In May the state's unemployment rate fell 0.7 percentage points, and Lardaro equated the drop to "downshifting from third potentially into second gear."
The pause in declining cyclical momentum, Lardaro said, led to last month's good news: a 0.7 percent increase in total manufacturing hours and a 2.6 percent increase in the manufacturing wage; a "sharp" 19.4 percent rise in single-unit permits after a 15 percent decline in 2015; and a 4.8 percent rise in U.S. consumer sentiment occurred in May – ending five months of consecutive declines.
On the flip side of the coin the Rhode Island labor force shrank 0.7 percent in May, witnessing its 24th year-over-year decline.
In addition, employment service jobs, which includes temporary employment, fell by what Lardaro called a "hefty" 8.8 percent in May – the third consecutive decline for this indicator.
In addition, new claims, which reflects layoffs, rose 3 percent in May.
Continuing its decline in four out of the past five months, retail sales, what Lardaro once called a "star performer," saw a 5.4 percent decline in May.
Private service-producing employment fell 0.1 percent in May, and government employment saw another loss, this time falling 0.8 percent.
In its slowest rate of improvement in several years, benefits exhaustion, which reflects longer-term employment, decreased by 2 percent.
As the growth of the U.S. economy remains moderate, Rhode Island slows showing an "asymmetry with national growth" said Lardaro.
He warned if the state continues on this path, residents will soon "increasingly experience the ill effects of our state's elected officials doing virtually nothing until very recently."