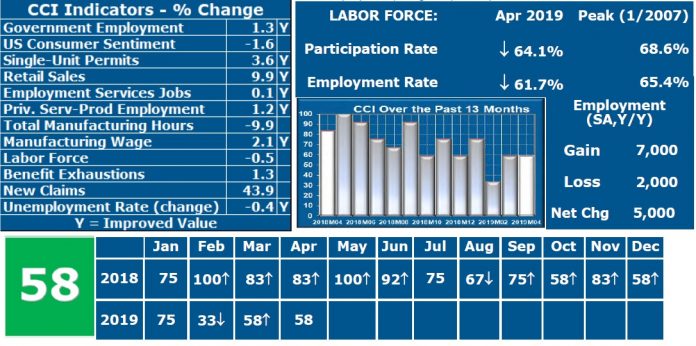 PROVIDENCE – The Current Conditions Index for Rhode Island in April had a value of 58, according to University of Rhode Island economist Leonard Lardaro Monday, marking economic expansion but also begins the quarter on a "cautionary note."
A value above 50 indicates expansion, while a figure under 50 indicates economic contraction.
This is the third month of the CCI showing economic expansion in 2019 (February indicated contraction). The CCI value for the Ocean State remained level from March to April.
The CCI value for April declined 25 points year over year. Lardaro noted the drop marked the 11th consecutive year-over-year decline of the CCI value.
Seven of the 12 indicators that comprise the CCI improved in April year over year, but despite this, Lardaro said that " 'under the hood' things aren't so rosy."
Lardaro specifically cited the declining labor force in the state and new claims as areas of concern. He did say, however, that the increase in new claims was at least partially attributable to the Stop & Shop workers strike. He also asserted that the unemployment rate decline from 4.1% to 3.7% was "meaningless" due to the decline in the labor force.
The report said retail sales in the state "held up surprisingly well" in April and noted a manufacturing-wage increase was positive but also coincided with a decline in total manufacturing hours.
Despite April's indicator improvements, Lardaro said the state's "negative elements continued to gain in relative importance," but added that recent performance shows "economic momentum is down but not out."
CCI indicator changes year over year in April:
Government employment increased 1.3%
U.S. consumer sentiment declined 1.6%
Single-unit permits increased 3.6%
Retail sales increased 9.9%
Employment service jobs increased 0.1%
Private service-producing employment increased 1.2%
Total manufacturing hours declined 9.9%
Manufacturing wage increased 2.1%
State labor force declined 0.5%
Benefit exhaustions increased 1.3%
New claims increased 43.9%
Unemployment rate declined 0.4 percentage points.
Chris Bergenheim is the PBN web editor. You may reach him at Bergenheim@PBN.com.