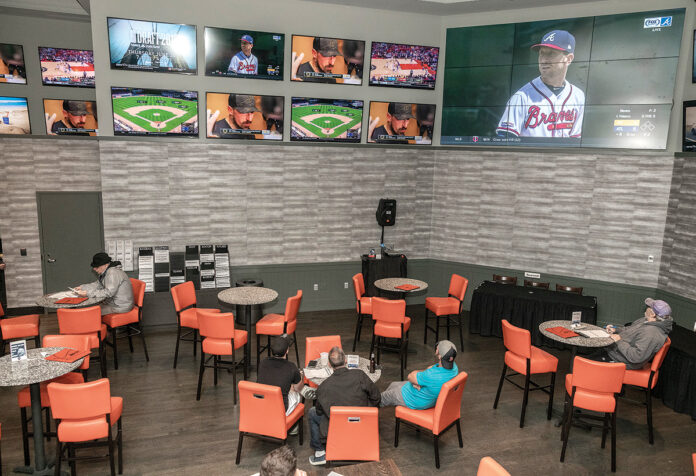 PROVIDENCE – A lawsuit to halt sports gambling in the state has been dismissed from R.I. Superior Court, according to a spokesman for the R.I. Department of Revenue Monday.
The case, brought by former R.I. GOP Chairman Brandon S. Bell and Joseph S. Larisa Jr. on behalf of Dr. Daniel S. Harrop, alleged that the launch of sports gambling and mobile sports gambling in Rhode Island was unconstitutional.
The state has said that an approval by voters of table games enabled the launch of sports betting. Mobile betting launched on Sept. 4.
The DOR said the case was dismissed on the count of no standing, meaning the court did not find sufficient connection or harm by the law that was challenged to the plaintiff.
State officials have previously said they had legal authority to add sports betting, which they did in advance of U.S. Supreme Court action to allow it.
"We will continue to move forward," said DOR spokesman Paul Grimaldi. Noting that if someone else filed another lawsuit, it would be dealt with then.
Larisa and Bell signaled Monday that the dismissal of their lawsuit was not the end of their challenge.
"Today, the Superior Court dismissed the suit brought by plaintiff Daniel S. Harrop solely on grounds of standing. He in no way ruled on the merits of the case," said Larisa and Bell in a statement. "The judge indicated that there may be persons with standing – including bettors who placed a losing bet, and thus were harmed by the unconstitutional sports betting legislation. The town of Tiverton, the host community, also may be a proper plaintiff, as its voters lost the opportunity to vote twice – statewide and locally.
"To paraphrase Arnold Schwarzenegger, 'We'll be back,' " the lawyers concluded.
The governor's office hailed the decision.
"We are pleased with Judge Stern's decision to throw out this case. The revenue from sports betting supports investments in education, health care, infrastructure and more," said governor's office spokesman Josh Block. "With the launch of mobile betting just last week, we look forward to continuing to grow this revenue source and offer Rhode Islanders a fun and convenient gaming experience."
Grimaldi said that mobile sports betting has seen 6,307 registrations as of noon Monday, while the number of activated accounts (betting requires mobile-bettors to go to either casino sportsbook to verify their identity) totaled 2,345.
Since its activation, mobile betting saw 12,376 bets placed over the weekend into Monday with approximately $410,000 being wagered.
Grimaldi said that mobile bets to date have taken in more money than they have paid out, although specific numbers were not immediately available.
Editor's note: This story has been updated to include comments from Brandon S. Bell, Joseph S. Larisa Jr., and the governor's office.
Chris Bergenheim is the PBN web editor. You may reach him at Bergenheim@PBN.com.

Want to share this story? Click Here to purchase a link that allows anyone to read it on any device whether or not they are a subscriber.