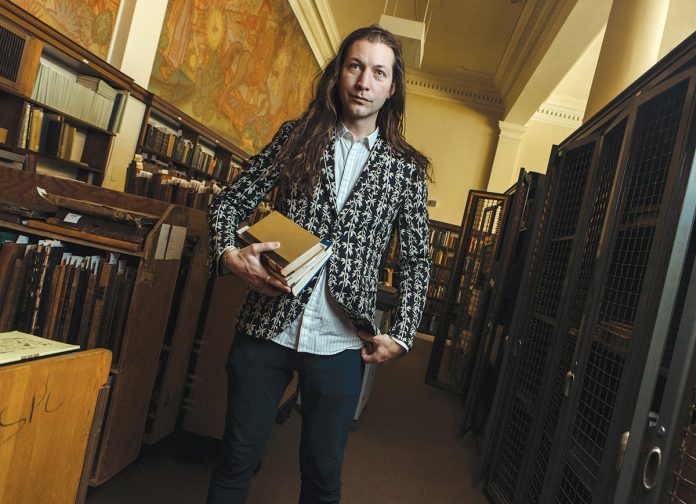 2019 C-Suite Awards | CHIEF OPERATING OFFICER, NONPROFIT: AARON PETERMAN | PROVIDENCE PUBLIC LIBRARY
---
AARON PETERMAN, chief operating officer at Providence Public Library, is excited about the $25 million library overhaul he's been overseeing since 2016. And rightfully so.
A wing of the Washington Street building that was constructed in 1953 – more than one-third of the library's 145,000 square feet – is being gutted and remodeled to bring it into the 21st century, Peterman said. Wiring, data cabling and the heating, cooling and ventilation system, as well as the interior layout, are being replaced, he said.
The drop ceilings, partitions and numerous rooms that had filled the wing will be cleared away. The renovation will open the floor plan, Peterman said, allowing an unimpeded view of the building's interior, from one end to the other.
"It's like the library's awakened from a 30-year slumber," he gushed.
Peterman, an artist, was recruited for the massive project from his post as managing director at AS220, the nonprofit community arts group that owns three buildings in downtown Providence containing galleries, offices, workshops, living quarters and businesses.
AS220 was where Jack Martin, library executive director, met Peterman about five years ago during a tour of one of AS220's spaces. At the time, Peterman had just helped secure $4 million in New Market tax credit equity for AS220's successful Mercantile Block rehab project on Washington Street.
"Without [those tax credits], we probably wouldn't have moved forward," Peterman recalled.
The accomplishment likely figured in his candidacy for the COO job, Peterman said. Indeed, when he took the library position in 2015, he went on to help secure $4.2 million in New Market tax credit equity for the library renovation.
In fact, Martin said Peterman's role as the library's liaison with architects, engineers, the construction manager and consultants required mastering complex state- and federal-level processes and programs. "Aaron's considerable contributions throughout the intricate, three-year planning and approval process for our renovation project cannot be overstated," Martin said.
Peterman was tasked with developing a thorough technical understanding of the library building, Martin said. It hadn't been updated in more than 30 years, and that presented numerous challenges throughout the design process with designLAB Architects, Martin said.
But Peterman was well prepared and familiarized himself with every aspect of the project. "I can close my eyes and see the detailed plans," Peterman said.
The dedication helped Providence Public Library in its application to the state Office of Library and Information Services' construction reimbursement program, ultimately winning nearly $9 million for the project. "Without [that], our renovation would not be possible," Martin said. "Aaron has been integral to helping the organization navigate this transformation."
But Peterman's leadership goes beyond managing the renovation and securing crucial funding, Martin said. He has also helped ensure the library's future, spearheading the addition of a café into the renovation designs. The retail venture is projected to increase library revenue by more than $300,000 within five years.
Peterman also has led the improvement of financial controls, including hiring a controller to reform the library's finance office. He also implemented better budget tracking and quarterly budget-to-actuals statements at staff meetings for increased transparency.
Peterman implemented new financial and human resources software and made benefits tracking and time-off requests accessible to staff.
Peterman deftly handled communicating and fostering those changes, Martin said, a crucial ability for a leader in his position. Many of the current staff have worked there for more than 40 years.
Including his co-workers in the planning is part of his approach.
"If you could have more brains involved in solving a problem, why wouldn't you want them?" Peterman said.
"Aaron's thoughtful communication as COO has helped to ensure that our staff – the greatest asset of any organization – feels informed, respected and prepared to weather this period of change," Martin said.