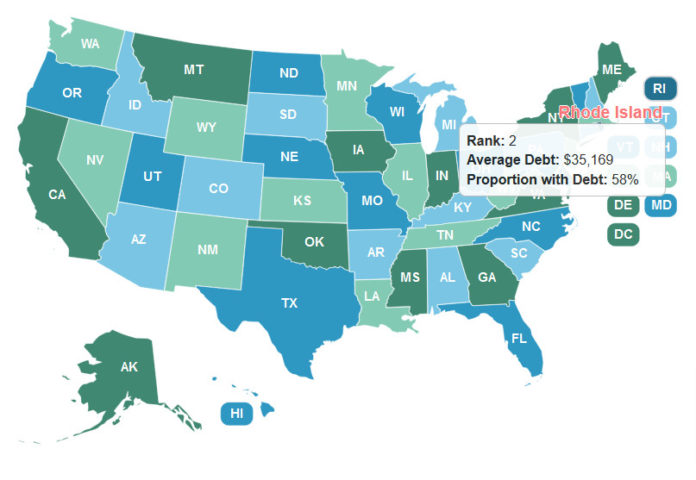 PROVIDENCE – Rhode Island ranks second in the country with the highest average student loan debt, according to LendEDU's Student Loan Debt by School & State 2016 Statistics Report.
LendEDU, a student loan and student loan refinance marketplace, shows that the average debt per borrower in Rhode Island is $35,169, with 58 percent of local college graduates having college debt.
The University of Rhode Island has the highest student loan debt for public colleges in Rhode Island with an average debt per borrower of $32,587. Roger Williams University has the highest student loan debt for private colleges in the state with an average borrower debt of $40,612.
California-based National University had the highest individual average student debt, at $52,986. Rhode Island schools in the top 100 for average student debt included: Roger Williams, ranked No. 54 on that list; and Bryant University, No. 76, with average debt of $39,283.
Connecticut ranks at the top of the list with an average debt of $36,856, leaving 59 percent of its graduates in debt. The state with the lowest student loan debt is Utah. Thirty-nine percent of college graduates have debt and owe an average of $18,772.
In general, college graduates in New England carry a large amount of debt. New Hampshire ranked No. 3 on the list, with average debt of $34,810, while Massachusetts came in at No. 7, with average debt of $31,411. Vermont grads had the least debt in New England at $27,801, placing it at No. 27 on the list.
According to a Thursday press release from U.S. Rep. David N. Cicilline, student loan debt is now the largest credit/loan problem. The press release states that more than 43 million Americans are working to pay off $1.2 trillion in student loan debt, which means seven out of every 10 graduates from a four-year college will have debt.
"There are many issues that divide Republicans and Democrats in Washington, but this shouldn't be one of them," said Cicilline at a roundtable discussion Thursday at URI's Providence campus. "Millions of young Americans are being forced to either take on massive amounts of debt or give up on the pursuit of a college degree. … Higher education must be accessible and affordable to all who are willing to work hard, and not a privilege for the wealthy."
To see the rankings and learn more about LendEDU's report and methodology, click HERE.