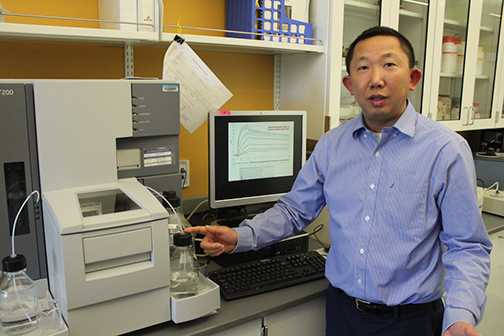 SOUTH KINGSTOWN – University of Rhode Island assistant professor Deyu Li was named the first recipient of the Paramaz Avedisian endowed chair in medical organic chemistry at the school's College of Pharmacy Aug. 1.
Part of the $5 million gift Edward Avedisian made to URI in 2017 in honor of his late brother, the endowment is designed to grow URI's scientist faculty in the fields of chemistry, molecular biology and pharmaceutical sciences, among others, to work toward the goal of finding better therapies and more advanced treatments for diseases.
In prepared remarks, Li said, "Cancer is a devastating disease that touches millions of people. It's not just a medical but a societal problem. … I want to work on early detection, early treatment and better, precision therapy. We have a chance to really dig in to understand the disease and improve the therapy."
Calling the pursuit for a better understanding of the disease "not a one-day study," Li added in his statement "the endowed chair will give us the time and support to get there."
Li has worked in the URI College of Pharmacy since 2014. His research focuses on DNA breakthroughs in the research of cancer treatment.
Emily Gowdey-Backus is a staff writer for PBN. You can follow her on Twitter @FlashGowdey or contact her via email, gowdey-backus@pbn.com.