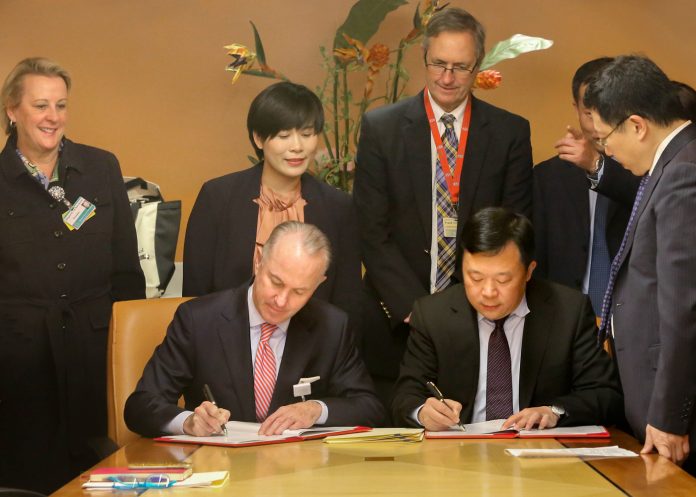 PROVIDENCE – Lifespan Corp., the Lifespan Cardiovascular Institute and University Cardiovascular Surgical Associates executives met Wednesday with a delegation from Huazhong University of Science and Technology's Tongji Medical College and Union Hospital located in Wuhan, Hubei Province, People's Republic of China, to establish a cardiovascular research exchange, the company announced Wednesday.
The parties signed a memorandum of understanding establishing an exchange program centered around cardiovascular research and medical knowledge in the areas of cardiology, echocardiography and cardiovascular surgery, according to a statement from Lifespan.
Each country's site will host two to five medical students, residents, fellows, physicians, faculty and other health care providers per year.
Dr. Frank Sellke, chief of cardiothoracic surgery at Rhode Island and The Miriam hospitals, said the exchange will provide Lifespan with access to the Tongji Medical College and Union Hospital's patients, many more than it would normally have access to. The deal will also send Chinese surgeons to Brown University.
"We get their work and they get our experience," Sellke said.
The learning won't be all one-sided, though, said Sellke, who has visited Chinese hospitals, where they treat 10,000 to 15,000 patients per year. The volume of work has its own advantages, Sellke said.
"They do things very efficiently and with much less cost than we do," Sellke said.
Sellke said the first exchange candidates will visit their respective host hospitals within the next six to 12 months. While the initial focus will be echocardiogram and cardiology, there's a potential to expand the exchange into other medical specialties.
The partnership was the result of the work of Dr. Philip Haines, associate director of echocardiography at Rhode Island Hospital, and his mentor, Tao Wang, a former Chinese transplant surgeon and researcher, who worked with Haines at the University of Pennsylvania, Sellke said.
Haines, upon arriving in Providence from his fellowship at University of Pennsylvania, said he had a vision of expanding the cardiovascular research collaborations of both the Warren Alpert Medical School of Brown University and the Lifespan hospitals as its major teaching affiliates.
Haines, Sellke and Dr. Athena Poppas, the chief of cardiology at Rhode Island and Miriam hospitals, have traveled to China to develop the partnership, according to a statement from Lifespan.
"The exchange of faculty and trainees between these two organizations is an enormous opportunity in the global pursuit of medical knowledge and research breakthroughs," said Haines. "The possibilities for both universities and hospitals cannot be underestimated. I am grateful for the support and mentorship of Dr. Sellke and Dr. Poppas as we pursued formalizing this exchange of ideas and resources."
Rob Borkowski is a PBN staff writer. Email him at Borkoswki@PBN.com.