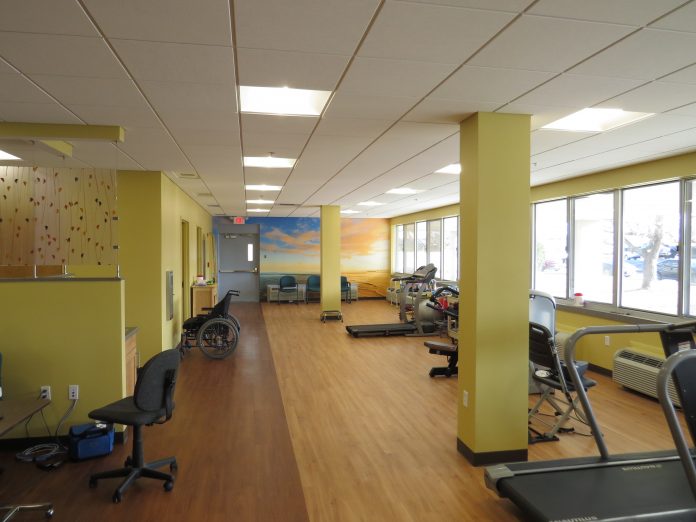 EAST PROVIDENCE – Aldersbridge Communities' Rehabilitation and Wellness Center at Linn Health & Rehabilitation is set for a grand opening this week.
The center, which includes an 1,800-square-foot rehabilitation gym, features state-of-the-art rehabilitation and therapy equipment, along with private therapy rooms for physical and occupational therapy for Aldersbridge residents.
Other features include a special walkway that will allow residents to practice ambulatory motion, and a model kitchen, laundry room and bathroom will be used for practicing independent living skills.
It is the largest facility of its kind in the East Bay, Aldersbridge says.
The center's grand opening is scheduled for Tuesday from 4-6 p.m. at 30 Alexander Ave. East Providence Mayor Roberto DaSilva is among those who plan to attend.
"Our goal is helping our residents with improving their activities of daily living," Linn Health & Rehabilitation Administrator Cathy Donnelly said. "Our therapists have created unique programs and adopted proven rehabilitation techniques that treat chronic or temporary health conditions that may prevent them from doing daily tasks. This dedicated space allows for the utmost quality in rehabilitation care so residents can get back on their feet as quickly as possible. We are really proud of that and can't wait to show off our new center to the community."
Aldersbridge Communities, a nonprofit, provides long-term care, skilled nursing, rehabilitation, assisted living and independent services for seniors. It has locations in East Providence, the Federal Hill section of Providence and Woonsocket.