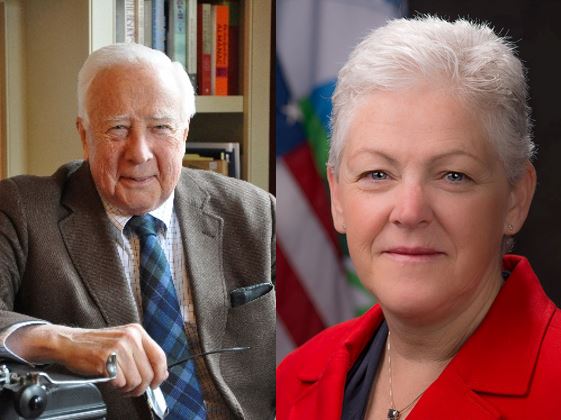 PROVIDENCE – With graduation season just around the corner, college and universities have revealed who will be delivering the commencement speech at their ceremonies. The following is a list of this year's commencement speakers at select Rhode Island and Massachusetts colleges and universities.
Brown University: Beverly Ledbetter, Brown's chief legal officer, will deliver the Baccalaureate address to the Class of 2018 on May 26.
Ledbetter is a graduate of Howard University and the University of Colorado Law School. She is a former Providence Housing Court judge and helped to start the Rhode Island Foundation's Black Philanthropy Fund. Ledbetter has dedicated her time to organizations such as the National Association of College and University Attorneys, the Thurgood Marshall Law Society, the Girl Scouts of Rhode Island. Ledbetter became Brown's first general counsel in 1978 and will retire this year.
Johnson & Wales University: JWU announced Laura Field, president of the Maine College of Art, John Taylor, chairman of the board of Twin River Worldwide Holdings and Maribeth Bisienere, senior vice president of parks and security at Walt Disney World, will give keynote addresses at the commencement ceremonies.
Field will deliver her address at the graduate ceremony May 18, and Taylor and Bisienere will deliver their addresses to the morning and afternoon ceremonies, respectively, May 19.
New England Institute of Technology: Award winning actor, director, producer, author and philanthropist William Shatner will serve as this year's  NEIT commencement speaker. Shatner is most famous for his portrayal of James T. Kirk, Captain of the USS Enterprise in the Star Trek franchise.
NEIT will also honor Rhode Island Foundation President and CEO Neil D. Steinberg with an honorary doctor of humane letters degree.
Providence College: New York Times Bestselling Author David McCullough will be the commencement speaker for Providence College's graduation May 20 at the Dunkin' Donuts Center.
McCullough is a two-time Pulitzer Prize and National Book Award winner and has written numerous history books such as "John Adams," "1776" and "The Wright Brothers." McCullough has also narrated documentaries such as "Seabiscuit" and Ken Burns' "The Civil War." Among his other accolades, McCullough received the Presidential Medal of Freedom and has been named an Office of the Legion of Honor by decree of the President of France.
In addition to delivering the commencement address, McCullough will receive a doctor of letters honorary degree.
Rhode Island College: RIC announced Jeff Kirwan, former president and CEO of Gap Global, and Anna Cano-Morales, the college's associate vice president of community, equity and diversity, will serve as the commencement speakers for the college's undergraduate and advanced degree ceremonies, respectively.
Kirwan graduated from RIC in 1993 and served as president and chief executive office of Gap Global from 2015 to 2018. He has worked with Gap, Inc. since 2004 in various executive positions. Kirwan will deliver his address May 12 at the Dunkin Donuts Center.
Cano-Morales is also an alumnus of RIC. She previously served as the director of the Latino Policy Institute at Roger Williams University and the Rhode Island Foundation's vice president for grant programs. She has also served on several state and nonprofit boards, including the University of Rhode Island Foundation, Rhode Island Latino Political Action Committee and International Charter School.
Rhode Island School of Design: David Hanson, founder and CEO of Hanson Robotics, will deliver the commencement speech for RISD June 2.
Hanson is a 1996 graduate of RISD, where received a bachelors of fine arts in film/animation/video. He also received his Ph.D. in interactive arts and engineering from the University of Texas at Dallas. His company, Hanson Robotics, creates humanlike robots with impressive and realistic expressiveness, empathy and interactivity. Hanson's Robotics' robot Sophia has appeared on shows such as 60 Minutes with Charlie Rose and the Tonight Show with Jimmy Fallon as well as various news outlets.
Roger Williams University: Frank Rainieri, president and CEO of the Grupo Puntacana resort in the Dominican Republic, will deliver the commencement address to RWU graduates May 19.
Rainieri is the co-founder of the Punta Cana Club on the Dominican Republic's eastern shore. The resort spans 26 square miles and includes multiple hotels, resorts, a marina, a shopping village, a golf course and the world's first privately owned international airport. Rainieri is also president of the Grupo Puntacana Foundation, which helps to protect the Punta Cana region's natural resources and promotes sustainable tourism.
Rainieri and his son, Frank Elias Rainieri, a 1999 graduate of RWU and a member of the university's board of trustees, will received honorary degrees during the commencement ceremonies.
Salve Regina University: Helen Prejean, a sister in the Roman Catholic church and a renowned advocate for abolishing the death penalty, will be the commencement speaker for Salve Regina University May 20.
While working for the St. Thomas Housing Project in New Orleans, Prejean agreed to connect with a death row inmate at the Louisiana State Penitentiary to become his spiritual advisor. She wrote a book about her experience after watching the inmate's execution titled "Dead Man Walking: An Eyewitness Account of the Death Penalty in the United States" that was a New York Times Bestseller and was adapted into a movie of the same name in 1995. Prejean wrote a second book titled "The Death of Innocents: An Eyewitness Account of Wrongful Executions" published in 2004.
Prejean also founded advocacy group Survive to help families of murder victims and related crime. She also served as national chairperson of the National Coalition to Abolish the Death Penalty and has been a member of Amnesty International and Murder Victim Families for Reconciliation.
Stonehill College: CEO of the Obama Foundation David Simas will deliver Stonehill's commencement address May 20.
Simas graduated from Stonehill in 1992 with a degree in political science and went on to get his law degree from Boston College Law School. Former Massachusetts Governor Deval Patrick appointed Simas as his deputy chief of staff in 2007. In 2009, Simas became deputy assistant to former President Barack Obama. After Obama's reelection in 2012, Simas became the director of the White House's Office of Political Strategy and Outreach.
University of Massachusetts at Dartmouth: UMass Dartmouth announced three individuals will be honored at this year's undergraduate and graduate commencement ceremony and will deliver commencement addresses.
Keith Hovan, president and CEO of Southcoast Health System, will be honored with the Chancellor's Medal and deliver the commencement address on May 12 at 10 a.m. at Xfinity Center in Mansfield.
Bryony Bouyer, senior vice president of marketing operations and consumer products at Hasbro, will receive an honorary degree and will also deliver at Xfinity Center.
Massachusetts Attorney General Maura Healey will deliver the commencement address to law graduates at the UMass Darmtouh School of Law ceremony May 14. Healey will also receive the Chancellor's Medal at the ceremony.
University of Rhode Island: Gina McCarthy, former administrator of the U.S. Environmental Protection Agency, and Maureen Moakley, professor of political science at URI, will deliver commencement addresses at URI during its graduation weekend.
McCarthy was the administrator of the EPA under the Obama administration. As administrator, McCarthy helped efforts to meet historic public health and environmental protection goals, including establishing the Climate Action Plan and the Clean Power Plan. McCarthy is currently a professor of public health practice and director of the center for climate at the Harvard T.H. Chan School of Public Health. McCarthy will deliver the undergraduate commencement address on May 20 at the URI Quadrangle.
Moakley received her Ph.D. in political science from Rutgers University and is the author of several books, including "The Political Life of the American States" and "Party Alignment and State Politics." She is a frequent radio and television political commentator, serving as a regular member of Rhode Island Public Radio's "Political Roundtable" and Rhode Island PBS' "A Lively Experiment."
Lauren Aratani is a PBN contributing writer.