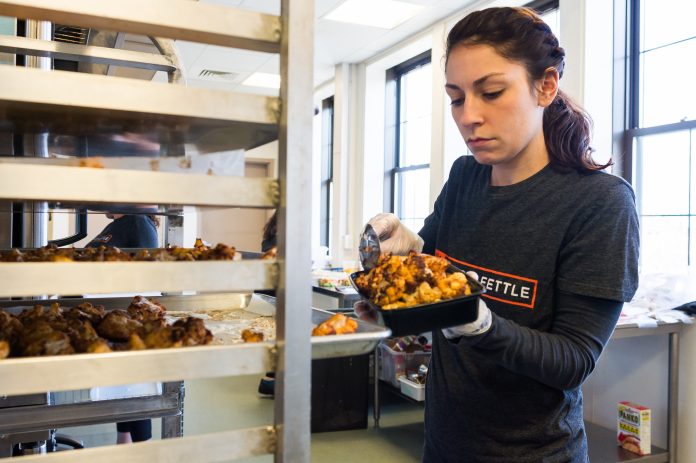 PROVIDENCE – Identifying and securing capital is a well-known challenge for Rhode Island businesses, which is why Feast & Fettle Inc. looked to a wider audience to secure much-needed funds.
On Aug. 3, the Warren-based meal prep and delivery company launched a crowdfunding call for equity on Microventures. With a minimum investment of $100, as of Tuesday at 10 a.m., they had collected $2,978 from 17 investors.
The crowdfunding round size in which Feast & Fettle is operating provides a fundraising platform with a $50,000 minimum and $300,000 maximum.
The company needs to raise its minimum by Oct. 1 to receive funding from the deal. If the company raises more than its target, it may use the excess funds at its discretion.
Carlos Ventura, Feast & Fettle CEO and co-founder, said the delivery service's goal is $250,000 to fund the renovation of a new, 2,600-square-foot commercial kitchen in East Providence. Currently, the company continues to operate out of the shared commercial space available at Hope & Main, where it launched in 2015.
In a filing accompanying the terms, the company said it would allocate 93.5 percent of funds to the kitchen build-out if the minimum is raised, which amounts to $46,750 and 40 percent to the build-out if the maximum was raised, which is equal to $120,000.
In the maximum fundraising scenario, 6.5 percent would go to the intermediary of the deal, 8 percent would go to general marketing, 25 percent would be allocated for equipment purchases, 15 percent to future wages and 5.5 percent would be allocated for general working capital.
The offering is being made through the intermediary First Democracy VC.
Feast & Fettle currently employs 10 people.
According to Feast & Fettle data, between fiscal years 2016 and 2017 the firm experienced a 143.7 percent increase in revenue, growing from $94,768 to $230,926.
In the second quarter of 2018, Feast & Fettle reported more than $107,000 in revenue, representing a 95 percent year-over-year jump.
In fiscal 2017, Feast & Fettle reported a net loss of $14,235, compared with a net loss of $25,031 the previous year.
The company reported a 40 percent customer retention rate.
Emily Gowdey-Backus is a staff writer for PBN. You can follow her on Twitter @FlashGowdey or contact her via email, gowdey-backus@pbn.com.