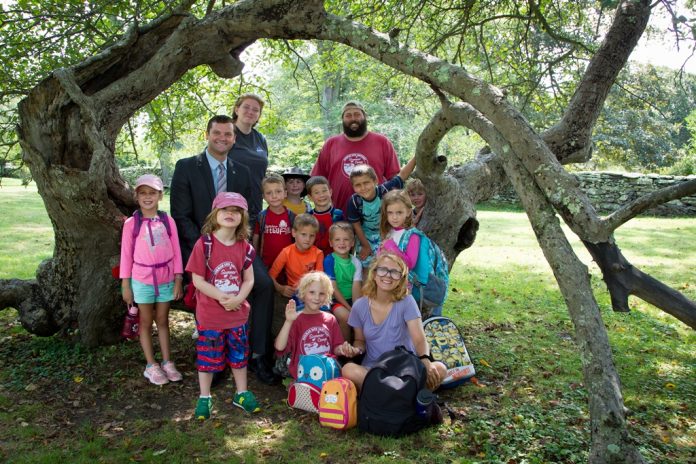 With the start of the school year upon us, more than 240 Newport County youth are returning to the classroom better prepared to learn new curriculum thanks to spending a bulk of their summer engaged in nature and hands-on learning experiences at the Norman Bird Sanctuary. For more than two dozen of those students, their participation in 69 total sessions of summer camp was made possible by scholarships from a $5,000 charitable grant awarded to the organization by BankNewport.
Now in its 59th year, the Norman Bird Sanctuary's summer camp encompasses eight age-appropriate camp programs designed for children from Pre-K through age 14. The innovative camps offer a unique blend of hands-on learning, games, animal encounters, and team-building activities led by professional teacher naturalists who utilize the Sanctuary's 325-acres as a giant outdoor classroom. In total, the organization offers eight, weeklong sessions beginning in June and continuing into August.
To help expand its impact, the Sanctuary in 2018 built on its collaborations with the Dr. Martin Luther King Community Center, EBCAP, and Claiborne Pell Elementary School to award needs-based scholarships to low-income youth thanks to BankNewport's generosity. It is the second consecutive year that BankNewport has awarded funding to the Norman Bird Sanctuary for youth scholarships.
"Research tells us that when children aren't engaged in learning during the summer, they're at risk of losing up to two months of reading and math skills; statistics that become even more troubling when you look at our low-income population," said Sandra J. Pattie, President and CEO of BankNewport. "At BankNewport, we're committed to breaking down the barriers that prevent children from participating in the type of enrichment programming that fosters a love of nature while encouraging learning outside the classroom."
About BankNewport
Founded in 1819 and headquartered in Newport, BankNewport offers a full suite of loan and deposit products and services for families and businesses throughout Rhode Island. In addition, OceanPoint Insurance Agency, Inc., a subsidiary of BankNewport, offers a broad range of property casualty insurance products and a full array of financial services. With 16 banking offices and $1.6 billion in assets, BankNewport is one of the oldest community banks in the United States and, as a mutual organization, is committed to the financial success of its customers, employees and communities. For more information, visit www.BankNewport.com.