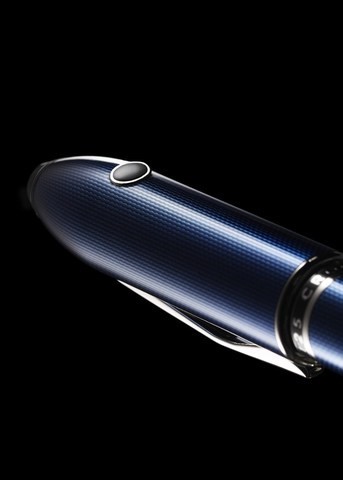 PROVIDENCE – A.T. Cross wants to make lost pens a thing of the past.
"We understand that for many people, the barrier to purchasing a fine writing pen is a fear of losing it," Bob Baird, CEO at A.T. Cross said in a statement. "Beautifully designed and luxurious writing instruments have become a highly personal and important style accessory for many, and we developed the Peerless TrackR to answer this clear consumer need. We believe this will be one of our most successful launches to date."
The pen maker said it has entered into a new partnership with TrackR, a Santa Barbara, Calif., firm that specializes in tracking items, to launch a trackable pen, the CROSS Peerless TrackR.
The CROSS Peerless TrackR works when paired with an app. It then uses Bluetooth and Crowd Locate technology to keep people in touch with their pen.
For example, if the pen falls out of someone's pocket, or is left inside a meeting room or restaurant, the device can alert the owner to its last known location using the TrackR app.
When the pen's Bluetooth connection is disconnected from its paired mobile phone, TrackR's Crowd Locate community will automatically start searching for the pen. If a TrackR app user walks by the missing pen while running the app, a confidential update with the pen's last known location will be sent. TrackR users help each other find more than a million items every day worldwide.
The pen also can even help people find their misplaced mobile phones. Following a simple button press on the cap, the pen can alert people to their device's whereabouts, even when left in silent mode.
Available in both carbon black and quartz blue, the Peerless TrackR is powered by two replaceable CR1220 batteries.
CROSS has also unveiled an accompanying pen pouch that features a TrackR bravo device. The TrackR bravo can ring a phone just like the Peerless TrackR.
"We're ecstatic to continue expanding our works with TrackR program by partnering with well-known brands worldwide such as Cross," Chris Herbert, CEO and co-founder, TrackR, said in a statement. "The new Peerless TrackR Pen is another leap forward in effortless tracking, giving people peace of mind by relying on technology to remember where all our important items are located for us."
The CROSS Peerless TrackR will be available for $250 and the CROSS Pouch will be available for $30 for purchase at Cross.com in April.