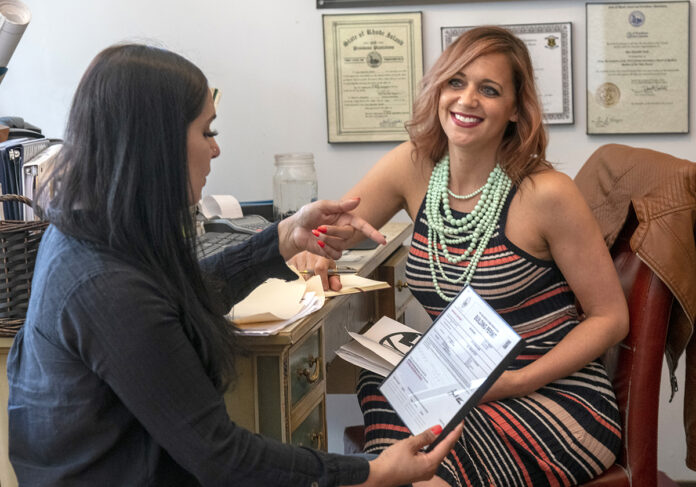 Rita Danielle Steele has had to make some adjustments in how her company, Steele Realty Consultants International LLC, does business in response to COVID-19. But with the technological tools that have come into the real estate industry over the years, these adjustments have been manageable.
The 5-year-old Providence company and its 10 employees serve international buyers. So Steele and her team had already been showing and selling properties remotely using video tours and other methods. The coronavirus pandemic expanded the need for those remote services.
In-person property showings during the pandemic has meant it has become more crucial to think beyond the vacuuming, dusting and staging of houses, but deep cleaning them as well, said Steele. "Sanitation levels have certainly been more at the forefront" of properties being sold, she said.
Reduced work hours for an office administration staffer is the only other real change Steele Realty Consultants International has seen from COVID-19. As the state has started to reopen, Steele has let local buyers and agents take the lead in how they handle things, depending on their own individual comfort levels.
"Some have wanted masks and booties. Others are fine without them. It just varies. A lot of buyers do initial viewings virtually and then a lot will do it all remote – straight through to closing," she said.
Allowing others to do things in ways in which they are most comfortable comes easy to someone who has followed her own interests and passions along the way.
Born and raised near Boston and a graduate of Roger Williams University, Steele initially wanted to be an English teacher.
Earning a college degree was a major accomplishment in what she calls her blue-collar family, said Steele. She accepted an internship with the R.I. Department of Education to fulfill her student-teaching requirement, working with a law school student. He was visually impaired and needed a tutor to help with his coursework.
The experience was pivotal for Steele.
During this time, she realized she wanted to become a catalyst for change – she switched her major to political science to better understand and facilitate change on a policy level. In higher education, issues such as standardized testing were attracting controversy, Steele said. Frustrated by the slow pace of progress on this and other issues, she wanted to work toward streamlining improvements.
Secondly, the blind student she was working with became a mentor and she grew to love the material she was helping him with – civil law.
"It was a wonderful phase of my life. I loved learning, I wished I could be in school for the rest of my life. If I had found my way to law without him, it would have been terrifying," she said. Though he is now deceased, the man gave Steele the confidence she needed to pursue a law degree in order to advocate for causes important to her.
Earning her law degree from Roger Williams, Steele is licensed to practice in Massachusetts and Rhode Island. Though she has worked in different areas of the law in the years before starting Steele Realty Consultants International, civil law has always resonated for her.
A passion for restoring historic properties also crept to the forefront for Steele.
A licensed contractor, she purchased and renovated the former Rumford Library in East Providence into a single-family home in 2014 and lived in it for a few years before selling it. The project won her a 2015 Rhody Award from the R.I. Historical Preservation & Heritage Commission.
The creation of Steele Realty Consultants International was an effort to "shift us into a broader range," with more unique real estate needs, such as clients who seek to build tiny houses as accessory units on existing land, for example, said Steele.
Even as principal of a real estate consultancy with services that include foreclosures, relocations and investments, Steele's passion for activism continues. Board vice president of the Providence Preservation Society, she said her interests are evolving yet again.
"My motivation has shifted from preserving for property beauty into showing how that property contributes to its surrounding environment" as mindful city planning, she said.
Steele is treasurer and president-elect of the Greater Providence Board of Realtors as well, which gave her its Realtor of the Year Award in 2018. "So I'm involved in the political side … and working with the Rhode Island political leaders to develop legislation that relates to the real estate industry," she said.
With the racial justice movement front and center, real estate is in the thick of the discussion, whether it be practices such as redlining – discriminating against investing in certain areas due to community demographics, leading to lost decades of generational wealth – or a debilitating lack of affordable housing.
Steele said she feels fortunate to be involved in reshaping policy.
"These are the things that keep me really passionate about remaining engaged and making change where I can, from inside our industry," she said."

Want to share this story? Click Here to purchase a link that allows anyone to read it on any device whether or not they are a subscriber.