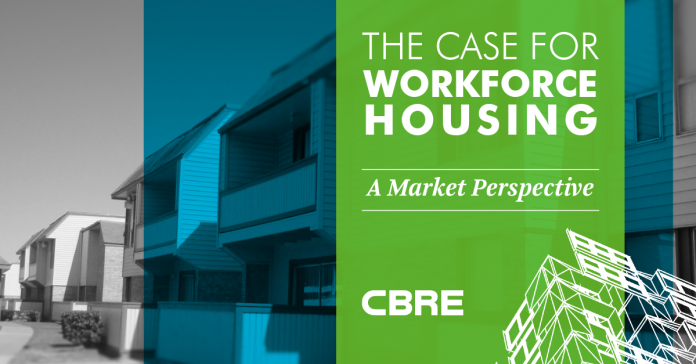 PROVIDENCE – Workforce housing, defined as rental communities that are affordable for low- to median-income workers, has outperformed the multifamily market for the past four years, according to research at CB Richard Ellis.
The segment has relatively low vacancy rates and above-average increases in rent, which is making it an attractive option for investors.
CBRE attributed the demand to slow wage growth over the past decade, a high number of renters and an "extreme lack of new supply."
The commercial real estate research indicates the segment will have "strong and sustained demand" into 2019.
Some 13.5 million households now occupy workforce housing, and most are renters of necessity because they are paying off student loans, saving to buy a house, or otherwise cannot afford homeownership or higher-quality rental housing.
"Over the past decade, only a small amount of new workforce housing has been built, while many older apartment communities have been demolished to accommodate the development of high-end properties," CBRE reported, in a news release. "The multifamily industry removes more than 100,000 units per year due to obsolescence and these are predominantly workforce and affordable-housing units."
The markets with the highest rent increases in workforce housing are predominantly in high-growth metro areas. Providence, which is in 18th position nationally, had a rent growth of 3.4 percent for the second quarter of 2018, according to CBRE research.
Orlando, Fla., and Las Vegas were the leaders in the U.S., with rents scaling 7 percent. Nine other metros, including Atlanta, Jacksonville, Fla., Tampa, Fla., and Phoenix, had rents that grew by 4 percent or more.
Mary MacDonald is a staff writer for the PBN. Contact her at macdonald@pbn.com.