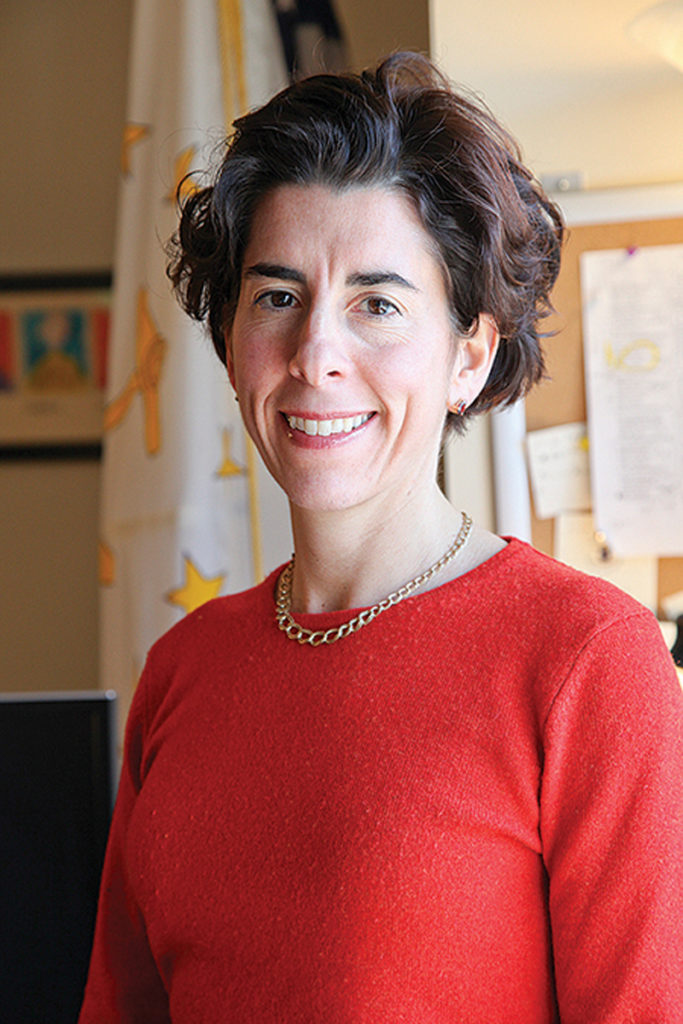 When I was a kid, 12 years of education – a high school degree – was enough to get a solid job with a good salary. By and large, that's not true anymore. Since 2010, our country has created 11.5 million jobs and 80,000 of them – only 10,000 more than the total capacity at Gillette Stadium – are for people with a high school degree or less.
By 2020, seven out of 10 jobs in Rhode Island will require at least a credential or a degree beyond high school, but only four out of 10 Rhode Islanders actually have one. Companies such as General Electric Co., Johnson & Johnson, Virgin Pulse Inc., and Cambridge Innovation Center are creating jobs here, and we need to make sure Rhode Islanders are getting those jobs.
My top priority is ensuring that Rhode Islanders get the good-paying jobs companies are creating. The only way that's going to happen is if we make sure that people have the training and education businesses require.
Just as we've worked together to create thousands of jobs, I believe we have a collective responsibility to make sure that Rhode Islanders are getting the positions our businesses are creating.
Since October 2014 – the month before my election – private-sector employers have added 14,500 jobs and our unemployment rate has dropped from 6.9 percent to 4.5 percent, the lowest it's been since 2001. Shortly after I took office, Gallup released its job- creation index. Rhode Island ranked dead last. Today, thanks to efforts we've taken to reduce corporate income tax and cut red tape, we've jumped 22 spots. According to U.S. News, Rhode Island's economy ranks No. 18, and we're in the top half of states for business environment.
We've come so far. And we must ensure that all Rhode Islanders are included in our ongoing recovery.
That's why I've proposed a plan to give every Rhode Island student a shot at the job training and education they'll need to compete. By offering two years of public-college tuition to every in-state student, Rhode Island's Promise Opportunity Scholarship will give our state a unique competitive edge – and ensure that our local talent pipeline is as strong as it can be.
In Tennessee, when a similar program was pioneered a few years ago, college enrollment spiked by 13 percent – and 30 percent at community colleges – while the number of students taking out loans plummeted. The vast majority of the scholarship's first class of students re-enrolled for their second year, with retention rates over 80 percent on some campuses.
Our plan would open the doors of higher education to more students, while giving them support they need to graduate on time. Just as importantly, Rhode Island businesses will have a bigger, stronger talent pool to hire from, which will lead to the creation of even more high-skill, high-paying jobs in our state.
A better-educated population brings more money – and jobs – into our local economies, and it attracts businesses and prompts higher-paying jobs. That's good news for all of us.
The program is doable, and it will work. It's also deeply necessary.
I hear from people every day who want to work but who can't get a job because they don't have the training or education that's required. I also hear from students who work full time and still find themselves $500 or $1,000 short from being able to stay in school – and from Rhode Islanders who graduated but who carry debt loads higher than their salaries.
The Rhode Island Promise scholarship will change these Rhode Islanders' lives, and it will transform the future of our state in the process.
It's time to invest in that future. The economy is changing, and every Rhode Islander deserves to get the training or education they need to get a good job, regardless of their family's income.
Together, we can guarantee that a good job is a promise – not just a possibility – for every Rhode Island student.

Gina M. Raimondo, a Democrat, is governor of Rhode Island.