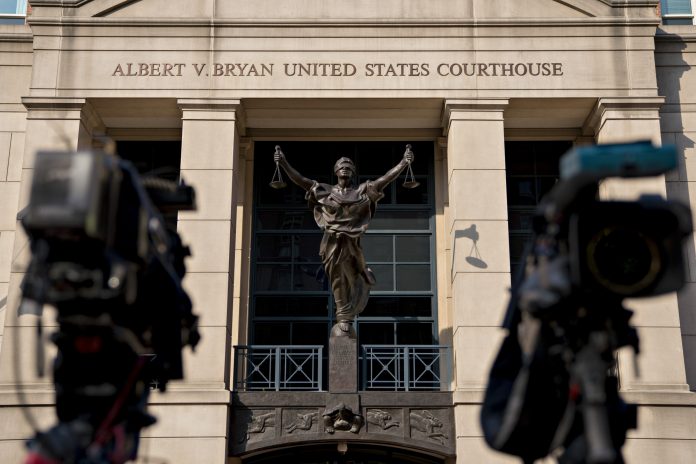 Manafort requested loan that exceeded bank's limit
The question of whether Manafort's Soho condominium was a second residence or a means to make money was at the heart of testimony Thursday afternoon as prosecutors tried to prove that Manafort engaged in bank fraud.
Manafort tried to borrow $3.4 million against the condo while telling Citizens Bank that it was a second residence. But jurors heard evidence that Manafort's family offered the unit to renters through Airbnb, which would make it an investment property.
A second Citizens Bank employee took the witness stand and testified about how the lender analyzes the type of application that Manafort used when he secured his loan in March 2016. Peggy Miceli, a vice president and underwriting manager, said Manafort was eligible for only a $1 million loan if the condo was used as a rental property.
"It's a higher-risk loan because they're not living there," Miceli said. The bank can make exceptions to exceed the $1 million limit, but she said they were "few and far between."
Jurors saw an email in which Miceli said she analyzed Manafort's income, assets and liabilities before determining that his political consulting business didn't have the liquidity to qualify for the loan. She concluded the email with an emoji showing a sad face. When she explained the symbol, the courtroom erupted in laughter.
Jurors also looked at evidence that Manafort's accountant then blessed a backdated letter saying his political consulting business had forgiven a $1.5 million loan, which reduced his debt and boosted his income so that he met the bank's lending requirement. The accountant, who testified with a grant of immunity because she feared prosecution, said she suspected the letter was phony. She was fired by her firm after she testified last week.
Prosecutors say Manafort lied to the bank about the true nature of how he and his family used the Soho property and about the purported forgiveness of the $1.5 million loan. Prosecutors also stress that Manafort said on his 2015 and 2016 tax returns that he rented out the property for 365 days a year. Miceli testified that knowing the truth about all of those matters would have been critical factors in determining if Manafort qualified.
On cross examination, Manafort attorney Jay Nanavati continued to suggest, as he had earlier, that Manafort could properly earn rental income on the property while also declaring it as a second residence, as long it wasn't rented for more than 180 days in a year.
Airbnb employee testifies about Manafort's condo
An Airbnb Inc. employee testified that Manafort's former son-in-law, and not Manafort himself, was listed as the rental host for their condo in Manhattan's Soho neighborhood from January 2015 to April 2016.
Darin Evenson, a former Navy Seal who joined Airbnb's client relations team more than two years ago, said the account was in the name of Jeff Yohai, who was then married to Manafort's daughter, Jessica. Records show that the Manafort family bought the condo in 2012 through a corporate vehicle called MC Soho Holdings LLC.
The unit was advertised as an apartment with two bedrooms, two bathrooms and four beds, according to a listing shown to jurors. Renters saw it advertised as: "Amazing full floor loft in Soho." Jurors saw that the Manaforts made $11,640 for a 21-night rental in June 2015. Over four nights in January 2015, the Manaforts made $1,791.
Evenson said the property wasn't listed for rent for about a month in February and March of 2016. Jurors heard earlier testimony about questions raised then by Citizens Bank about whether Manafort was renting out the condo during that period as he applied for a $3.4 million loan on the property.
Yohai pleaded guilty in a fraud investigation and is cooperating with government investigators, according to a person familiar with the probe.
After the trial broke for lunch, prosecutor Greg Andres said the government still expected to conclude its case by Friday. Manafort's attorneys haven't indicated whether they will present a defense.
Citizens Bank raised questions about Soho condo
A Citizens Bank employee testified that Manafort withheld crucial financial information as he tried to borrow $3.4 million against a property in Manhattan's Soho neighborhood that his family was offering for rent through Airbnb Inc.
The employee, Melinda James, told jurors about the bank's efforts to verify information about the condominium on Howard Street, which Manafort bought through a corporate vehicle in 2012 for $2.85 million. By late 2015, Manafort was running low on cash and applied for a $2.7 million mortgage refinancing and a $682,500 home equity loan against the property. As a mortgage loan assistant, James had to collect information on Manafort's income and debt.
That's when she ran into problems, she said on the trial's eighth day in Alexandria, Va. Manafort listed the property as a second residence. But when she searched for it on StreetEasy, an online rental service, she found it was listed for rent.
Prosecutors say Manafort could have secured a bigger loan if the property was a second home rather than a rental. They say that Manafort listed it on Airbnb from January 2015 to August 2017 and that he cited it on his 2015 tax return as a rental property that generated $100,000 in income.
Assistant U.S. Attorney Uzo Asonye provided to jurors emails from January 2016 showing that when the bank asked Manafort if it was a rental property, he denied it.
The bank's research also showed that Manafort had mortgages on other New York properties, including a Brooklyn brownstone, that weren't listed on the application.
"The underwriter needs a clear picture of all the monthly debt of the borrower," James said Thursday.
When she asked for clarification about the mortgage debt, she said, Manafort produced insurance documents that showed the property had no mortgage. Other witnesses – including Rick Gates, Manafort's former right-hand man who pleaded guilty – testified earlier that Manafort provided an outdated insurance report intended to mislead Citizens Bank about his debt.
Asonye also asked James about $1.5 million tied to Manafort's political consulting business. Other witnesses said that he initially classified that money as a loan to conceal income from U.S. tax authorities but then generated phony documents to show the loan as forgiven to apply for the Citizens Bank loan.
Manafort signed for the loan on March 4, 2016. Three weeks later, he joined the Trump campaign as convention manager. Two months after that, he was campaign chairman.
On cross-examination, Manafort attorney Jay Nanavati suggested that Gates, and not Manafort, may have been responsible for producing an insurance policy intended to mislead the bank.
Nanavati also got James to concede that it's possible to list a property as a rental while also retaining its status as a second residence.
The prosecutor then showed an email that Manafort sent to Jeffrey Yohai, the ex-husband of Manafort's daughter, Jessica, about the Howard Street property. Manafort said a real-estate appraiser was coming. "Remember, he believes that you and Jessica are living there," Manafort wrote.
Judge says he erred
The judge overseeing the trial told jurors Thursday to set aside criticism they heard him give a government prosecutor a day earlier.
U.S. District Judge T.S. Ellis III, whose efforts to speed along the trial have caused friction with prosecutors, scolded them in open court on Wednesday for allowing IRS revenue agent Michael Welch to remain in the courtroom after he finished his expert testimony about Manafort's offshore accounts.
Ellis said Wednesday he had a "clear recollection" that he wouldn't allow expert witnesses to be present before or after their testimony and that he didn't "typically" do so. He said prosecutors must "ask specifically" for such permission.
Moments after the reprimand, Asonye, the prosecutor, referred Ellis to the transcript of the Day 1 proceedings to show that the judge had granted specific permission for the agent to remain in the courtroom.
"I don't care what the transcript says," Ellis replied. "Maybe I made a mistake. But I want you to remember, don't do that again."
Ellis's "sharp reprimand" in front of the jury on Wednesday was "erroneous," prosecutors wrote in the filing. "While mistakes are a natural part of the trial process, the mistake here prejudiced the government by conveying to the jury that the government had acted improperly and had violated court rules or procedures."
They asked the judge to give a "curative instruction" saying that the judge had erred and that jurors shouldn't be under the impression that prosecutors or Welch acted improperly.
Just as the trial resumed and jurors were seated on Thursday, Ellis complied with the request. He said that although he typically doesn't allow expert witnesses to be present during testimony by others, he may have allowed it in this case.
"I may have been wrong," he said, adding: "This robe doesn't make me any more than human."
David Voreacos, Andrew Harris, Daniel Flatley and Sydney Maki are Bloomberg News staff writers.