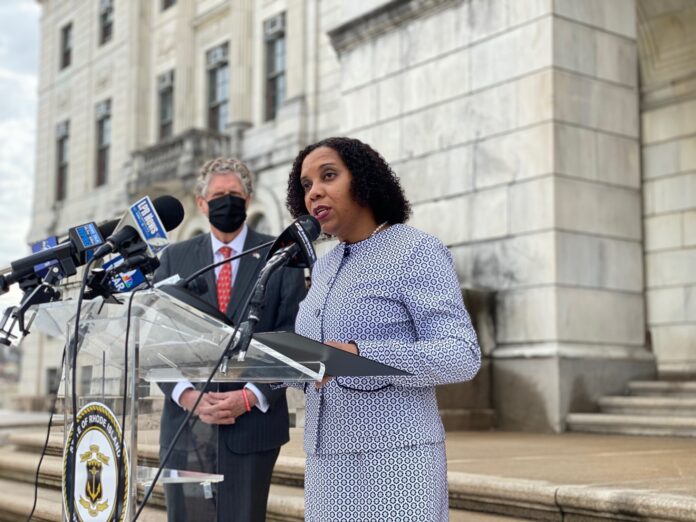 PROVIDENCE – Lt. Gov. Sabina Matos has been handed the reins of small-business advocacy at a critical juncture, as many are still struggling to remain solvent amid the ongoing pandemic.
Sworn in as lieutenant governor on April 11, the former Providence City Council president and Gov. Daniel J. McKee have begun a tour of the state's 39 cities and towns. McKee's presence is in contrast to his own solo statewide tours as lieutenant governor and highlights the partnership he hopes to foster between the state's two highest elected offices.
Matos' office oversees the state's Small Business Advocacy Council. McKee earned a reputation as a staunch small-business advocate during his six years as lieutenant governor.
In a recent Q&A with Providence Business News, Matos said she remains "completely aligned" with McKee on helping Rhode Island businesses recover from the pandemic. But she also wants to be a voice for businesses of all sizes.
And while McKee says he remains committed to a legislative proposal to tax Paycheck Protection Program loans greater than $150,000, Matos told PBN she remains "open to alternatives" to the tax that business groups have strongly opposed.
• What do you see as your main area of focus in assisting the state's small businesses? Do you expect to do it the same way Gov. McKee did, or do you have a different perspective on your role in working with those businesses?
We must support our small businesses and provide them with the access, tools, and knowledge of how to launch and/or operate a business in the state, which is why I plan to continue doing the Facebook Live Small Business Town Halls. In addition, bringing the state's directors together provides for valuable face time that a business owner might not be able to get because they are working and running their business.
Further, we will be working with midsize to large-size businesses to address their concerns as well. Of course, the focus on small business is essential, but in my role, I want to make sure that I am hearing from business leaders at all levels. During my term, I plan to visit as many small and large businesses as possible.
Innovative ideas and tools, like what was launched last week by the Department of Business Regulations and the R.I. Commerce Corp. for new restaurant owners, is a great way to share knowledge with new business owners. Sites like that can make a difference for an entrepreneur who is trying to open a new business in the Ocean State.
Gov. McKee and I are completely aligned on our approach to supporting and helping businesses recover from the past year.
• Have you developed a strategy or plan for aiding the state's businesses as they recover from the pandemic and adapt to the new economic landscape?
We have laid out the framework of a plan, but there is still more work to do on it, but we are getting there.
The lieutenant governor's office oversees the Small Business Advocacy Council. We will engage them and other small-business partners in the coming weeks to further inform our goals and objectives.
I also plan to continue to work with the governor and Commerce Secretary [Stefan] Pryor on what is needed and how best my office can continue to support businesses as they build back from the pandemic.
• What have you learned from the Small Business Town Hall's sessions you have been hosting on Facebook?
I have learned that our small businesses face serious challenges and that our state's leaders are working to address them.
Again, these Small Business Town Halls provide the space for business owners and others to ask questions of our leadership. In addition, it allows me to get questions answered that I get from business owners while I have been out visiting our 39 cities and towns.
• The governor has proposed taxing Paycheck Protection Program loans greater than $150,000. Why is it fair to affected businesses for Rhode Island to expect them to pay this surprise tax, when most other states have already committed to not imposing this tax?
Right now, I'm going on a listening tour of businesses and am open to alternatives that the General Assembly and our business community may explore.
• What do you think will be the most challenging issues for the state in addressing the needs of businesses?
What I hear right now is the lack of workers. Some businesses are desperate for employees right now. We need to encourage employees to go back to work with the knowledge that they can still access the additional stimulus provided by the federal government in Unemployment Insurance benefits.
I look forward to learning about Department of Labor and Training Director [Matt] Weldon's plans and discussing the bill in the General Assembly to create opportunities for workers to slowly get back to work while maintaining that added boost of the unemployment insurance stimulus.
• What has been your assessment of businesses from touring the state over the past few weeks? Also, is there an interesting story you could share?
Things are looking better. We aren't there yet, but there is relief in sight. We are nearing our goal of 70% of the population with at least one shot in their arms and closer to being fully vaccinated. With that, things will get back to a more normal environment. If I had to pick two words to describe our state's business community, it would be resilient and innovative – because they are.
I was in Central Falls and paid a visit to Tony's Shoe Repair, and it was terrific to hear how he has been working throughout the pandemic. His story was inspiring to me and how he has managed to operate in the ever-changing business landscape of the past 15 months. During the pandemic, I've also met tailors, that quickly began to make masks, and changed their business model to adapt to the needs of the moment. Innovation has been key to the success of so many of our businesses, both small and large.
• Providence, in many ways, is an economic engine for the entire state. Is there a role to play for state and local government in working with businesses to ensure downtown Providence, in particular, quickly rebounds from the pandemic-induced recession?
Our state and capital city are a regional tourist destination, from Westerly to Newport to the downtown corridor of Providence. As restrictions get lifted, and our entertainment venues reopen that will go a long way to helping our tourism, nightlife, and entertainment industries.
As the U.S. closes in on getting more of our nation's residents vaccinated, that will further reopen our tourism opportunities.
Rhode Island is in a position to lead in the area of events and entertainment activation. Our location is south of Boston and a few hours from New York, along with one of the best airports in the country, makes Providence and the Ocean State a perfect destination for conventions and large meetings. With that will come much-needed revenue that our cities and towns are missing.
• Are there any plans or innovative ideas that you would like to deploy to help Rhode Island businesses?
This is part of the framework that I stated earlier regarding helping our businesses. Because of the resiliency of our business community, I think innovation is our future.
Being a small state with so many major institutions of higher education and our proximity to other major cities makes Rhode Island a contender to harness the tech and innovation sector. We have seen many startups that began in Rhode Island grow into corporations. I believe that we can help develop new industries in the state, from tech to green businesses.
Rhode Island is the perfect place for businesses to locate. Being centrally located between two of the East Coast's major commercial centers [Boston and New York], our commercial space is much more affordable than in those cities and desirable to many industries. In addition, as we have heard in the news, many corporations are rethinking their need for extensive and costly office space.
However, at the same time, as we are building back our businesses and bringing new companies into the state, we have to address the housing shortage that we are facing. Not just affordable housing, but homes at all price points are pretty scarce at the moment. This is another area that I look forward to working on as lieutenant governor along with the governor and the members of the General Assembly.
• How can your experience sitting on the Providence City Council help you as lieutenant governor?
Serving as a municipal leader, and particularly on the council, some of that work is micro-focused as councilors are the resident's first line of contact for quality of life issues. However, as the council president and as a councilor, I spent a great deal of time meeting and negotiating with business owners and developers to grow the city.
Providence, because it is the largest city in the state, any decisions made there at the municipal level often had and continue to have ramifications and implications at the state level.
As the former council president, I was working with members of the General Assembly to address the needs of our city, and now I will be doing so to address the needs of all the cities and towns of Rhode Island.
• How would you define your priorities as lieutenant governor?
My immediate priorities are sustainable and affordable housing, equity, business development and getting more individuals vaccinated. It's the only way that our state can safely rise to the top and build back better.
Cassius Shuman is a PBN staff writer. Contact him at Shuman@PBN.com.

Want to share this story? Click Here to purchase a link that allows anyone to read it on any device whether or not they are a subscriber.