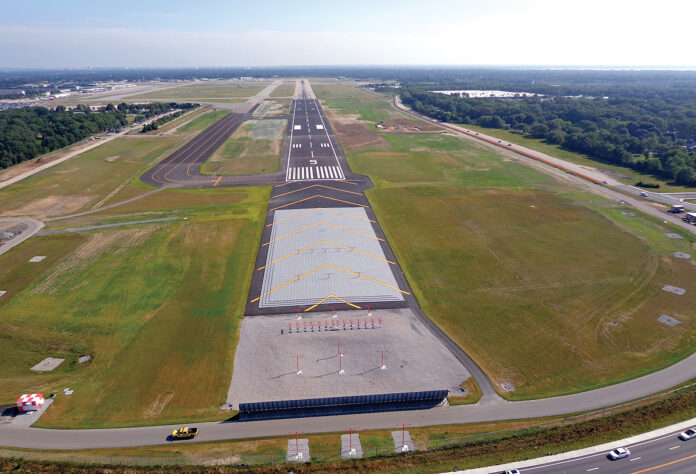 WARWICK – Total passengers enplaned and deplaned at T.F. Green Airport in May declined 11% year over year to 348,648 passengers, according to the R.I. Airport Corp this week.
The declines were led by drops in traffic at Frontier Airlines, Southwest Airlines, Norwegian Air, and Allegiant. Those declines were offset by a rise in passengers using American Airlines, JetBlue Airways and the introduction of Sun Country Airlines.
Passengers in May by carrier, in order of total passengers:
Southwest Airlines: 131,757 passengers, a decline of 12.9% year over year.
American Airlines: 99,510 passengers, an increase of 13.9% year over year. This was the largest nominal increase year over year (an increase of 12,135 passengers)
Delta Airlines: 35,768 passengers, a 3.3% decline year over year.
United Airlines: 25,237 passengers, a 1.1% decline year over year
JetBlue Airways: 23,728 passengers, a 15.2% increase year over year
Frontier Airlines: 17,279, a 59.9% decline year over year – the largest nominal decline year over year (a decline of 25,841 passengers)
Sun Country Airlines: 7,848 passengers, was not operating at T.F. Green in May 2018
Norwegian Air: 3,887, a 79.2% decline year over year
Allegiant: 2,854 passengers, a 60.1% decline year over year
Charters: 393 passengers, a 65.8% increase year over year
Air Canada (Air Georgian): 387 passengers, a 51.5% decline year over year
The declines in traffic come largely in part due to a slowdown in passenger traffic on the discount airlines that had been introduced to T.F. Green over the past few years. Recently, Norwegian Air announced that it would cease operations to T.F. Green in large part due to the continued grounding of the Boeing 737 Max planes.
Sun Country Airlines also canceled an upcoming flight to the Dominican Republic before the service had begun operations, citing low levels of interest.
Despite the year-over-year declines, it is worth noting that May's traffic numbers are the third-highest passenger traffic for the month since 2009.
Cargo traffic at T.F. Green in May totaled 2.4 million pounds, a 66.9% decline year over year due to the relocation of logistics related to Amazon.com Inc.
Year-to-date traffic in May:
Passenger traffic at the airport year to date in May declined 9.2% from year-to-date figures in May 2018. However, year-to-date figures in May 2018 were the highest total passengers logged since 2009. Excepting last year, year-to-date figures from May 2019 are also higher than any other year since 2009, when year-to-date passengers at T.F. Green totaled 1.8 million. The passenger traffic at the airport for the first five months of the year remained largely stagnant between 2010 and 2017.
May year-to-date total passengers by year over the decade:
2019: 1.6 million
2018: 1.7 million
2014-2017: 1.4 million
2010-2013: 1.5 million
2009: 1.8 million
Chris Bergenheim is the PBN web editor. You may reach him at Bergenheim@PBN.com

Want to share this story? Click Here to purchase a link that allows anyone to read it on any device whether or not they are a subscriber.