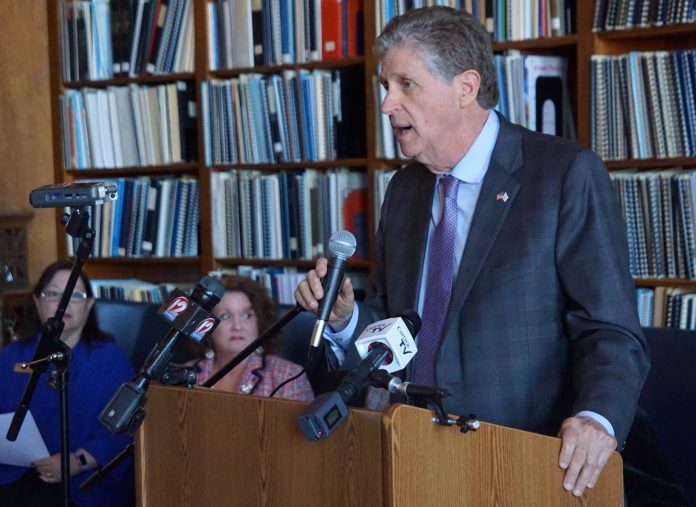 PROVIDENCE – Lt. Gov. Daniel McKee recently unveiled an update to the State Plan on Alzheimer's Disease and Related Disorders, featuring a new set of recommendations for improving supports and services for Rhode Islanders affected by Alzheimer's and other types of dementia.
McKee was joined by Rep. Mia Ackerman, D-Cumberland, and Sen. Cynthia Coyne, D-Barrington, who announced resolutions to endorse the plan update as Rhode Island's blueprint for addressing the growing Alzheimer's crisis, according to a statement from the Office of Lieutenant Governor.
"Alzheimer's disease is one of the most challenging public health issues facing Rhode Island today," McKee said in a statement. "With the number of affected Rhode Islanders projected to rise to 27,000 by 2025, elected leaders, advocates, caregivers, clinicians and researchers must come together to take unified, targeted action."
When the original state plan was published in 2013, it noted that an update would be needed in five years.
Last year, McKee, who serves as chair of Rhode Island's Long Term Care Coordinating Council, secured $30,000 in grants from the Tufts Health Plan Foundation and the Rhode Island Foundation, which was used to hire health policy research firm Splaine Consulting, according to the statement.
After holding 23 town hall meetings, conducting 45 expert interviews and surveying more than 200 Rhode Islanders affected by the disease, Splaine Consulting, the Alzheimer's Association Rhode Island Chapter and members of the state's Alzheimer's Executive Board recommended the following:
Allocate one director-level position within the R.I. Department of Health to coordinate the implementation of actions in the Alzheimer's State Plan in and through the activities of public health, in close collaboration with the Office of Lieutenant Governor, the Division of Elderly Affairs and other agencies.
Promote research opportunities for Alzheimer's disease and all types of related dementia, including federal funding opportunities, to a broad group of Ocean State researchers.
Include brain health in existing publicly funded health promotion and chronic-disease management activities.
"Our update to the State Plan on Alzheimer's Disease and Related Disorders will provide Rhode Island with the framework to cooperatively address the full range of issues surrounding Alzheimer's and other dementias. I look forward to working with leaders across the state to ensure that Alzheimer's patients get the best care and treatment and that their loved ones have the supports and resources they need," McKee said. "I hope our plan will also position the state, local small businesses and nonprofits to take advantage of federal and other funding opportunities aimed at fighting Alzheimer's disease."
Donna McGowan, executive director of the Alzheimer's Association Rhode Island Chapter, said in a statement she was proud of the work the team of professionals and state officials have accomplished in putting the plan together, adding that its implementation "will help provide an infrastructure for services and resources for those affected by this disease that is sorely needed."
She continued, saying, "By 2050, along this trajectory, Alzheimer's will be the leading cause of death in this country, and it is the only leading cause of death that cannot be prevented, cured or slowed. It is a public health crisis here in Rhode Island and the United States."
Rob Borkowski is a PBN contributing writer.