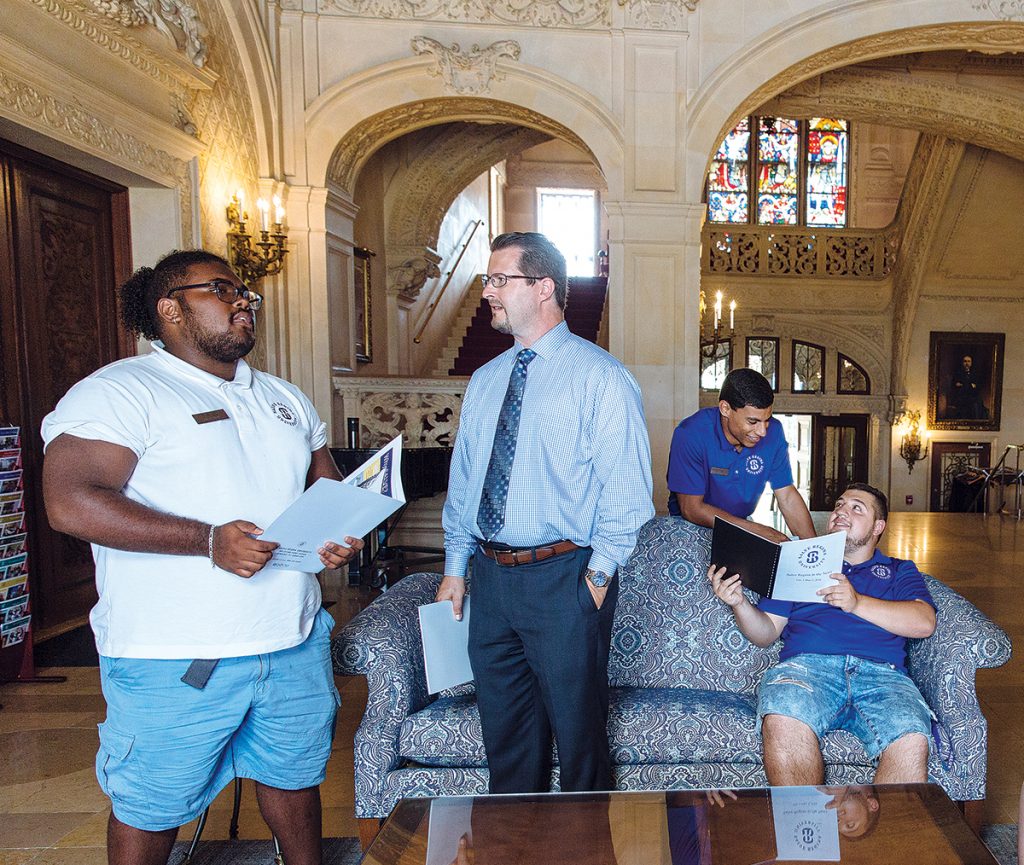 When choosing a college, students may focus on the experience they'll have for the next four years of their life. But increasingly they and their parents want to see more information about what happens after they graduate.
The data on post-collegiate success, however, as measured by how many graduates land jobs, is less exact than parents and students might prefer. Most of the information is based on surveys of recent graduates and conducted by the institutions themselves.
Some is generated by U.S. Department of Education surveys.
A recent report by a California-based website identified Newport's Salve Regina University as having the second-highest placement rate in the nation for its graduates, based on Department of Education College Scorecard information.
The report, published by career website Zippia, determined Salve Regina had 95.9 percent of its graduates employed 10 years after graduation.
The university promoted the ranking on its website and the college administration cited steps taken by the private, Catholic-run university to work with its graduating students.
But is 10 years the standard for success?
University of Rhode Island relies on more-recent information. It starts with the cards that graduates hand to their graduation ceremony speakers. On one side is their name, and how to pronounce it. On the other, they can volunteer information about whether they've found a job.
Six months later, the university uses its alumni databases to distribute emailed surveys to its graduates, said Kim Stack, director of its center for career and experiential education.
"The best practice in career development is to survey six months after graduation," she said. "The majority of our students are graduating in May. We typically send survey links to our alumni in November."
Even with the follow-up emails and phone calls, the response rate can be low. In 2017, URI had a 23 percent response rate to the surveys. The information they yielded – that 75 percent of URI graduates were employed six months after graduation – matched the national average, as set by the National Association of Colleges and Employers.
Stack said the university works with the best information it can, within limits. The longer the window extends from graduation, the less accurate the response. "You're trying to work with the preferred email addresses that you hope are still alive. There are limitations."
What is clear, universities say, is that parents want to see this data when their children are selecting a college.
James Fowler Jr., vice president of enrollment management at Salve Regina, said particularly over the last 10 years, since the end of the Great Recession, prospective students and parents are more interested than earlier cohorts on how alumni fared.
"There has been a heightened interest on the part of prospective students and families in being able to demonstrate the ROI of higher education. Some of it is concern about debt and some of it is concern about costs," he said.
The value of higher education is getting questioned more frequently, he said, but the statistics on earnings over time still bear out that people with bachelor's degrees will earn more in their lifetimes than people with less education.
The last recession did not change that. "Now that we've been through it, and we can see the data 10 years on, what we know is students that had college degrees fared in the last recession significantly better than people who didn't have college degrees or had less than a bachelor's."
Colleges and universities are trying to display the ROI, or return on investment, for incoming students. But there is no one standard for collecting that information.
The 23 percent survey return rate for URI last year is considered a fair return, Stack said. Only a few programs – including the pharmacy degrees – are required to track the outcomes of graduates to comply with accreditation.
The percentage of students who are employed six months later often shifts as the economy shifts. And when a greater number of students are enrolled in graduate schools or programs, that impacts the employed rate as well.
For the career education specialists, as advisers or counselors are now called, part of the education process is how universities are educating students.
The expectations are changing, Stack said.
Students, in orientation sessions, often are focused on whether they will get into chosen classes and who their roommate is. Their parents are focused on employment, Stack said.
"They are definitely focused on, 'Is Jimmy going to get a job?' I understand that. We want to make them partners in this process. But college is really an opportunity to discover yourself," she said.