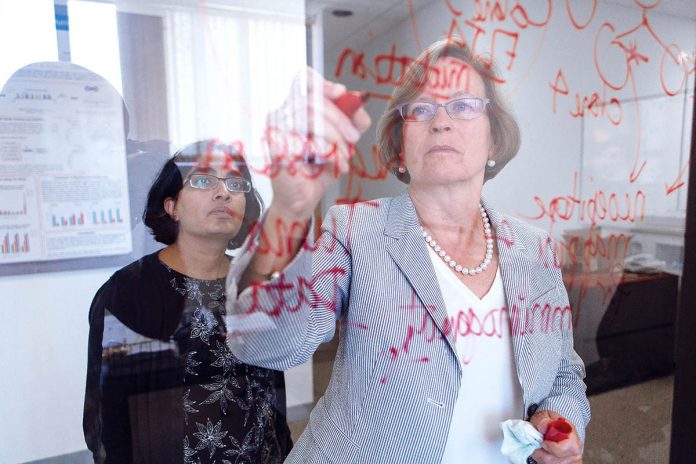 Innovative Companies | Biotechnology and Life Sciences
---
We've all heard of data analytics. But what if this data could be used to treat what may well be the biggest medical beast of our time, cancer?
Looking at tumors' unique, individual composition to find information leading to lasting treatment is the work of Medley Genomics of Providence and its co-founder and CEO, Patrice Milos.
"By truly treating the whole tumor ecosystem, we should be able to avoid cancer relapse, providing lasting cures for patients. This is where the innovation is going. It's cutting edge, making genomics integral to health care," she said.
Milos is the former president and CEO of Claritas Genomics in Cambridge, Mass.
Along with co-founder Ben Raphael, formerly of Brown University – a cancer researcher and Princeton University computer science professor – Dr. Barrett Bready of Brown, and other colleagues, she is excited about the possibilities that can be accessed by looking at cancer in a targeted, detailed way.
"It's the next phase of precision oncology – really, truly using data analytics to understand individual patient tumors," Milos said.
Tumor cells have unique molecular makeup, Milos explained. This information is needed to maximize the impact of targeted therapies, personalized cancer vaccines and immunotherapies, rather than trying treatments such as radiation and chemotherapy, without a defined roadmap. Algorithms and software have been exclusively licensed for commercial use by Medley Genomics from Brown, based on Raphael's work.
Medley Genomics is talking with investors and raising funds and awareness.
It received a Slater Technology Fund grant last year for $250,000. This spring, the company was awarded a nearly $300,000 Phase I Small Business Innovation Research grant by the National Cancer Institute to help develop its software platform that will customize cancer treatments according to characteristics of a patient's tumor. A commercialization path is progressing.
"This emergence of targeted therapies and looking at molecular properties is making great strides," Milos said. She hopes the process can raise the Ocean State's life science ecosystem's stature, as well.