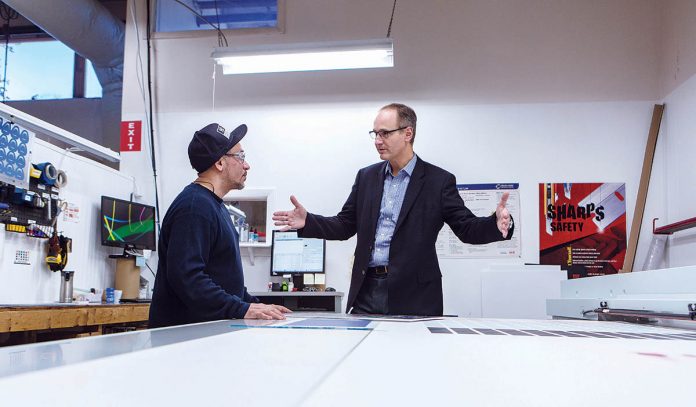 Business Excellence Awards 2018
Excellence in entrepreneurship: Renaud Megard president & CEO, Nampelates for Industry Corp.
---
Renaud Megard is skilled at recognizing opportunity and making it grow.
After earning his undergraduate degree in his home country of France, he was working for chemical giant BASF Corp. in New Jersey when the company offered to sponsor further education, which led to him earning a master's degree from New York University's Stern School of Business in 2008.
Once back on the job, he found himself traveling a lot. "I had 54 plants around the world" to oversee, he said. "I was on planes traveling 85 percent of the time." In 2009, Megard left BASF and began working for global supply-chain company Cabot Corp.
When it came time for his oldest daughter to go to college, he realized he didn't really know her. He also realized he had three younger children who would be off on their own before he knew it. He needed to make a change.
That is when he saw an opportunity to buy a smaller company. So, Megard left his position at Cabot and bought Nameplates For Industry Corp. in New Bedford almost four years ago.
"Priority was family," he said. "What a great change."
In addition to giving him more time with his family, the company purchase was also a chance to get more directly involved in a smaller organization.
NFI started out as a screen-printing company and now offers custom digital and flexographic printing, producing products that include custom faceplates, bar-code stickers and decals. Medical, manufacturing and transportation are some of the industries it serves. Megard said the company's ability to print on plastic sets it apart.
The company was making a profit when he acquired it, but it hadn't seen much growth. The majority of customers were repeat business. Megard set out to change that, giving NFI more exposure and resources via acquisitions.
He bought Massachusetts companies Design Mark – which specializes in digital printing – in 2017 and Flexible Pack – which makes flexible pouches and plastic sleeves – earlier this year.
Now company growth is organic, systemized and streamlined since Megard put customer-relationship management software system HubSpot in place. There is a structure now, with the three companies sharing divisions such as accounting, finance and manufacturing to improve productivity, "but it has to be with the customer experience in mind," he said.
A shared vision between teams and clients is also part of Megard's leadership style.
"We are not saying 'products,' we say 'solutions,' " he said. "We're here to make customers successful. It's not about selling them more products. It's about selling them solutions to sell more of their products."
In leading the three companies, Megard is more directly involved as opposed to delegating, as was common in his work for larger corporations. The benefit of this is quicker decisions.
In the corporate world, he said, it could take months to make a decision. There were layers of leadership to wade through, and the process could lead to missed opportunities. Now, he and his team can make a decision in a matter of hours, which is necessary in today's marketplace. They can also see quicker results.
NFI revenue was just over $5 million when Megard became owner in 2015. Modest growth began, with the Design Mark acquisition giving it a boost. This year, anticipated NFI revenue is $15 million.
NFI now offers new kinds of solutions for its clients. Megard added a design studio and invested in new printing processes for plastics, for example. But all the new offerings and technology don't mean much if there are workplace accidents.
Safety is a large focus at NFI and its sister companies. Protective eyewear, gloves and footwear are required. A safety-guard team was established, with no-injury days quickly racking up at the facilities.
Combined, the three companies have 128 employees. Megard knows all their names.
"I am very particular about that," he said.