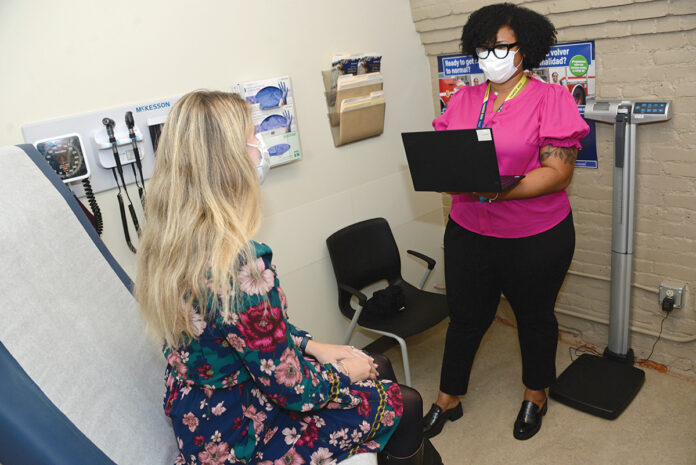 As COVID-19 began to creep into Rhode Island in early 2020, Michelle Crossley saw a steady increase in emails from people wondering whether they could schedule an appointment at her small Pawtucket counseling practice.
"It was just overwhelming. At one point I was getting up to three requests a day within months of the pandemic starting," said Crossley, a licensed mental health counselor who is also president of the Rhode Island Mental Health Counselors Association.
Crossley usually works with a total of about 20 clients, but to keep her workload manageable she stopped accepting new clients.
And she wasn't alone – many mental and behavioral health providers in Rhode Island say that once the pandemic took hold, demand for services soared.
Organizations and smaller clinics took on as many new patients as they could, but low reimbursement rates from commercial insurance and Medicaid made hiring enough staff all but impossible.
"We're still challenged in that realm, we're still living with the fact that we haven't had a rate increase in nine years," said Dan Kubas-Meyer, CEO of Thrive Behavioral Health Inc. in Warwick.
Wages for licensed mental health counselors in the Ocean State hover around $14 an hour because of the low rates that insurance and Medicaid reimburse for their services. Medicaid rates, which are determined by state officials, have not been increased in years. In other states, including Massachusetts and Connecticut, higher reimbursement rates mean higher wages for the same jobs.
A commission formed by the R.I. Office of the Insurance Commissioner and the R.I. Executive Office of Health and Human Services plans to begin reviewing reimbursement rates for mental health services this fall, but recommendations aren't expected until 2024.
The combination of pandemic-induced demand and insufficient pay is crippling mental health care in Rhode Island, many say, including John J. Tassoni Jr., CEO and president of the Substance Use and Mental Health Leadership Council of Rhode Island, a network of 33 organizations.
"People at the highest level need to understand how crucial this is for the well-being of Rhode Islanders," Tassoni said. "We had a robust system back in the early 2000s, and now we've got a dead system."
Still, some organizations, such as Thundermist Health Center, a Woonsocket-based community health provider with a behavioral health staff of more than 75, were able to respond quickly as the pandemic brought a wave of patients seeking help with depression, anxiety and substance use.
Early in the pandemic, the nonprofit partnered with the Rhode Island College School of Social Work to train students on-site at Thundermist in the hopes of hiring them.
Funded for two years by the Rhode Island Foundation, and this year by Real Jobs RI, the effort has resulted in 15 new behavioral health hires, said Matt Roman, Thundermist's chief of innovation and behavioral health.
The shift to telemedicine in 2020 brought another challenge.
Patients began showing up for appointments at a much higher rate, and counselors were hard-pressed to do behind-the-scenes work with the increased time they were spending with clients. To relieve counselors' workload, Thundermist created the position of behavioral health case manager.
At Thrive, the number of open jobs is about double the pre-pandemic rate. The organization is handling the surge of new patients by putting them into therapy groups.
"We don't have the ability to have them seen by individual clinicians immediately," Kubas-Meyer said. "If someone is in crisis, we can have our crisis group look at them … we're able to respond to the most acute needs and channel them into therapy."
United Way of Rhode Island, which operates the state's 211 call center, logged about 1,640 calls for mental health-related needs in 2019.
In 2020, the number of calls shot to more than 8,200. Last year, the volume decreased to about 3,300 calls, but now 2022 is on track for a 40% spike, said Courtney Smith, United Way's 211 program director.
Many agree that higher reimbursement rates are key to alleviating the crisis.
Providers across the state are paying close attention as state legislation to increase commercial insurance reimbursement rates is expected to be submitted again next year.
If the legislation, which is likely to be opposed by insurance companies, fails to pass, and state lawmakers do not raise Medicaid rates, the results could be devastating to mental health care, said Laurie-Marie Pisciotta, Mental Health Association of Rhode Island executive director.
"If rates aren't increasing, providers can't keep their doors open," she said. "It's just so counterproductive for a state not to invest in its mental health system."