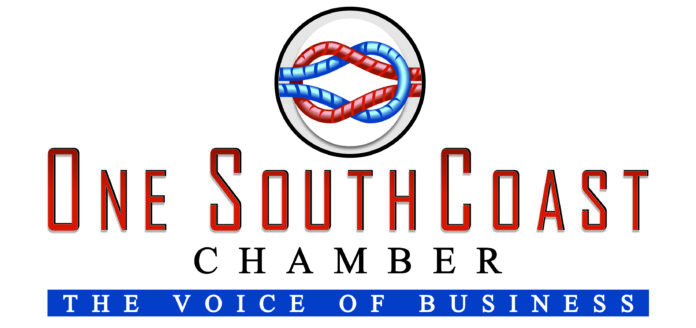 PROVIDENCE – Close to three months after the two chambers separately announced they were merging as a single entity, the SouthCoast and Bristol County chambers of commerce have chosen a new name: One SouthCoast Chamber.
The chambers announced Wednesday the rebranding of the newly formed merger, which was approved by each chamber's board of directors in late June and will take effect Jan. 1. The new name, according to a news release, will also have the tagline: "The Voice of Business."
According to the release, the chambers worked with New Bedford-based business Moore & Isherwood Communications Inc. on the name and with local designer Sergio Dabdoub of BadMonkeyPics on the logo design. The logo features a nautical knot, one rope colored red and the other blue, signifying a "nod to the maritime history" of the communities served by the Chamber and is a "visual representation of two strong organizations coming together to form one."
"This is an exciting time for the business community of the South Coast," SouthCoast Chamber CEO and President Rick Kidder said in a statement. "We are one region, with a common set of goals and challenges that require we speak with one voice. This wonderful outcome signifies that we are a region on the rise."
Bristol County Chamber CEO Mike O'Sullivan said in a statement that the economy has been regionalizing "for quite some time," which presented the chambers a "great opportunity to increase its value to all of our chamber members."
"This includes a particular focus on small business, which is the backbone of our membership, education, government affairs and health care," O'Sullivan said. "The South Coast is a region that continues to advance, led by two cities that continue to grow and offer tremendous economic opportunities and quality of life to the region."
Kidder told PBN on Wednesday that the 12 combined employees – seven for SouthCoast and five for Bristol County – will work out of their current offices and that moving into a single facility is not being planned. The Bristol County Chamber owns its offices located at 200 Pocasset St. in Fall River, while the SouthCoast Chamber leases its space inside the Webster Bank building at 227 Union St. in New Bedford.
The SouthCoast and Bristol County chambers had a combined membership of 1,760 as of January 2019, as noted in PBN's 2019 Book of Lists, the fifth- and sixth-largest such chambers, respectively, included in the Book of Lists based on membership.
SouthCoast, the oldest of the two chambers founded in 1885, has 960 members as of January 2019, while Bristol County, founded in 1911, has 800 members as of that same period.
With the merger, One SouthCoast Chamber will be the largest chamber based on membership in the Providence-Warwick-Fall River metro area. A new website and new marketing materials will be created in time for the combined entity's launch Jan. 1.
James Bessette is a PBN staff writer. Email him at Research@PBN.com.

Want to share this story? Click Here to purchase a link that allows anyone to read it on any device whether or not they are a subscriber.