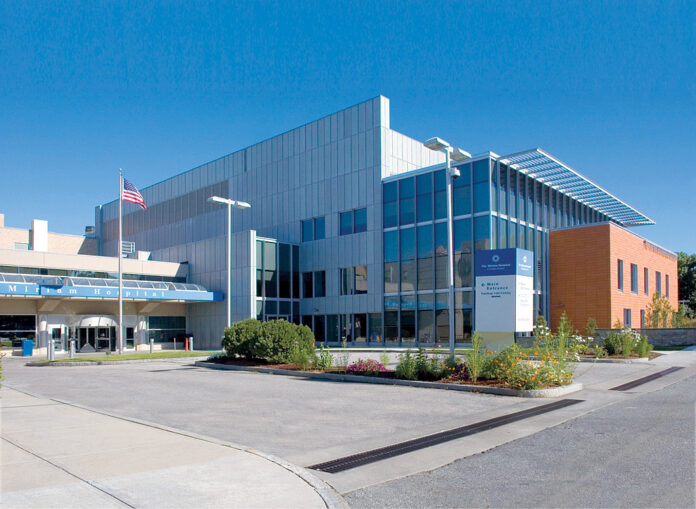 PROVIDENCE – A new ranking of United States hospitals shows Miriam Hospital, owned by Lifespan Corp., as Rhode Island's best hospital, earning high scores for clinical outcomes and value of care, but scored much lower in addressing inequities.
The ranking, which was measured for the past two years by the Lown Institute, a Brookline, Mass.-based non-partisan health care think tank, analyzed data from 3,300 hospitals nationwide and compared 42 different performance indicators for the Lown Institute Hospitals Index.
The rankings assess not just how these hospitals serve patients, but how well they serve the wider community, according to the index.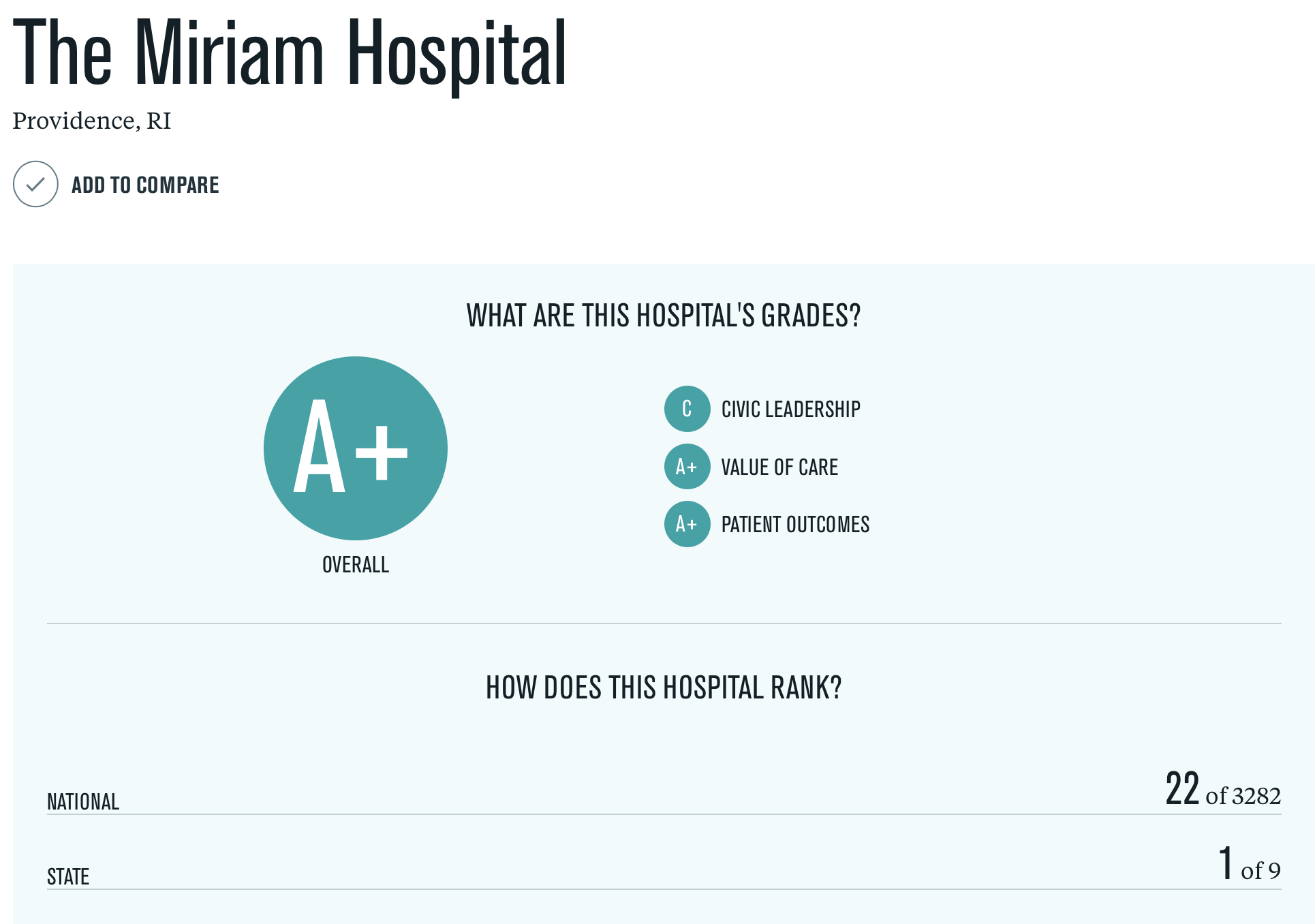 The measures, which have never been calculated before, according to a Lown press release, fall into three different categories; civic leadership, which assesses a commitment to equity, inclusion and community health, value of care, which measures use of unnecessary services, and patient outcomes, which evaluates patient outcomes, safety and satisfaction.
Miriam Hospital ranked "A+" in both value of care and patient outcomes, but received a "C" in civic leadership; which included measures on pay equity between the CEO and average wage worker, charity benefit on medicaid revenue as a share of patient revenue and community benefit spending, and inclusivity, which shows how well low-income, patients of color and patients of lower education levels are being served. Miriam Hospital ranked second-to-last on the civic leadership list for Rhode Island.
"Lifespan is pleased that its hospitals hold three of the top five rankings in Rhode Island and that The Miriam Hospital was both top ranked in the state and 22nd nationally," said Lifespan spokesperson Kathleen Hart. "We look forward to further reviewing the Lown Institute's analysis as Lifespan is committed to continually improving in the ways we provide quality care for our patients and support the local community."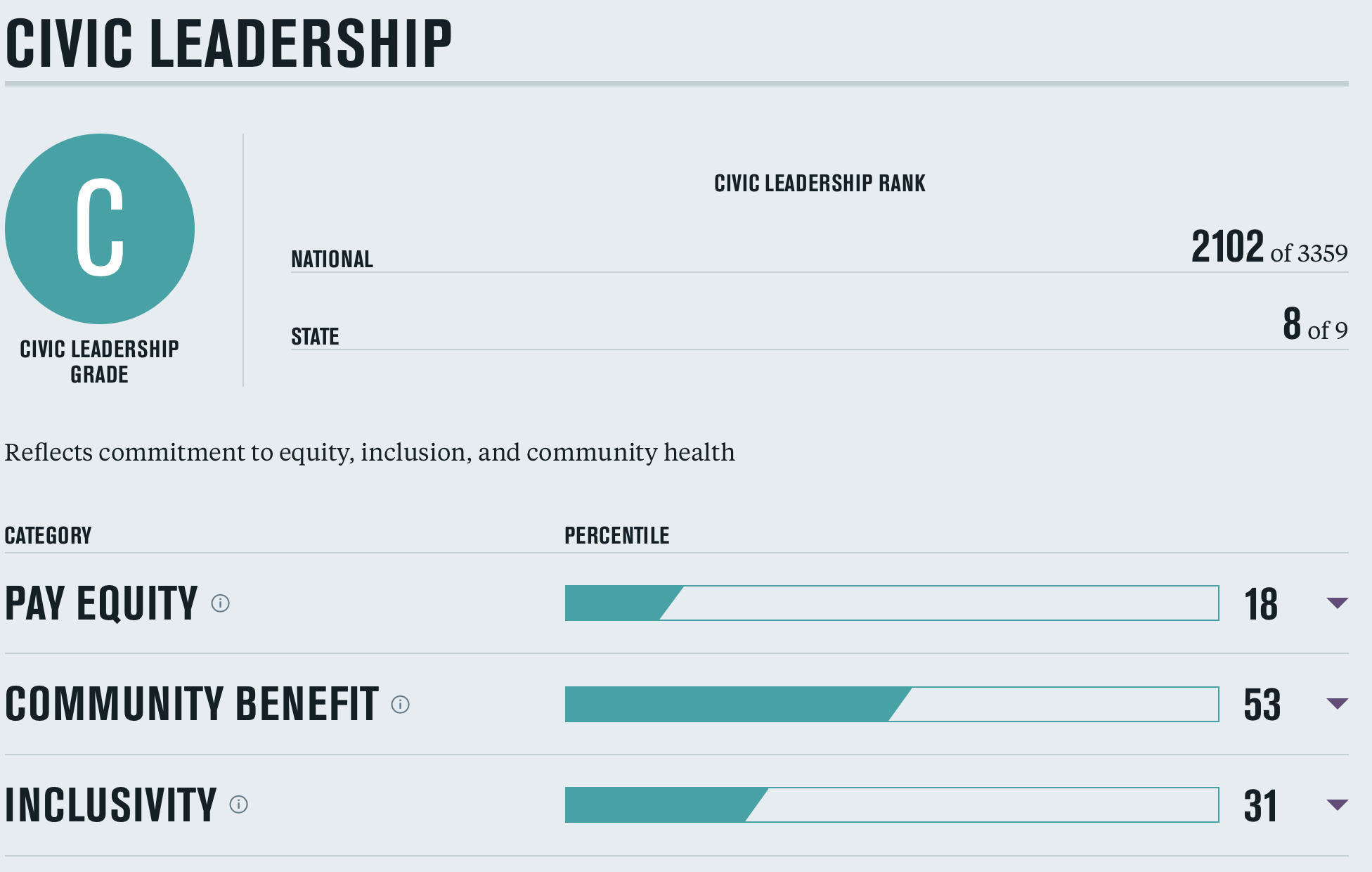 According to one of the Lown's top researchers and Senior Vice President Shannon Brownlee, this trend is on par with many hospitals across the nation.
"Hospitals who do well with care, do not do well with civic engagement and equity," said Brownlee, a former health care reporter for US News and World Report and Discover Magazine, and said she has been thinking about breaking down this type of data on hospitals for the better part of a decade. "If a hospital is good on inclusivity, then it means you are working harder to care for lower income people and people of color."
Brownlee said another piece of data she found surprising, was the rate of overuse in care at many hospitals, including a large portion at academic medical centers in the U.S. Roger Williams Medical Center, an academic medical center based in Providence, received a "C+" when it came to avoiding overuse.
"There are some very fine hospitals that feel forced to focus on profitable elective procedures to stay in business," said Dr. Vikas Saini, president of the Lown Institute. "This can lead to business decisions that make them look good on outcomes like mortality, but at the expense of equity. The data show that gaps between a hospital's clinical results and its performance in the community are sometimes very wide, which can contribute to disparities in care and put certain communities at risk."
According to Lown's index measures, Rhode Island's top hospitals are:
1. The Miriam Hospital in Providence, owned by Lifespan Corp., received an A+ grade overall.
2. Westerly Hospital in Westerly, owned by Yale New Haven Health Services Corporation, received an "A" grade overall.
3. Roger Williams Medical Center in Providence, owned by CharterCARE Health Partners, received a "B+" grade overall.
4. Newport Hospital in Newport, owned by Lifespan Corp., received a "B+" grade overall.
5. Rhode Island Hospital in Providence, owned by Lifespan Corp., received a "B+" grade overall.
6. Landmark Medical Center in Woonsocket, owned by Prime Healthcare Services-Landmark, LLC, received a "B" grade overall.
7. Our Lady of Fatima Hospital in North Providence, owned by CharterCARE Health Partners, received a "B" grade overall.
8. Women & Infants Hospital of Rhode Island in Providence, owned by Care New England, received a "B-" grade overall.
9. Kent County Memorial Hospital in Warwick, owned by Care New England, received a "C+" grade overall.
"The Hospital Association of Rhode Island welcomes the Lown Institute Hospital Index report. This first of its kind is a snapshot into delivering care to communities served by hospitals and healthcare systems, and another tool that the industry and policymakers can use to improve the equity of care," said Lisa Tomasso, vice president of strategy and public relations for the Hospital Association of Rhode Island. Tomasso said this index along with HARI's Community Health Needs Assessments provides a perspective toward better outcomes.
The Lown Institute Hospitals Index found that larger hospitals, teaching hospitals and urban hospitals are over-represented in the top 100 hospitals in the national list. In addition, many small rural hospitals, safety net hospitals and public hospitals appeared on the Top 100 list, scoring better than some of the "big-name" hospitals.
"At a time when communities are relying on them like never before, hospitals must rethink what it means to be great," said Saini. "COVID-19 highlights how hospitals are essential community partners for anyone in need. To be great, however, a hospital cannot only provide care that's high in quality. It must also deliver value and advance equality."
Results of this Hospital Index are available to the public at LownHospitalIndex.org.
Alexa Gagosz is a PBN staff writer. You may reach her at Gagosz@PBN.com.
This story has been updated to include comments from the Hospital Association of Rhode Island and Lifespan.

Want to share this story? Click Here to purchase a link that allows anyone to read it on any device whether or not they are a subscriber.