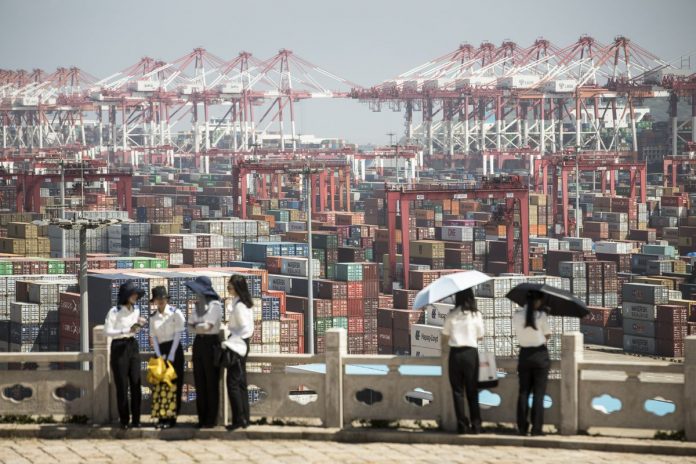 NEW YORK – U.S. Treasury Secretary Steven Mnuchin said China has agreed to remove tariffs on imported automobiles but declined to detail the specifics of the agreement President Donald Trump announced Monday, jolting global auto stocks.
Trump said in an early morning tweet that China agreed to "reduce and remove" tariffs on imported American-made cars, raising more questions about the outcome of his meeting with counterpart Xi Jinping during the Group of 20 meeting in Argentina this weekend.
"The first part was to reduce the surcharge, but yes there have been specific discussions on where auto tariffs will come down to, but I'm not prepared to talk about the specifics," Mnuchin later told reporters outside the White House.
Mnuchin said the two leaders "exchanged specifics on 142 different structural items" and that those included protecting intellectual property, eliminating forced joint ventures and ensuring that the Chinese don't depreciate their currency and harm U.S. workers.
Trump gave no other details in his tweet, which came shortly after he agreed with Xi to a truce in the trade war during a meeting at the G-20. In a briefing in Beijing a few hours later, China's foreign ministry spokesman Geng Shuang declined to comment on any car tariff changes.
The tweet comes after the U.S. and China emphasized different results from the high-stakes meeting between Trump and Xi. China, which hiked the tariff on U.S.-made cars coming into the country to 40 percent amid the trade fight, hasn't made a similar announcement on auto tariffs.
Shares of German carmakers Daimler AG and BMW AG rallied Monday morning after the U.S. trade deal with China. Trump's comments, if ratified, would also hand automakers like Tesla Inc. a potential reprieve after higher levies hit sales in the world's biggest car market.
China said last week that tariffs on U.S. autos would be 15 percent if not for the trade dispute, and it called for a negotiated solution. Chinese officials discussed the possibility of lowering tariffs on U.S. car imports before Xi met Trump in Argentina, according to a person familiar with the situation who asked not to be identified. But the magnitude and timing of such a reduction were unclear, the person said.
The trade war has taken a toll on car companies that manufacture in the U.S., with the makers of Mercedes-Benz and its rival BMW both warning of lower profits this year as tariffs forced them to hike prices in China. Car sales in the world's second-biggest economy declined for a fifth consecutive month in October, bringing the market closer to its first annual drop in at least two decades. That's piled pressure on auto companies that have relied on the country for growth amid declining car sales in the U.S.
Tesla didn't respond to an email seeking comment while BMW declined to comment.
The tariff reduction benefits Daimler and BMW more than U.S. automakers such as General Motors Co. or Ford Motor Co. That's because the German luxury brands dominate the top 10 list of vehicle imports into China.
"China isn't giving away that much as German automakers like BMW and Daimler benefit the most," said Janet Lewis, an analyst at Macquarie Capital Securities in Tokyo. "Longer-term, China has more to gain from free trade in autos," with local Chinese manufacturers such as Guangzhou Automobile Group Co. and Geely Automobile Holdings Ltd. looking to move overseas, she said.
BMW rallied the most in more than three years and traded up 7.3 percent at 77.47 euros as of 11:03 a.m. in Frankfurt. Daimler jumped as much as 7.5 percent, the most in seven years on an intraday basis. Volkswagen rose the most in a month.
Chinese carmaker shares pared gains, while shares of auto dealerships in China and Hong Kong rallied on Trump's tweet. China Grand Automotive Services Co., which sells various car brands and provides auto financing, surged by the 10 percent daily limit in Shanghai.
"If China cancels tariffs on high-end imported cars, that should benefit dealerships as the prices will be lower," said Angus Chan, a Shanghai-based analyst with Bocom International.
Trump last week ordered a separate review of China's 40 percent tariff on auto imports from the U.S., 25 percentage points of which is the result of Chinese retaliation against Trump's own tariffs on imports from China. The U.S. currently charges a 27.5 percent tax on imported cars from China.
Of China's $51 billion of vehicle imports in 2017, about $13.5 billion came from North America, including sales of models made there by non-U.S. manufacturers like BMW. China imported 280,208 vehicles, or 10 percent of total imported cars, from the U.S. last year, according to China's Passenger Car Association.
U.S. exports of cars and light trucks to China were worth $9.5 billion in 2017 and have dropped off significantly since China imposed its retaliatory tariffs over the summer that gave exporters in Europe and Japan a significant advantage.
The trade spat between the U.S. and China is set to cost BMW some 300 million euros ($341 million) this year, Chief Financial Officer Nicolas Peter said last month. The company started making the X3 SUV in China this year, in addition to the several other models like the 1-, 3- and 5-Series sedans.
For Tesla, a tariff cut will provide a boon until the company sets up local production. The Palo Alto, California-based carmaker has been working with Shanghai's government on establishing a factory to assemble cars in China.
Foreign carmakers have long pleaded for freer access to China's auto market, while its own manufacturers are trying to expand abroad. In April, China announced a timetable to permit foreign automakers to own more than 50 percent of local carmaking ventures.
Shannon Pettypiece and Ma Jie are reporters for Bloomberg News.