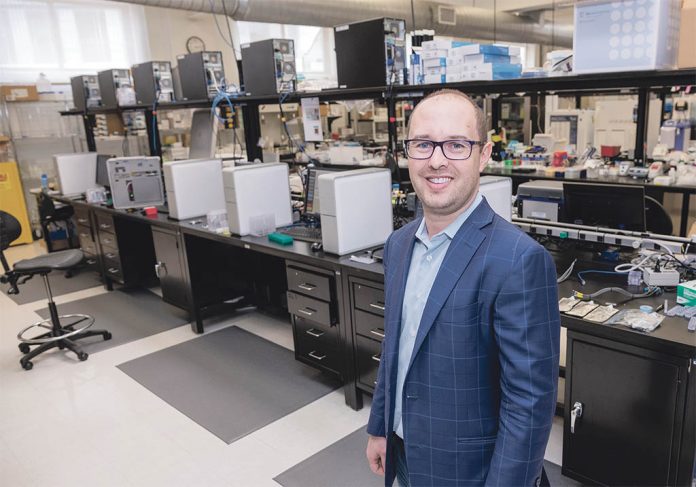 Figuring out better ways to read and analyze DNA, the so-called building blocks of life, can be a tricky business.
But if such a product could be brought to market that really makes a difference compared to what's already out there, then its creators could hit it big. That's essentially what the small group of investors, scientists, doctors and others at Nabsys Inc. are trying to do from the company's modest digs in Providence's Jewelry District. They call it "high-definition mapping" of DNA.
If nothing else, Nabsys CEO Dr. Barrett Bready, a Brown University medical school graduate, and his team are persistent. The company has been through its share of ups and downs, including changes in leadership and a shutdown. But now – about 12 years and $80 million in investments later – he says Nabsys is preparing to put its high-definition mapping instrument up for sale on the commercial market later this year.
Bready made a similar announcement in 2013, when he told Providence Business News: "Short term, we're looking at commercializing the first applications toward the end of this year." That never happened.
Bready formed the company in 2007 but later backed away from it, and a new CEO, Steve Lombardi, arrived in 2014. But Nabsys closed in 2015, putting about 40 employees out of work. Bready says Lombardi took Nabsys in a somewhat different direction.
Nabsys reopened a month later, once again under Bready's leadership, after a restructuring. Shortly thereafter, Chinese drug manufacturer Jilin Zixin Pharmaceutical Industrial Co. announced plans to invest $42 million in Nabsys in exchange for two-thirds ownership of the company. However, Bready says Nabsys decided not to go through with the deal.
Nabsys' DNA instrument, as Bready describes it, resembles a small-tower computer. It's supposed to be capable of producing high-definition electronic maps of DNA, intended to help scientists and researchers further unravel its mysteries and better understand the large genomic changes, so-called "structural variants," with which existing technologies struggle.
Eventually, Bready hopes, the instrument could be used to help doctors figure out how to best treat diseases such as cancer. Someday, he added, the instrument may even have agricultural or industrial uses.
He says Nabsys' instrument is superior to devices that map DNA optically. Its instrument does this by submerging DNA in fluid and running it through a semiconductor-like chip with "nano-detectors" that read electrical signals, creating an unprecedentedly whole and detailed image of DNA.
According to Bready, Nabsys' instrument not only works better, but will cost less than optical DNA readers now on the market.
"Generally, you don't see structural variants in DNA. With existing technologies, you see only small changes, which constitute about 10% of the total difference," he said, adding about his device: "This will allow you to see all the other stuff."
OWNERS: Dr. Barrett Bready (and others he declined to name)
TYPE OF BUSINESS: High-definition genomic mapping
LOCATION: 60 Clifford St., Providence
EMPLOYEES: 20 (full-time equivalent)
YEAR ESTABLISHED: 2007
ANNUAL SALES: WND
Scott Blake is a PBN staff writer. Email him at Blake@PBN.com.