PROVIDENCE – A Jan. 16 ranking published by National Geographic Traveler counts Newport among the 30 Best Small U.S. Cities according to "unconventional metrics" which the publication believes leads to happiness.
George Stone, National Geographic Traveler editor in chief, said in a statement: "Happy places for locals are also rewarding places for travelers."
The 11 "unconventional metrics" were:
Most Hipster Friendly (coffee shops, tattoo parlors, record shops, vintage stores)
Musically Grooviest (music venues, live music, instrument stores)
Most Instagrammed (hashtags)
Most Literate (bookstores, college degrees)
Most Artsy (art galleries, art supply stores, art schools)
Best Groomed (barber shops, hair salons, hair removal services, cosmetic dentists)
Meatiest (butchers, delis, steakhouses)
Most Dog Friendly (pet sitting, pet stores, pet groomers, dog friendly restaurants)
Sudsiest (breweries)
Most Caffeinated (coffee shops)
Greenest (parks)
Ranked No. 23 of 30, the City by the Sea was named "Best Groomed" city in the ranking.
The caption for Newport reads: "Antique carriages, fine horses, and dandily dressed carriage attendants in top hats bring a rakish, raffish charm to the Weekend of Coaching, a triennial festival to be held August 16 through 19, 2018. The coaches, some dating to the early 19th century, roll through the city and stop at mansion museums, including the Vanderbilts' lavish, cliff-top The Breakers. An apropos spot to pamper yourself before the event: the spa at the 1875 Castle Hill Inn."
In a statement released by Discover Newport Evan Smith, the regional tourism commission's president and CEO said the organization is "thrilled" to be recognized by National Geographic Traveler.
He added: "Throughout my decades of travel both across the nation and internationally, I have always found people passionate about Newport, and the local pride here is palpable."
When calculating the ranking, Nat Geo Travel partnered with global branding firm Resonance Consultancy Ltd. based out of Vancouver, British Columbia which sorted U.S. cities into three categories based on population: 40,000 to 100,000, 100,000 to 200,000 and 200,000 to 600,000.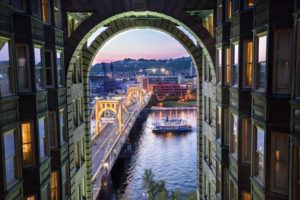 The Canadian branding company then used "social media data" from Yelp and Instagram to measure nightlight, culture and restaurants in these cities to determine rankings in categories such as "meatiest (lots of steakhouses and delis)" to "greenest (most parkland)."
The top U.S. city in the "unconventional metrics" ranking was Pittsburgh, which was highlighted for its more than 30 craft brewing companies operating within its city limits.
Regionally, the sole additional New England city listed was Portland, Maine at No. 24. The caption for this northern city said the "red lobsters on the plate, painted fishing boats in the harbor and salty lighthouses on rugged shores" led to it to top the list of most Instagram hashtags.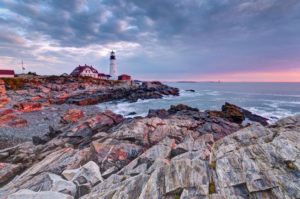 Traveler's 30 Best Small Cities in the U.S. are categorized by 10 key superlatives that influence both residents and visitors alike. Through Resonance Consultancy's algorithm, Traveler surfaced the cities that ranked the highest for each population size (broken down into three groups: 40,000-100,000, 100,000-200,000, and 200,000-600,000) and identified "trending" cities that didn't top the list this year, but look to be climbing their way up. The Small Cities Index is based on Resonance Consultancy's World's Best Cities program, which is housed on BestCities.org and features a "Choose Your Perfect City" tool based on this data, as well as extensive city profiles on their top 100 cities.
Emily Gowdey-Backus is a staff writer for PBN. You can follow her on Twitter @FlashGowdey or contact her via email, gowdey-backus@pbn.com.