National Grid PLC owns and operates nearly all the state's electrical and gas systems, connecting energy generators and producers to businesses and households throughout Rhode Island. And in charge of it all is a man named Timothy F. Horan, president of National Grid Rhode Island.
Horan, a U.S. army veteran, started his utility career nearly three decades ago with Narragansett Electric, which was acquired by National Grid in 1998. An engineer by trade, Horan held nearly a dozen positions at the company before taking over in 2011.
His goals and objectives are simple: "It's first and foremost to have a safe and reliable system for our customers, our employees and the public," he told Providence Business News.
But his job is becoming increasingly complex. The projected influx of so-called clean energy raises questions about how power will be delivered in the future and how distribution costs should be shared. Horan says he's embracing the change. And National Grid is uniquely positioned to play a key role in determining what the future of energy looks like in Rhode Island.
---
Focusing first on electricity, could you describe the current condition of the state's electrical grid?
The electrical grid here in Rhode Island starts with our major transmission lines, our substations and then the system that feeds our customers in the cities and towns. If you look over the last four to five years, we've upgraded our transmission system quite a bit. We have major lines from Smithfield down to Warwick [and] from Smithfield out to western Rhode Island that's then connected to Connecticut.
How old were the transmission lines before the upgrades?
Probably in the 30- to 40-year range. One of the major projects we have going on right now is South Street substation. That's an $80 million upgrade that's impacting how we serve downtown Providence, and is part of the revitalization of the whole area. The combination of things we've been doing over the last six years has made the system much more resilient. Hopefully, you've seen during the storms we've had over the last several years that wasn't the same amount of outages as in 2010, 2011 and 2012.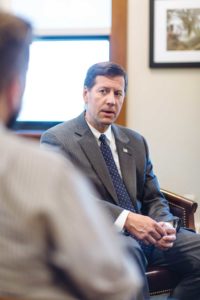 What are your thoughts on the projected growth in renewable-energy generation, including wind and solar?
We've been looking at it quite closely over the last few years, and it's something we're involved in everywhere we serve. We know the need to go to more renewables is very important. If you look at the offshore wind farm off Block Island, it's the first one in the country. For us to be involved with Deepwater [Wind LLC], and to build the undersea cable to that system – it felt important to do that. We're working with a fair amount of developers and companies that are putting in renewable
systems, and we know it's changing the systems of old. It's not going to be the same in the future, so we feel it's important to work closely with everyone. We're working closely with our regulators to look at what impact this is having on the future of the industry, and we embrace it.
How is renewable energy impacting National Grid?
We know [renewable energy] is going to grow. The governor has an ambitious plan to go to 1,000 megawatts of renewables [by 2020] here in Rhode Island. We're working closely with her and the [R.I.] Office of Energy Resources on that. So, it's happening, it's going to continue to happen, and I kind of equate it to energy efficiency. When we embarked on that 25 to 26 years ago, it was new, people weren't sure of it and didn't know what to expect of it. But we've been heavily involved with it over the years, and we have some of the most effective and efficient operations in the company, and it's helping our customers. We, as a company, know [renewable energy] is important, and part of our ambition is to be out there, to be at the forefront, and to work with people, whoever it is, regulators, government officials, cities and towns, to build the best system going forward.
What do you think about distributed generation (energy used at the same place it's generated without going into the grid), as it's largely seen as disrupting the traditional utility model?
We're part of it. We as a distribution and transmission company, we're not in the generation business, so we'll work with any supplier of electricity out there to connect them to our system. It's an important part of our business, and we're actively engaged with many folks doing it.
Should someone generating their own electricity help pay for grid upkeep?
We're going to be in quite a transition period for quite a while. There's been quite an investment in the system that needs to be paid for through the rates by all the customers out there. That's why we're working with the regulators to make sure we have the right rate structure for everyone going forward. We know that electricity and gas are incredibly important to everyone's lives and the economy. So, we know it's got to be structured right. If you look at deregulation [in Rhode Island], there was a process that worked. Everyone got together to determine how best to do it and that's worked. I see the same thing here now, and that's why we're working closely with our regulators to figure it out.
Do you think then there's an outcome here that won't negatively impact the bottom line of National Grid?
That's a key point. We are a company that's got to be able to serve our customers, be financially sound moving forward and make investments. Having a great regulatory structure allows us to invest and upgrade the system going forward, so we are working with regulators on this. We've got the [R.I.] Division of Public Utilities and Carriers, the [R.I.] Public Utilities Commission, and we work with them closely. I feel confident we're going to get the right rate structure going forward.
Do you have any overarching concerns that distributed generation will negatively impact National Grid moving forward?
No. When you look at our goals as a company, especially our environmental ambitions, we know it's the right thing going forward, and that's why it's important to work with everyone throughout the state. Rhode Island is unique, too, because there is one major utility in the state and we are able to make decisions quickly, maybe quicker than some other areas.
When you incorporate storage, distributed generation and other things that are happening, it's changing the industry going forward.
There's a lot of industry discussion right now about storage, and how batteries could make renewables more reliable with less intermittency. How does National Grid expect the advancement of storage to impact utilities?
We're looking at that closely. When you incorporate storage, distributed generation and other things that are happening, it's changing the industry going forward. We're actively looking and getting involved in these respected areas to see how best they can serve our customers. We're looking at how we can apply this technology. Another benefit to Rhode Island is that the larger National Grid is looking at these things too, asking how they can benefit our customers going forward, so we're looking at this as a benefit to our system.
So, you see it as something worth integrating into your services rather than something that will disrupt it?
Right. We're trying to get the most reliable system for customers going forward, however we do it.
Moving on to gas: How would you describe the gas infrastructure in Rhode Island right now?
It's a system that we acquired in 2007 from the Southern Union companies. We have put in probably [more than] $300 million over the last four to five years on the gas side of the house, and it's similar to the electric that we're upgrading the parts that need it the most. We have a very robust capital plan to upgrade it going forward, and there is more work to be done.
How old is the system?
It varies. We have 1900s vintage stuff out there because when you look at the infancy of the gas companies, it all started here in the Northeast, which is why we feel it's very important to continue these capital upgrades that we're doing. We're changing out roughly 65 miles of pipe a year compared to the previous company, which was less than 10.
Natural gas is a hot-button issue right now. What's your take?
Gas is very vital to the region. It's something that's going to be critical as a source for customers for the foreseeable future. As we switch over to more of the renewables, it's something that's very important and needed in the region. There is a need for more gas in the region to meet the demand that's out there. Hence the reason to make sure the system is very efficient and reliable.
Gas is very vital to the region. It's something that's going to be critical as a source for customers for the foreseeable future.
Do you support Invenergy's proposal to build a gas-fired power plant in Burrillville?
With any generator of electricity, our key role is to connect to them when it's requested. Be it Burrillville, be it a wind farm, be it solar panels, we have to make sure that whatever gets permitted out there, whatever gets approved, that we're working to get them connected to the system. That's really our role going forward.
Is that to say you don't have an opinion about whether it gets permitted?
That's a key role of ISO New England, the region's independent system operator. When you look at their role, they need to be out there heavily involved in what's coming online for the whole region to ensure reliability – especially when you have multiple utilities that are connecting to the grid. We work closely with ISO New England, but they have the role to make sure the overall demand is met in the region.
So, you'll work with whatever is here?
We'll work with whatever is here.
What's the latest with Access Northeast, the multistate effort to expand gas pipelines?
The funding mechanism wasn't going to work, so in Rhode Island we pulled back from that. We're looking to see what the next gas-transmission pipeline opportunity is going to be out there, and how we would get involved with that if it's something we need to get involved with. It's still to be determined. For Access Northeast, that's basically off the table. But there still is direction from the governors within the [New England] states to determine some way to get the additional gas supply into the region.
What's the issue here from a funding point of view?
Gas-transmission businesses need to get committed demand to get the funding. You're not going to get funding for a $1 billion project if you don't have something to back it up with on the other end, so any time there's a major investment there has to be return for those investing. If there's nothing on the back end to support that, it's going to be quite challenging. That's something the gas-transmission companies in the country have to look at quite closely when working with the states, and it's a challenge.
Financially speaking, how is your arm of National Grid performing?
It's been pretty strong. For the capital investments, we're in a rate structure that's pretty positive. We do have some challenges out there. Our last rate case was in 2012, so we're working with regulators to look at some of the costs at the end of the year. We try to keep things as stable as we can, knowing there's a commodity piece for both electric and gas that changes.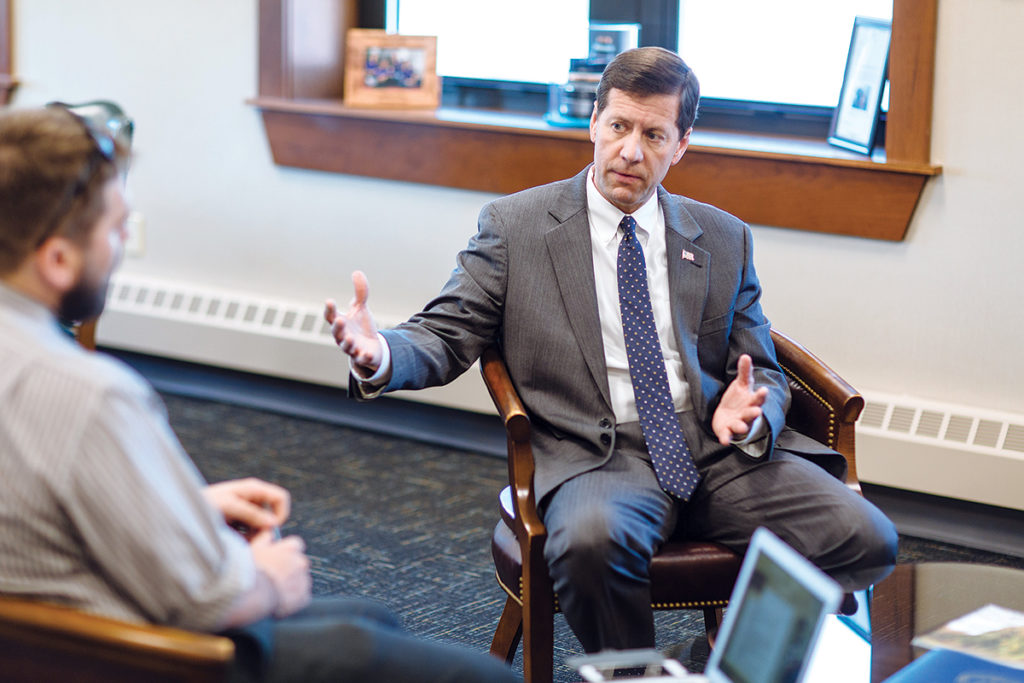 Cybersecurity is also a hot-button issue for all major companies. What's National Grid doing to protect its underlying system from cyberattacks?
We take it very seriously. We have a part of our business that's just focused on cybersecurity. It reports directly to our chief information officer for the whole business. Not only are we looking at protecting our systems, but we also have [more than] 7 million customers' data and accounts, so we have a pretty comprehensive process. We work closely with the [United Kingdom], because we run the complete transmission system and the complete gas transmission for the entire country, so we're heavily involved with the government, as we are here in the U.S.
Do you have any last thoughts you would like to share with our readers?
The folks of Rhode Island see us as National Grid Rhode Island, but we are part of a much larger company in the U.S. and the U.K. that's then very localized. I have responsibility for what's in the state, and my boss is in charge of the U.S., so there's a pretty direct line to the leadership of the company. We're focused on having as safe and as reliable a system as we can. We have roughly 950 folks here working in Rhode Island, working in the community and who are dedicated to what they're doing day in and day out. And I'm seeing it making an impact on the reliability of the system.