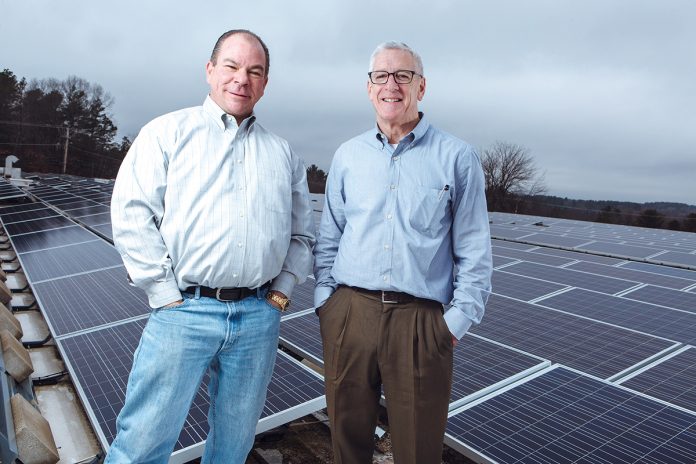 National Marker Co. | Green Manufacturing
Many things have changed in the nearly 100 years since National Marker Co. opened its doors, but not the company's dedication to quality, which has prompted a number of energy-efficient innovations.
North Smithfield-based NMC manufactures an extensive catalog of safety signs, tags and labels, many of which are designed specifically to meet state and federal safety regulations. The company sells through 1,300 industrial distributors across the United States, reaching deep into the manufacturing, food processing, oil, gas and construction sectors.
"National Marker is a large-format printer that focuses on safety and custom identification products," said Patrick Madigan, general manager. "The items we create each day are keeping people safe in the workplace by labeling hazards, identifying routes of safety or outlining safety procedures."
Two key market differentiators setting the company apart and fueling its continued success are Sign Muscle and customization.
Sign Muscle – a proprietary, anti-graffiti, UV protective liquid coating – protects every sign the company creates. The product won't fade or crack in harsh weather conditions and chemicals will not penetrate the surface of the sign. NMC guarantees that products protected by Sign Muscle will be readable for life, saving its customers time and money.
In addition, NMC offers its customers the ability to customize any product and with more than 55 percent of the company's business being custom work, it is critical that orders – from pricing to design to production to delivery – be fulfilled efficiently.
"Each day we make hundreds of signs for our customers with different combinations of print technologies and substrates," said Madigan. "With a lead time of just two days, I enjoy the challenge of building systems and teams that can take ideas and turn those ideas into finished products, almost overnight."
Having always embraced the practices and principles of green manufacturing, NMC is constantly seeking new and innovative ways to increase efficiencies, and reduce waste and energy usage.
The company's most substantial green project – the installation of a 242-kilowatt roof- mounted solar system – was completed in 2015. The new system now provides 40 percent of all the electricity used at NMC. Before the solar system was installed, the company built a new roof containing twice the existing insulation. The move cut heating and cooling energy costs by more than 15 percent.
In 2017, NMC outfitted its facility with the most efficient lighting available and more recent investments in modern printing equipment have increased capacity, while at the same time reducing energy consumption by 25 percent. With additional modifications, the company has seen reductions in natural gas and water consumption. NMC also has worked closely with its vendors to implement recycling programs for its corrugated, plastic and aluminum waste.
Meghan Arnold, who works in product development/art automation, is always happy to tell customers of the company's several materials manufactured using recycled or post-consumer goods, as well as recyclable materials and materials that have a reduced environmental impact such as materials with no polyvinylchlorides, or PVCs.
"I was excited and proud that NMC was investing in green energy when we installed solar panels and even more excited when we started to see the returns," Arnold said. "Now on my drive to work I am seeing more solar panels in our area. I am excited that we have been an influencer in the community and ambassadors for green practices.
"By choosing to follow green manufacturing practices, we are preserving and enhancing our immediate environment. I want this to continue to be a beautiful place to live, work and raise a family. I would like residents of this community to be happy manufacturing is taking place in their own neighborhood," she said.