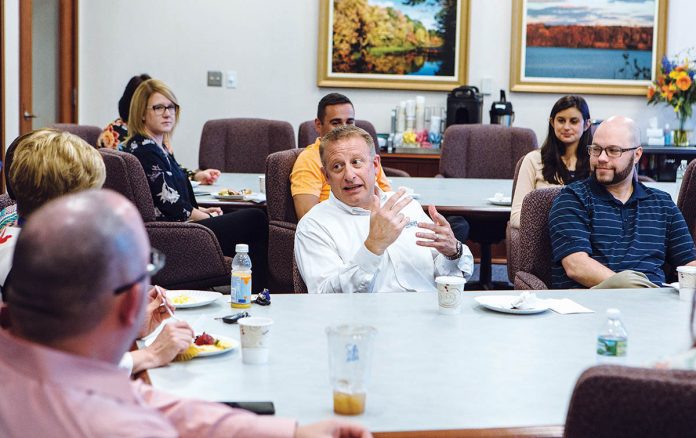 BEST PLACES TO WORK 2018
1. LARGE COMPANIES | Navigant Credit Union
Employees in R.I.: 303
President and CEO Gary E. Furtado
---
Smithfield-based Navigant Credit Union leaders know that, for the most part, all credit unions offer similar products and services. It can be difficult to differentiate in the marketplace that way.
So Navigant is committed to setting itself apart with its employee culture and its customer service. The organization's core values were redefined last year – leadership, unity, caring and integrity, or LUCI – and they all come into play, said Tim Draper, the credit union's vice president of marketing.
"It is vital to how we need to deliver customer service. But it's also the way we need to treat each other. It's important to build that into the new culture," Draper said.
Recent, rapid growth is one of the moving parts for Navigant.
With the institution adding three new branches in just the past six months, the 18-location credit union is working harder than ever to educate new employees on its culture, ensure customer service stays in a top spot on priority lists, and that employees are appreciated and motivated, happy with their jobs.
Attitude can be everything with new hires, and Navigant knows that positive team members make for a great place to work overall in terms of productivity, collaboration and more.
Nancy Wilson, assistant vice president of human resources, said that when it comes to hiring, Navigant has broadened its scope beyond just experience.
"If we interview somebody at a job fair who on paper doesn't have the right background from an HR perspective, we will look internally to see who's hiring [for a different role]. We keep them in mind. They may have no experience but are absolutely what we need [in terms of] customer service and leadership," she said.
Navigant employees are interviewed first for open positions, such as when a back-office position is available, Wilson said. Sometimes, this requires helping an employee shore up their skill set to better fill the open role. "There's a lot of movement that way. If somebody you know has the right attitude and embodies core values, they are already a fit," she said.
Draper looks for this attitude now everywhere he goes, to enhance the positive Navigant culture even more.
When he experiences great customer service and a winning attitude at businesses outside the bank, Draper gives out his card and invites that person to call him if they might be interested in a change.
At the beginning of the year, Navigant employee Edna Gibau proposed an idea: that employees get their birthdays off. It's now policy, said Draper, an example of the credit union working harder to get feedback from its team.
Where it has always solicited input from credit union members, a new focus on actively gathering employee input began last year, said Draper. The LUCI core values, for example, were designed by a cross-departmental internal team. Whether a process-improvement suggestion or general feedback, comments can be given, anonymously if the employee wishes, for consideration.
One forum where employees can give their input is at the monthly anniversary breakfast. Navigant Credit Union President and CEO Gary E. Furtado hosts the event for those hired within that month. "He sits down and asks what they want to know, and he is willing to listen – he's very comfortable asking questions," said Draper.
What employees say sometimes impacts business, said Draper, such as process improvements concerning the work they do every day at Navigant. These valued points can save time, ramp up efficiency and benefit members and employees, with an insider's perspective, he said.
Navigant's community involvement also brings pride and satisfaction to employees, whether it's a banner at a baseball game the credit union is sponsoring or an opportunity for employees to volunteer somewhere locally.
"It gives us a certain sense of pride in Navigant Credit Union," Draper said, adding to work satisfaction for employees and aligned with LUCI core values.