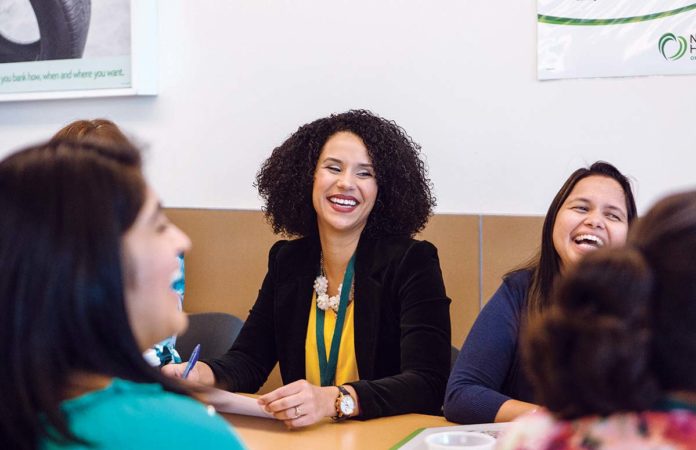 Excellence in Diversity | Neighborhood Health Plan of Rhode Island
Providing extensive diversity efforts at Neighborhood Health Plan of Rhode Island is good customer service and good business, said Peter Marino, the nonprofit's president and CEO, especially for the health care patient groups it serves – at-risk populations.
"Health care is personal," he said. "When you or I are trying to deal with a health care issue, it gets down to decisions at very critical points. What better way to see that perspective than to provide a wide range of folks with similar backgrounds?"
And while there are business benefits to a diverse workforce made up of different abilities, cultures and communities as they relate to customer service, the varying perspectives and mutual respect that employee mix creates also make for a rewarding place to work. The focus on diversity begins with Neighborhood's onboarding process and continues through every stage of an employee's time at the company.
If there is a classic event at Neighborhood for its 500 employees, it is Diversity Week, said Marino. "People get very excited. There are folks wearing traditional clothing of their culture, they get to see what the other people are all about and make stronger connections," he said, such as an employee of German ancestry wearing lederhosen, for example. Potluck meals during this week also reflect the varying international influences at the office. "It's one of my favorites, and a downfall," said Marino, with abundant food from different cultures.
While favorites such as Diversity Week are a fixture, diversity initiatives at Neighborhood are constantly reviewed and expanded as needed. A member of the LGBT community came to speak on transgender people in the workplace this year, for example, to keep relevant issues at the forefront. It's also important that the right information is getting to the right people.
A newer part of the diversity training for upper-level employees, said Marino, is the Managing Our Neighborhood effort.
"When I arrived here, we were growing so quickly," he said, with more cohesion needed among leadership. So the Managing Our Neighborhood Group was created. Cohorts of 20 to 25 managers now work with the University of Rhode Island management program, he said, where they are taught how to be better managers and work through problems together. Race and diversity issues are a focus, as they are with other trainings throughout the year.
Neighborhood makes a particular effort to attract applicants who are veterans or who have disabilities, collaborating with groups such as Rhode Island Hire Our Heroes, HireVeterans.com, the R.I. Office of Rehabilitation Services and the Disability Employment Initiative, to name a few.
Creating a diverse work environment, offering up-to-date training and awareness efforts, and adding to the comprehensive diversity platform as needed are major parts of the Neighborhood formula for success. But so are its engaged, empowered team members.
Lauriza Monegro-Ramirez is a Neighborhood community care coordinator who serves on the company's diversity committee and new diversity council. She joined the committee in 2015 and has helped in planning events and activities. Diversity is something achieved by reaching out, she said.
"The biggest thing [I've noticed] is the interest staff have in learning about each other," she said. "You don't necessarily interact with others as part of your day. There are two different floors and sides of the building … There is enthusiasm to learn about different cultures and ethnic backgrounds. It's all based on 'How can we bring people together?' " Answering that question involves planning diversity events so they are all-inclusive, accessible to employees who have breaks in the morning or afternoon, she said.
And with employee ideas, feedback and participation, Neighborhood's diverse culture is further energized, Ramirez said.
"We want to be sure we are capturing what staff members represent. We want people to be more aware of different things that make up a culture. This planning causes unity."