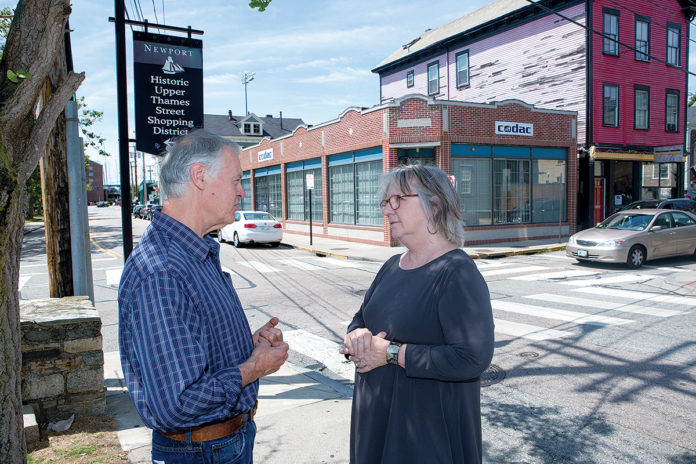 Rhode Island has about 300 medical professionals who are trained and licensed to prescribe Suboxone, a drug that helps people who are addicted to opiates stop using them.
That's about twice the number engaged in addiction treatment two years ago, but given the extent of opioid overdoses in Rhode Island, health officials say the state still needs to double the number.
That rapid expansion is increasing access to professionals who are trained to help people trying to recover from opioid addiction, said James McDonald, a leader of the state's Overdose Prevention and Intervention Task Force.
But it's also putting opioid treatment in and close to residential neighborhoods, through the offices of physicians, physician assistants and nurse practitioners, all of whom can now receive training and licensure to administer medical treatments.
In some areas, that isn't going over well.
Residents of College Hill in Providence this year were rankled by the appearance of a large sign placed in the front yard of a historic home in a residential district, advertising: "Suboxone Available Spring 2017."
The medical office hasn't opened, but the sign remains. The building, an elegant 19th-century mansion, in the 1950s housed two doctors' offices on its ground level, according to the city. Providence officials are determining whether a suite of physicians can operate from the site. An initial Planning Department review determined the property has a nonconforming use variance, dating to the late 1950s, that apparently never expired.
Should residential neighborhoods be the location for opioid treatment? The R.I. Department of Health licenses physicians, but not their offices or locations, McDonald said. Since 2000, when federal law changed, people seeking medical-assisted treatment for opioid use could receive help from their physicians, he added.
'There is no reason to judge anyone with a chronic disease.'
JAMES MCDONALD, Overdose Prevention and Intervention Task Force leader
He and other addiction specialists say creating access is important, and that treatment of addiction continues to be stigmatized.
"There is no reason to judge anyone with a chronic disease," McDonald said.
In College Hill, concerns over the proposed Suboxone clinic were expressed by neighbors at a meeting organized by City Councilman Sam Zurier. In a recent interview, he said the concerns included whether the location was suitable for a medical office, given the proximity of a public high school a few blocks away, and the residential zoning.
To address the loophole that allowed the long-vacated doctor's office in the building to provide a permanent use for the site, Zurier later proposed an ordinance that would abandon any variance for a "nonconforming use" if it was discontinued for one year.
The city should be able to evaluate whether a proposed use or site is appropriate, he said. The issue goes beyond whether the state needs more physicians treating patients with opioid addictions.
"We need more airports. We need power stations," Zurier said. "That doesn't mean we should abandon the effort to regulate them in such a way that the advantages of having them are properly balanced against the impacts."
In 2011, opioid addiction was classified by the American Medical Association as a chronic disease of the brain. It's classified as a disease based on science of the brain, according to Linda Hurley, CEO and president of CODAC Behavioral Healthcare Inc.
Research has found that substances that trigger substance-abuse disorders will eventually change the brain itself, she said.
CODAC, which is headquartered in Cranston, operates six centers in Rhode Island that offer addiction-treatment services, including resources for clients who need help with referrals to housing, daycare for children, jobs and other needs.
The company was the first in Rhode Island certified as a Centers for Excellence in comprehensive opioid treatment, an effort through an executive order to address the ongoing crisis that has resulted in the deaths of hundreds of Rhode Islanders.
In 2016, 336 people died of overdose in Rhode Island, according to state figures. More than 5,400 people, as of June, were taking methadone as treatment. Another 4,761 that month were taking prescriptions of buprenorphine, another medication approved by the Food and Drug Administration to help safely withdraw people from heroin and other opioids.
The centers operated by CODAC, which run on an outpatient basis, are located across the state.
In 1987, as the company sought to open its location on Thames Street in Newport, neighbors organized in opposition, Hurley said.
The neighbors cited fears the people visiting the center would result in higher crime, which would depress the value of their homes and/or businesses, she said.
But Hurley claims the feared increase in crime never materialized.
The CODAC center today is in the same location, as indicated by an unobtrusive sign. That's by design. "We do our marketing more through providers and through schools, so families can know what we do," Hurley said.