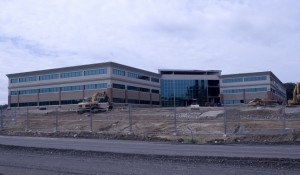 WARWICK – The New England Institute of Technology has hired a Massachusetts firm to help the college with its move to East Greenwich.
Newton, Mass.-based Diversified Project Management Inc. said Monday it won the contract to assist with the first phase of an extensive relocation into a new three-floor, 265,000-square-foot facility on Division Road. Originally built as corporate offices for Brooks Pharmacy – but never occupied – the space is being converted for educational uses. New England Tech purchased the 25-acre campus in January 2008 after Rite Aid acquired Brooks.
The school said the first phase of the project will include relocating the school's health, technology and graphics programs. The move is scheduled to finish in October.
Diversified Project Management said it will oversee the relocation process, including the bidding, ordering, delivery and installation of furniture, mover selection and other items as required.
"We are excited to work with New England Tech as they expand and improve," said Diversified Management President Bob Keeley. "We are pleased to add [the school] to our growing list of Rhode Island clients and look forward to collaborating with its team on a successful project."
The company has worked on relocation projects for Brown University, the Rhode Island School of Design and Bryant University.