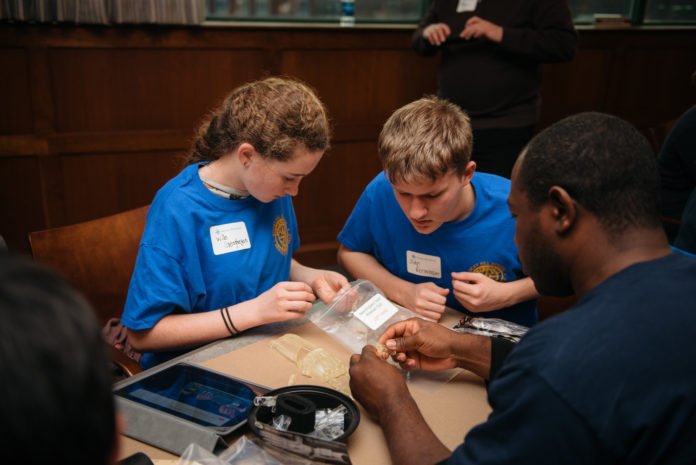 EAST GREENWICH – Thanks to efforts of Rocky Hill School's Interact Club and the New England Institute of Technology's Rotaract Club, amputee children in need will receive 3-D printed prosthetic hands.
The community service clubs came together on Jan. 12 to assemble 15 3-D printed prosthetic hands, which will be given to the Enable Community Foundation, a nonprofit that works with schools to create 3-D printed devices to help those who have lost limbs.
Another five prosthetic hands also will be shipped unassembled to the Interact Club in Rwanda where they will be assembled and distributed within their community, explained Beth DeGerlia, Rocky Hill's director of development and Interact Club adviser.
Both clubs are supported by the East Greenwich Rotary's New Generations program.
Each year, she said Rocky Hill's club, which has 30 members, selects a cause for which it wants to advocate and fundraise. Students at the private school were moved by the Syrian refugee crisis, and wanted to share how things like war and tragic events affect children, DeGerlia explained.
The club connected with Enable Community Foundation for the hand project, and reached out to NEIT, because the college has a 3-D printer to create the 3-D printed prosthetic hands. It's a long process to make one hand, between 16 and 19 hours per hand, DeGerlia explained.
She said the day the hands were assembled, 50 people came together – members of the two clubs, as well as the East Greenwich Rotary. Those ranging in age from 15 to 70 participated, DeGerlia said.
"It took us a while to get them all printed," DeGerlia said.
Instructors and students in NEIT's Mechanical Engineering Technology Department printed the prosthetic hand parts using an Objet 30 Prime Polyjet 3-D printer – its newest printer – with RGD720 Full Cure material.
DeGerlia said the prosthetic hands include 14 pieces that mimic bones. The "hand" attaches to a wrist, and it can grab when the child bends his or her wrist. The hands are nicknamed "raptor" hands because of their ability to give users the ability to grasp items.
"We were excited to help as NEIT has the type of 3-D printers to do the job," Andrea Unger, a mechanical engineering instructor at NEIT, wrote in an email.
Unger said it was challenging to find time to work on the project, as the department also prints 3-D parts daily for students in multiple departments who are completing design projects.
The design used was simple and effective, Unger said, adding NEIT would like to see its mechanical engineering students work together to continue to improve the designs available online "to offer even more options for this project in the future."
DeGerlia said $2,500 was raised for the project, with $1,000 raised by Rocky Hill students through a book sale and game night. East Greenwich Rotary contributed $750 toward printing costs and secured a matching donation from a Rotary District grant. It costs approximately $75 to make one hand, she said.
"Kids today have so much power to make change in the world," DeGerlia said. "It's great for kids to see how they can make a difference."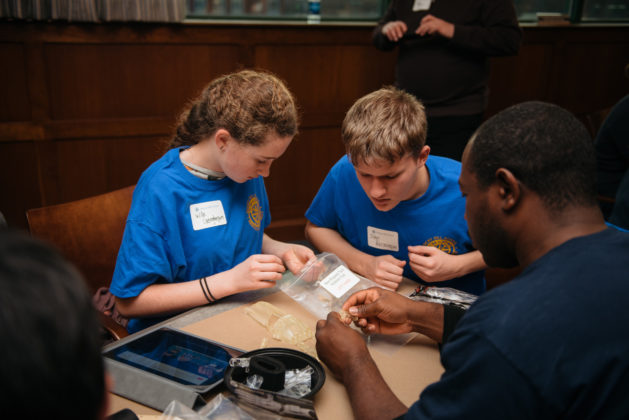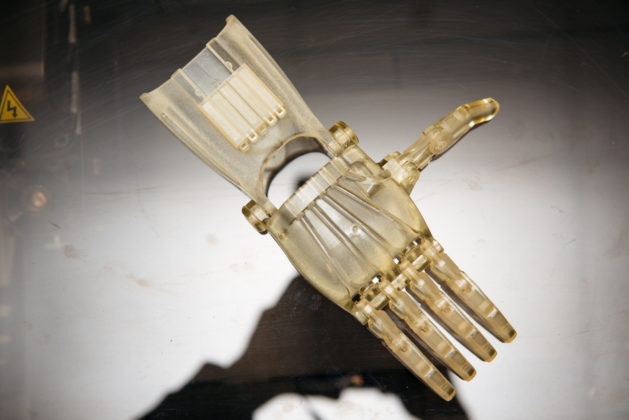 Want to share this story? Click Here to purchase a link that allows anyone to read it on any device whether or not they are a subscriber.