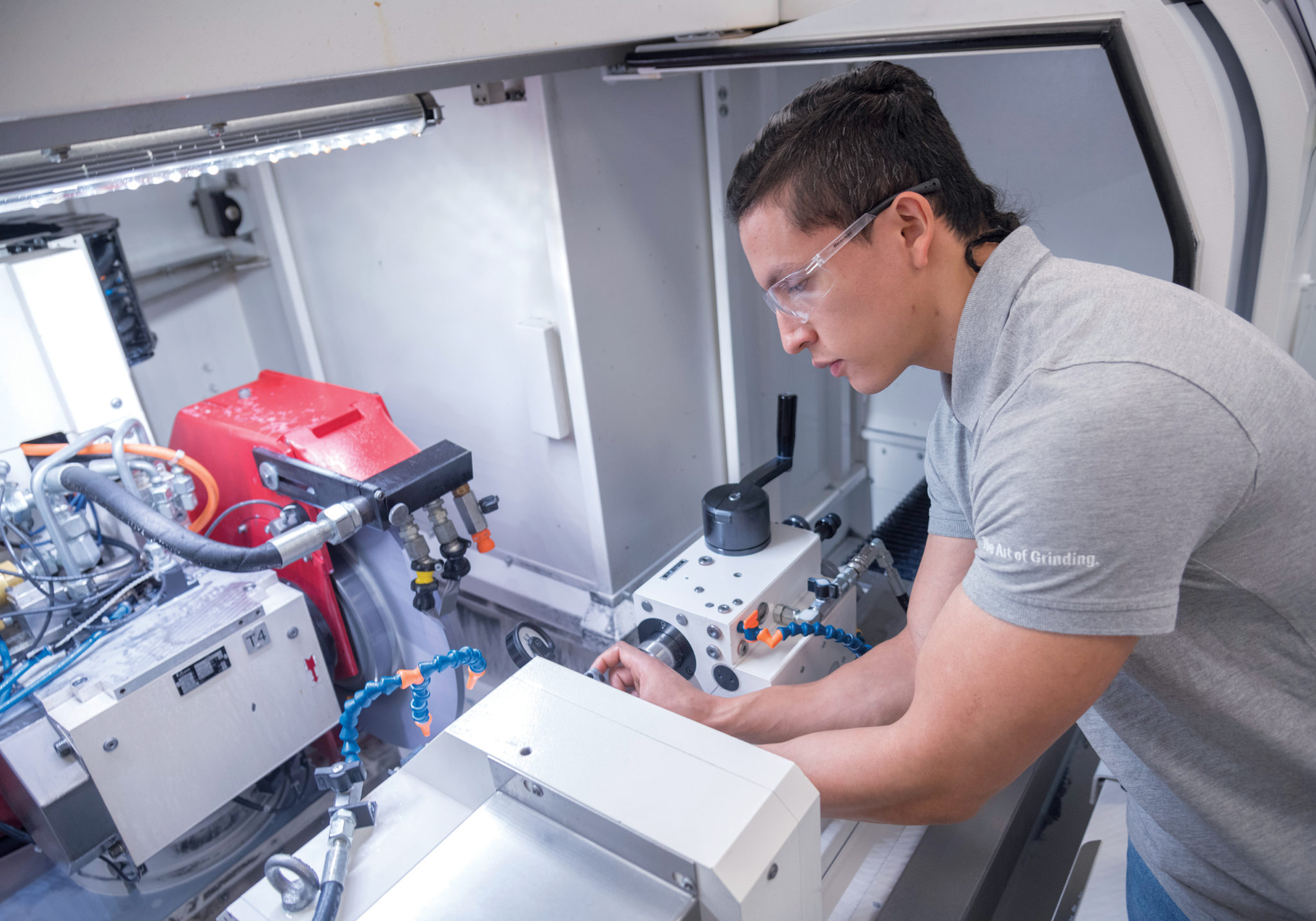 In a job at a sports bar and arcade, Otto Fernandez reached the ceiling of possibility for advancement in pay and title.
He learned of a relatively new manufacturing training program in Rhode Island through a friend of a co-worker at Dave & Buster's.
Ten weeks after entering the Shipbuilding/Marine and Advanced Manufacturing Institute at New England Institute of Technology, Fernandez, 29, landed a job as a machinist.
His hourly wage is several dollars above what he made two years ago, and the position at Mahr Federal Inc. has the standard benefits afforded a full-time employee.
The federally funded program, which began in 2013, recently graduated its 200th machinist.
The 10-week, full-time training program includes both academic lessons and practical, hands-on skills with the machinery and tools that will be required in manufacturing settings, according to Fred Santaniello, director of workforce-development grants and programs at NEIT.
The institution also has a federally funded program in welding. State-sponsored programs focus on other related fields, in pipe fitting and shipfitting.
The manufacturing-focused options through SAMI were developed with direct input from employers, who told the institution what they needed in newly hired employees. The training includes remedial mathematics focused on the specific needs of the job.
The machinist position Fernandez now occupies is challenging and the work changes daily. It keeps him interested.
"Every day I come here and it's a new thing to do. It is a challenge every day," he said.
The manufacturer creates equipment used by companies who need precise tools for measurement, according to a company official.
Fernandez feels he has room to advance at Mahr, a German company with a manufacturing site in Providence. "It's not like a job. It's more like a career," Fernandez said. "Even if you stay here for 10 to 15 years, you will progress through the company. If you're at one machine and you feel like you've mastered it, they'll move you around. It's not like you're stuck here."
For his employer, the training program has emerged as a principal pipeline for talent.
Like many manufacturers, Mahr had great trouble in finding enough machinists and other skilled employees to fill its needs in Rhode Island, said Kim Kimball, a human resources specialist for the manufacturer.
The graduates of the SAMI program come into the manufacturer with a basic understanding of machining, which is preferable.
"They simply set the foundation for us, and that's key. Beyond that, it's up to us as the employer to continue training them, developing them. It's nice. They are sort of a blank slate. They don't have any bad skills yet," she said.
The company pays more than the entry wage for machinists in Rhode Island, a rate identified by SAMI as $13.80 an hour, but less than the state's median for that occupation. The median rate of $20.43 an hour reflects the earnings of workers with more experience.
For competitive purposes, Mahr would not disclose its hiring wage, but Kimball said most of the machinists have been retained and promoted.
Kimball learned of the program after accidentally meeting a program leader at a social event. "I was struggling to find machinists," she said. "And he was there, training ­machinists."
Santaniello said the curriculums for the welding and machinist programs were designed with the help of employers. Initially, they included Pilgrim Screw Corp. in Providence, General Dynamics Electric Boat in North Kingstown, Guill Tool & Engineering Co. in West Warwick, Rhode Island Carbide Tool Co. in Smithfield and Swiss Line Machine in Cumberland.
Now, he said, more than 100 companies are employer partners with the SAMI programs. By far, the largest number of graduates have gone on to positions at Electric Boat, according to NEIT.
Electric Boat has hired 116 welders and 35 machinists through the program. Other large participants include Warren-based Blount Boats Inc., which has hired seven welders, and Porter Machine Inc. of West Greenwich, which has hired 15 people through the two programs, according to NEIT statistics.
The initial entrance requirements for the programs are modest. Applicants need to be a Rhode Island resident. A high school diploma or a graduate-equivalency degree are not required.
The threshold for entry requires having teachers who can help a student scale up on math and other academic requirements.
The SAMI programs follow a competency-based curriculum, Santaniello said. The academics are tied to the tasks the person will perform. The trainers look to evaluate how well the student performs on the given tasks.
"Teachers are gauging the innate capabilities of the individuals," he said.

Want to share this story? Click Here to purchase a link that allows anyone to read it on any device whether or not they are a subscriber.