University of Rhode Island College of Engineering – Phase I
East Alumni Road, South Kingstown
Students in the University of Rhode Island's College of Engineering will christen their new building at the start of the fall 2019 semester, marking the completion of a $125 million project that began in February. Phase I, funded by a bond issue, is the largest construction project in URI's history. The 190,000-square-foot facility will house seven of the university's eight engineering programs: biomedical, chemical, civil, computer, electrical, industrial and systems and mechanical (ocean is based at the Narragansett Bay campus), in addition to general university classrooms. Ballinger is the prime architect and engineer for the project, with associate architectural firm DBVW Architects. Dimeo Construction Co. is the construction management firm, and Odeh Engineers is the project's structural engineering firm. The key feature of the five-floor building is its truss support system – often used in bridge designs – which eliminates the need for interior support columns. Three, 270-foot trusses create a four-story "bridge" that will house teaching laboratories, departmental offices, research laboratories and graduate student areas. Upon completion, the space will also include a new engineering quadrangle featuring an exterior patio, the university's first student shop for around-the-clock equipment access and a robotics laboratory that will allow URI to hire additional faculty.
---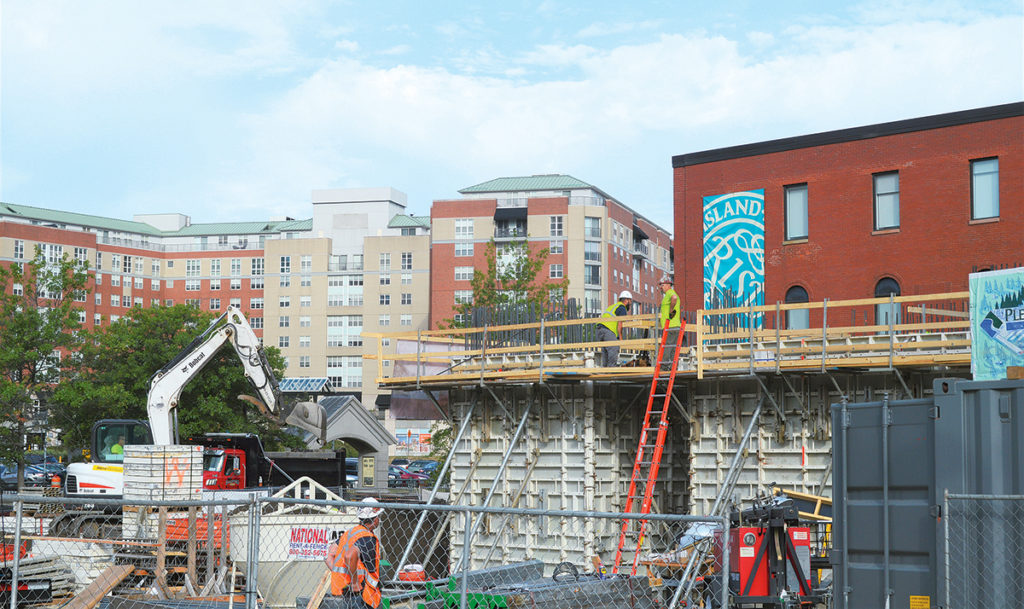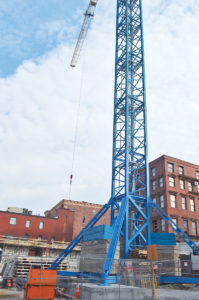 Edge College Hill
169 Canal St., Providence
A blue crane towering over Canal Street marks the construction site of Edge College Hill, a mixed-use residential project being developed by Vision Properties with DBVW Architects Inc. What began as a parking lot at the base of College Hill near Rhode Island School of Design will be transformed into a 15-story, 123,000-square-foot building with first-floor commercial space and 202 micro-loft-style apartments, which will be primarily marketed toward students. Amenities for the residential units include a top-floor common room and southwest-facing terrace, as well as a fitness center and first-floor lobby and gathering space. Units will be fitted with oversized windows, 9-foot ceilings, fully equipped kitchens and fold-down beds that tuck into contemporary cabinetry when not in use. Engineers for the project are Odeh Engineers Inc., Wozny/Barbar & Associates Inc., and VHB, with GZA GeoEnvironmental Inc. Work is expected to be completed by July 2018.
---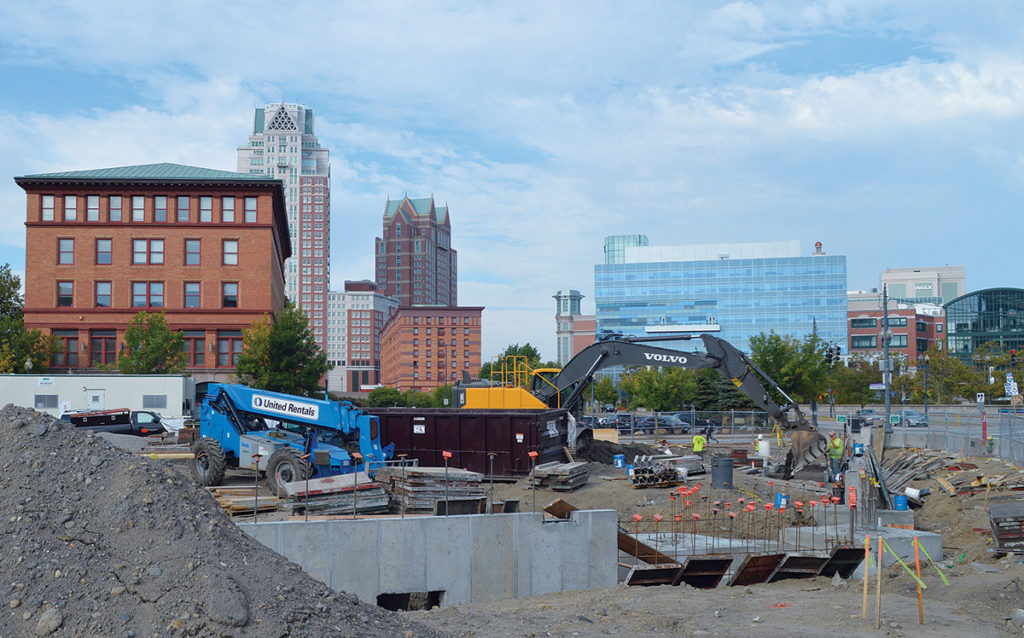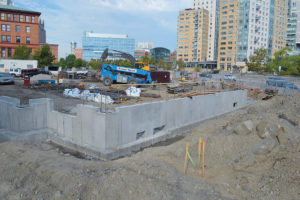 Hilton Homewood Suites
Exchange Street, Providence
A 120-room "all-suites hotel" is coming to Providence next November. First Bristol Corp. tasked Tocci Builders Inc. with constructing a Hilton Homewood Suites in August at the city's triangular lot known as "Parcel 12." The 105,000-square-foot hotel will boast oversized rooms, full kitchens and appliance packages, meeting rooms, fitness center, guest restaurant and outdoor patio area overlooking the Providence River. The $25 million project includes parking for 50 cars in an enclosed parking garage on the ground level. The project architect is ZDS Architectural Design, with engineers VHB and GZA GeoEnvironmental Inc.