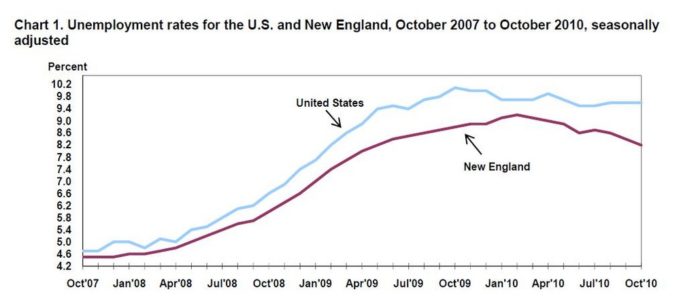 BOSTON – Unemployment decreased in New England to 8.2 percent in October from 8.4 percent a month earlier, according to seasonally adjusted regional data released by the U.S. Bureau of Labor Statistics on Nov. 24.
A year earlier, unemployment stood at 8.8 percent in New England in October; the nationwide rate was 9.6 percent compared to 10.1 percent for the same month 2009.
Rhode Island, however, was the only New England state not to post a "significantly different" jobless rate to that of the United States last month; New Hampshire (5.4 percent) and Vermont (5.7 percent) reported the fourth-and-fifth-lowest jobless rates among all states.
At 11.4 percent, Rhode Island had the fifth-highest jobless rate in the nation in October. Rhode Island's jobless rate has steadily declined since December 2009 when it posted 12.7 percent unemployment. The Ocean State has had the highest unemployment rate in New England for the past year.
Also in the New England jobless figures for October were: Maine (7.4 percent), Massachusetts (8.1 percent), and Connecticut (9.1 percent).
Both Maine and Massachusetts posted "significant unemployment rate decreases from September," both losing 0.3 percentage point each, according to the federal report. Rhode Island only lost 0.1 percentage point in October from a month earlier.
When comparing the new figures to October 2009, New Hampshire and Vermont posted "measurable" decreases – 1.4 and 1.0 percentage points, respectively – along with nine other states and the District of Columbia. Utah, by contrast, posted a significant increase in its jobless rate from October 2009, up by 0.9 percentage point.
Regionally, the West North Central region posted the lowest unemployment rate at 7.1 percent while the Pacific had the highest at 11.5 percent in October.
The bureau also posted jobless data for the census regions: Northeast (8.5 percent); South (9.2 percent); Midwest (9.2 percent); and West (10.8 percent).