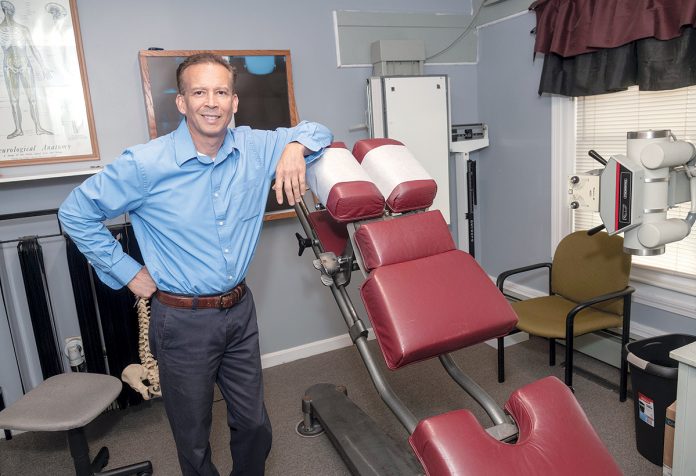 Rodger Lincoln found chiropractic – and a new career – after enduring long-term pain.
Lincoln, who operates New Hope Family Chiropractic LLC out of two locations, in East Providence and Pawtucket, was a construction worker in his 20s when a back injury sidelined him. Like many people, he initially sought medical treatment for the injury.
But the pain endured, even after back surgery and multiple medications. So, he went to see a chiropractor, and the treatment turned him around after a series of adjustments.
"My health conditions … just completely turned around. I had been on five different medications," he said. "As a result of being adjusted on a regular basis, these conditions started to go away."
At the time, Lincoln was working as a software engineer, having gone back to school after leaving construction. His experience motivated him to pursue chiropractic.
At age 39, he started the process of taking courses at Bristol County Community College and at Community College of Rhode Island. He then obtained a chiropractic degree at Palmer College of Chiropractic, in Davenport, Iowa.
After opening his practice in 2008 in East Providence, Lincoln expanded into a second office in Pawtucket. He now divides his time between the locations.
Like he once did, he often sees patients who have tried medical solutions for pain and are now turning to a chiropractor as a last resort. That experience is why he named his business "New Hope," he said.
"Chiropractic should be the first option with back and neck issues. Typically, because people are more familiar with the medical approach, they start with the medical doctor, the whole medical process. Some even go right through surgeries and their condition does not improve," he added.
Unlike medical doctors, chiropractors do not use drugs or surgery. They adjust the spine and other joints using the technique of subluxation.
Lincoln practices a technique in chiropractic called "gonstead," named for the chiropractor who advanced it. It involves a detailed five-step exam, he said, that includes a process to determine what vertebrae is to be adjusted.
Although major insurance companies now routinely cover chiropractic appointments, Lincoln said chiropractors still run into resistance from physicians, who will not refer patients to them or who tell their patients they can't see a practitioner.
Nevertheless, he counts among his own patients several nurses, physical therapists and dentists, he said. His clients have been as young as a 3-month-old, and a returning patient is 95, he said.
"I've had people coming in [with] walkers and wheelchairs," he said. "People on medications for six decades, being able to get off ­medication."
OWNER: Rodger Lincoln
TYPE OF BUSINESS: Chiropractic services, health, wellness
LOCATIONS: 2728 Pawtucket Ave., East Providence; 192 Newport Ave., Pawtucket
EMPLOYEES: Two
YEAR ESTABLISHED: 2008
ANNUAL SALES: WND
Mary MacDonald is a staff writer for the PBN. Contact her at Macdonald@PBN.com.