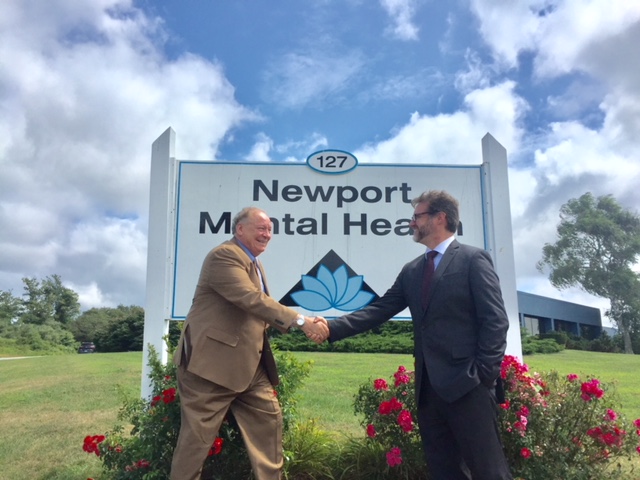 NEWPORT — Newport Mental Health is celebrating four grants totaling $213,000 from three leading R.I. foundations that will secure the nonprofit's ability to provide health care to people with lower incomes.  
Newport Mental Health's mission is to improve the lives of children, adults and families living and working in Newport County by providing high-quality, recovery-oriented, evidence-based and integrated mental health and substance use care. NMH serves clients in Jamestown, Newport, Middletown, Portsmouth, Tiverton and Little Compton.  
The grants recently received by the agency included $150,069 from the van Beuren Charitable Foundation, $35,000 from Charter Care Foundation, and $28,000 from two grants from the Rhode Island Foundation.  
"The funding comes at a crucial time. Agencies, like ours, are facing huge caseloads, state budget cuts and delayed reimbursements from third-party insurance providers," said Newport Mental Health President and CEO Jamie Lehane. 
The van Beuren Charitable Foundation grant enables NMH to collaborate and share information via a state-of- the- art Electronic Health Record system with two other community mental health care agencies and six Rhode Island community health centers to form the "largest Medicaid entity in the state," according to Lehane. Some of the agencies involved include the Kent Center in Warwick, Community Care Alliance in Woonsocket the East Bay Community Action Program, which serves East Providence and communities in the East Bay area.  
'The Charter Care Foundation grant provides mental health first aid training along with mental health services and support to educators, students and their families to schools in the Newport County area.  
The Rhode Island Foundation's two grants include a $5,000 grant, which provides transportation services to clients who are unable to make their appointments because of transportation problems, and a $23,000 grant, which provides the implementation of the "Wellness Self-Management Skills" educational program for adults with both mental health and chronic medical needs. 
Rob Borkowski is a PBN staff writer. Email him at Borkowski@PBN.com.